Shares of Jet Airways tanked 12 per cent on Thursday on reports that bidders of the now grounded airline appear uninterested in following up on their expressions of interest.
Potential bidders have so far failed to show any firm interest in bailing out the struggling airline, a source involved in the matter said, increasing the likelihood that the company will face bankruptcy proceedings.
However, representatives of an employees' consortium that plans to bid for Jet Airways met officials of SBI Capital Markets on Thursday and discussed various issues related to the bidding process, according to a statement. SBI Caps officials detailed the process of bidding which is already underway, a statement issued by two staff unions said.
"The SBI Caps team stated lenders may review the status and consider any other options or proposals, including our employee ownership proposal after conclusion of the bidding, and if the said process does not provide a satisfactory solution," it said.
Jet was forced to stop all flight operations on April 17 after its lenders declined to extend more funds to keep the carrier going.
"Companies that had submitted initial expressions of interest are not following up with binding bids," said the source.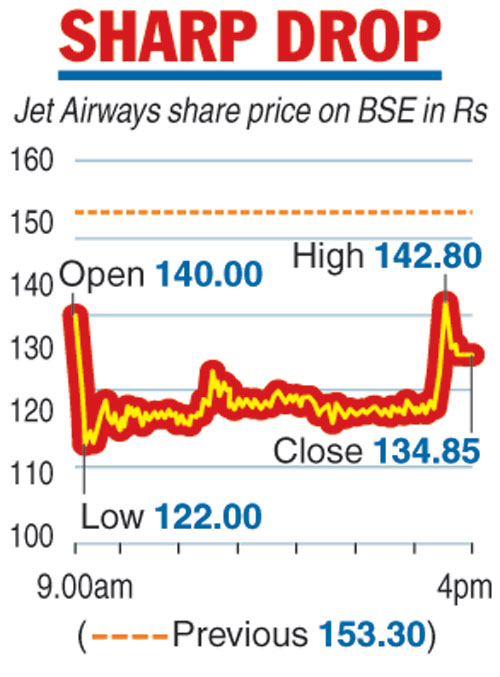 The Telegraph
A second source involved in the process said bidders had until May 10 to come up with binding offers, a few days later than the April 30 date indicated by lead lender State Bank of India (SBI) last month.
Jet, saddled with roughly $1.2 billion of bank debt, and the SBI did not respond to emails seeking comment.
Reports say three of the four qualified bidders — Etihad Airways, TPG Capital and Indigo Partners — had not signed the non-disclosure agreements necessary for conducting due diligence.
Employees of the company have said they have not been paid for months and plan to take the airline to the NCLT.
Meanwhile, SBI chief Rajnish Kumar told Bloomberg Television in an interview that the airline has considerable liabilities and losses. This coupled with doubts on whether the airline will be able to fly profitably in the future are some of the concerns dogging potential investors.
The bearish sentiment in the counter resulted in the scrip closing at Rs 134.85 — a drop of 12.04 per cent on the BSE. During the day, it crashed 20.41 per cent to Rs 122 — its 52-week low.
Similarly, on the National Stock Exchange (NSE), the scrip dropped 11.70 per cent to close at Rs 135.40.
On the traded volume front, 35.08 lakh shares of the company were traded on the BSE and over three crore shares on the NSE during the day. Consequently, the company's market valuation dropped Rs 209.14 crore to Rs 1,531.86 crore on the BSE.