Bengal plan to shore up excise revenues
Bengal scouts for more Swiggys to deliver swigs at home
State wants more online platforms to reach liquor at your door and shore up excise revenues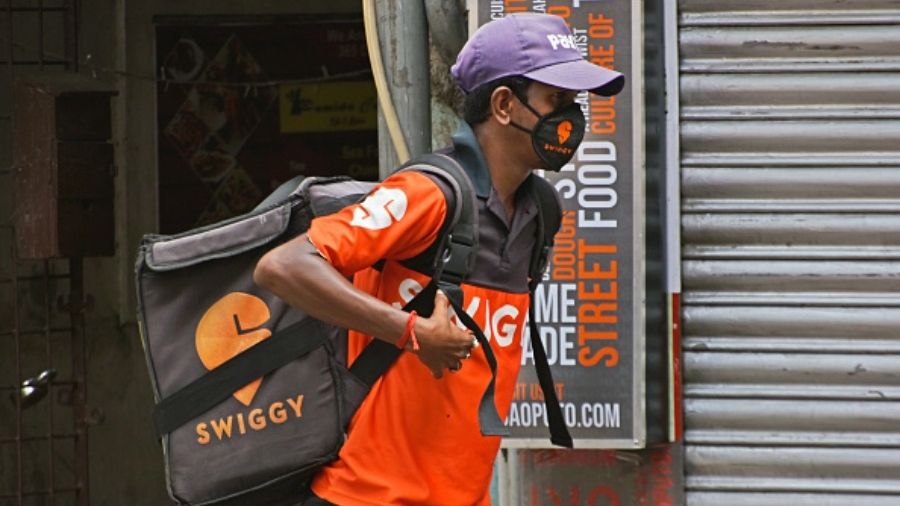 The Mamata Banerjee government is keen to ensure residents of Calcutta have their home bars well-stocked.
Getty Images
---
Calcutta
|
Published 13.08.21, 07:07 PM
|
---
Twenty-two-year-old Mukta Roy gets to deliver around 24-25 food packets a day, but dispatching a bottle of liquor is a no-no for her. Roy says it is because of her gender that she is restricted by her aggregator to deliver only food items. On the other hand, Santosh Yadav, who makes an almost similar number of rounds from his Santoshpur residence, delivers at least 12-14 liquor bottles to various addresses in the city every day.
But Swiggy, their aggregator, may now have to do away with gender discrimination and allow Roy to deliver liquor bottles as the Mamata Banerjee government is keen to ensure residents of Calcutta have their home bars well-stocked, and, also, get to extend the practice to the rest of the state.
On August 11, the West Bengal State Beverages Corporation invited expressions of interest from reputed online ordering and delivery platforms to ensure that people of drinkable age in the state are not deprived of their bottle. The new order has barred already empanelled service providers from applying, leaving other players like Zomato and Big Basket, among others, to enter the fray.
Economics and not altruism is behind the move.
State finance minister Amit Mitra has set a target of Rs 16,100 crore excise revenue, despite the state falling short of its target in the last financial year. "The lockdown is to be blamed for the shortfall," said a senior official in the state finance department.
In the 2020-21 budget proposal, excise collection was estimated at Rs 12,731.56 crore, while the state managed around Rs. 11,458.40 crore.
With a large chunk of tax collection going under the Goods and Services Tax (GST), the state's chief sources of earning are excise, sales tax and VAT collected on petrol, diesel, tobacco products and registration and stamp duties.
Needless to say, in an economy impacted with a virus gone global and no recoveries in sight, the government can only hope for more "sinners" to collect its toll. The Mamata Banerjee government can hope that Calcuttans will emulate fellow tipplers in Karnataka who had helped the state collect Rs 23,231.28 crore in excise surpassing the budgetary target of Rs 22,700 crore.
Last year, obviously the people of Bengal had disappointed the state government which had expected the revenue collection to be at least Rs 2,500 crore higher than the estimate of Rs 12,731.56 crore.
The government has been squeezing the brewing and distillery industry hard in Bengal, adding an additional excise tax to the existing excise rate. The producers also were asked to provide the ex-distillery price that is the break-up of the production cost and profit margin. Based on these inputs, the government has prepared its excise and additional excise duty to determine the maximum retail price of a bottle.
Finance department sources said this system replaced the 30 per cent sales tax that the government had imposed in April 2020. The new pricing had come into effect in November last year, just about a month since the government had first invited private players to deliver liquor at home. Of all the companies that had initially shown interest only Swiggy has continued with the service.
Among the conditions imposed by the corporation are Web and Mobile app-based service for facilitating online orders and purchase of liquor from licensed outlets. Only those companies with at least two-year experience in e-commerce with transportation of essential commodities or FMCG or drugs and having a minimum annual turnover of Rs 25 crore with local offices in and around Calcutta will be eligible.
Excise licensed hotels, restaurants and liquor outlets with organisational strength and resource deployment are also eligible.