The year 2021 may go down in the history books for harvesting the highest capital through initial public offerings in India. And this time, Bengal is also joining the party.
The 36 issues till date have raised Rs 60,298 crore, and there are indications the number will easily overhaul the record of Rs 75,279 crore in 2017 from 38 issues as liquidity pumped in by various central banks fires stock markets across the globe.
Closer home, only one Bengal-based company has made it to the list but what's in store looks far more promising. At least five firms are in the preparatory stages of launching an IPO and if all goes well, they will raise more capital together than what was accumulated from this state over the entire last decade.
According to Pranav Haldea, managing director of Prime Database Group, a company that tracks the primary market in India, 54 companies are expected to come out with an IPO in India.
"There are about 13 companies which have Sebi approval and another 41 which are awaiting approval with a total estimated issue size of close to Rs 1 lakh crore. However, all of them shall not launch their IPOs in this calendar year," Haldea said.
And the mind-boggling number does not even include the proposed mega issue of Life Insurance Corporation, for which the government has started preparatory work.
Sudip Bandyopadhyay, group chairman of Inditrade Capital, said it was structurally good that more companies were joining the stock market, providing more options to investors. But he also cautioned about the soaring valuation, which at times is reaching unreasonable levels.
"Liquidity is driving the secondary markets worldwide and in India despite the economies being in trouble due to the pandemic. The liquidity is now flowing into the primary market from the secondary market," he said.
Bengal blooms
Four companies have filed papers with Sebi while one more is likely to do so within the next month. Shyam Metaliks raised Rs 908.8 crore in June.
These six public issues together are likely to raise anything between Rs 6,700 crore and Rs 7,200 crore depending on the market condition. Compared to this, only eight companies had hit the stock market between 2011 and 2020 raising Rs 6,487 crore (See chart).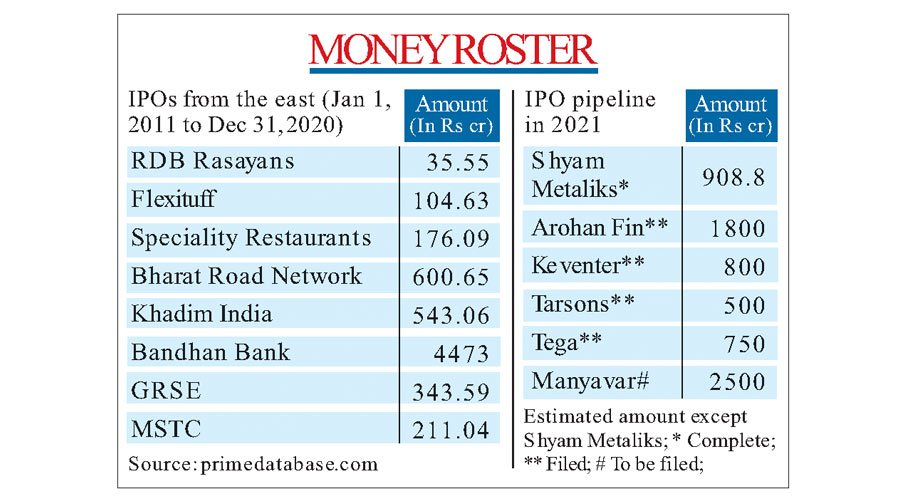 "If you look at the number of publicly listed companies, they are mostly from the west and the south while some firms are based in Delhi, NCR. The share of the east has been low but it is good to see that it is changing," said Rajiv Singh, director-general of Indian Chamber of Commerce (ICC).
He says IPOs are catching the fancy of Calcutta's corporate circle. "I am hearing about it all too often nowadays," Singh observed.
While the disconnect between a sagging economy and soaring stock markets is the talking point of many debates, primary issues do signal that companies have reached a certain scale and they plan to build on the growth rapidly by accessing capital.
The point was brought about by Upendra Kumar Sinha in 2015. During a visit to the city, the then Sebi chairman pointed out there was no participation from the east even though the IPO market was sizzling nationwide.
"When I was doing a regional analysis of the money raised I found that there is not a single proposal from the eastern zone. Nobody in this region has any investment optimism...any investment plan. We have delegated the sanctioning or approval of red herring prospectus to the zonal offices up to an amount of Rs 500 crore, they also do not have a single interest pending with them," Sinha had said.
While an IPO adds to the perception of a state, Bandyopadhyay has a different take on it. "Look at Nuvoco Vista, a company registered in Mumbai. Its cement business is located mainly in the east. It is a good sign that not only firms based out of the east but also those having business in the east are hitting the market," he said.
Will the battered brand Bengal finally get a leg up?