Battery swapping answer to EV fires
Ola to check all 1,144 electric scooters of a single batch for any disconfiguration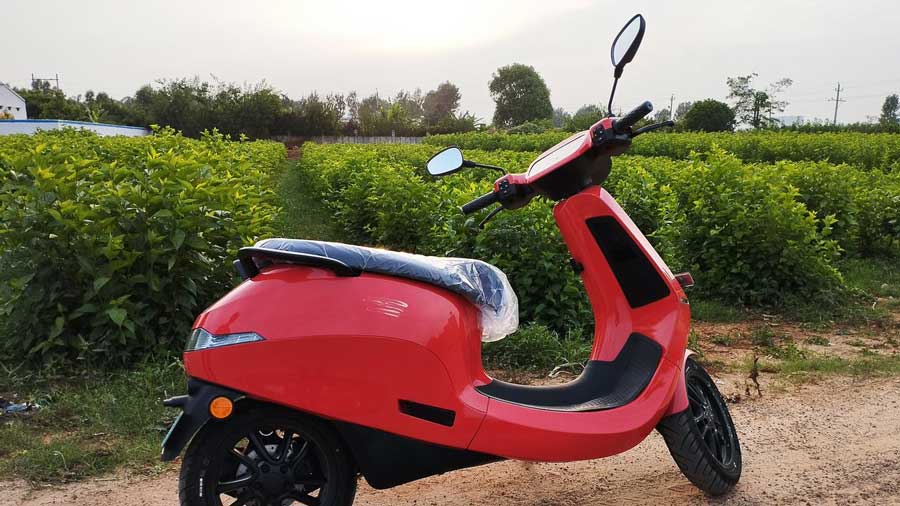 Representational Image
File Photo
---
Calcutta
|
Published 25.04.22, 03:00 AM
---
The Centre is working on rules to make batteries used in scooters, motorcyles and three-wheeler rickshaws swappable across different models. The draft policy released by the Niti Aayog has acquired urgency in the wake of a number of e-vehicles catching fire.
Ola on Sunday said it was recalling all the 1,144 electric scooters of a single batch to check for any disconfiguration. Industry welcomed the policy with caution.
Sohinder Gill, CEO of Hero Electric Vehicles and a spokesperson for Society for Manufacturers of Electric Vehicles (SMEV), said battery swapping might just be the answer to the fire incidents.
"Guidelines on battery data sharing will provide more room for safety and performance improvement of advanced cell chemistry. The life of batteries and the safety aspects can be better handled in a swap station than inside the e-scooters as the swap stations can deploy pre-and post -charge cooling and regulated charging in a better manner," he said.
Gill said the draft policy was  inclusive and promoted interoperability and open architecture. "That's more power to people." 
But he also noted that the concept of interoperability using standardised batteries needs to be debated in greater detail as there could be technical challenges. Besides, revenue sharing models will also have to be worked out carefully to assure return of investment to companies.
He hailed Niti Ayog's underscoring of decoupling the e-vehicle and the battery saying: "This will enable better purchasing power by lowering price point."
Etrio, a start-up in the e-three-wheeler segment, particularly cargo applications, would like to see battery swapping along with fast charging facilities.
"As a manufacturer of electric vehicles for cargo applications, Etrio believes that the draft battery swapping policy is a step in the right direction to alleviate range anxiety of customers for certain applications in order to fulfill the broader mission of decarbonising transport and logistics through  electric vehicles."
Ola recall
Ola Electric is recalling 1,441 units of its electric two-wheelers in the wake of incidents of vehicles catching fire, according to a company statement. The company said its investigation into the fire incident on March 26, in Pune, is ongoing and preliminary assessment found that it was an isolated one.
"As a pre-emptive measure we will be conducting a detailed diagnostic and health check of the scooters in that specific batch and therefore are issuing a voluntary recall of 1,441 vehicles," the company said.
Maruti backlog
Maruti Suzuki India Limited (MSIL) has a backlog of 3,25,000 vehicle deliveries. The company announced this even as it launched a new product, the new XL6 earlier this week.
Hit by supply chain issues, MSIL is still grappling with electronic components supplies, the semi-conductor crisis, said Hisashi Takeuchi, the new managing director and CEO of MSIL.