Bandhan Bank is acquiring Gruh Finance through a share-swap deal that will see the promoter stake in the Calcutta-based lender falling to 61 per cent. An exchange ratio of 568 shares of Bandhan Bank for every 1,000 shares of the mortgage lender has been proposed for the merger.
While HDFC now holds 57.83 per cent in Gruh, the transaction will see the country's largest housing finance company having a stake of around 15 per cent in Bandhan Bank.
The merger will create an entity with a market cap of over Rs 80,000 crore even as it will bring several other synergies. For instance, it will enable Bandhan Bank to expand to the western and central parts of the country where Gruh is present. For the latter, the merger will bring in the benefits of low-cost deposits and Bandhan's wide customer base.
Post merger Bandhan Bank will have an outstanding loan book of Rs 50,036 crore. While the share of its secured loan portfolio will also rise, its distribution network will increase to 4,182 banking outlets and 476 ATMs. The merged firm will have more than 31,000 employees serving about 1.5 crore customers.
"Gruh has a strong pedigree and is one of the best housing finance companies in India," Bandhan Bank CEO Chandra Shekhar Ghosh said.
Shareholding norms
The merger will enable the promoters of Bandhan Bank to take a major step towards fulfilling the shareholding norms prescribed by the RBI in the licensing agreement. Post merger, the shareholding of Bandhan Financial Holdings in the bank will come down to 61 per cent from 82.3 per cent.
While the promoter is required to bring down the stake to 40 per cent, senior officials of the bank did not give a specific timeline as to when the stakes will be brought down further.
On its 15 per cent stake in Bandhan Bank, HDFC chairman Deepak Parekh said while this is subject to approval by the central bank as current rules allow a non-bank to hold up to five per cent in a lender. Any holding above that and up to 10 per cent needs the regulator's consent. Parekh indicated that if the RBI doesn't give a green signal, HDFC will have to bring down its stake to nearly 10 per cent.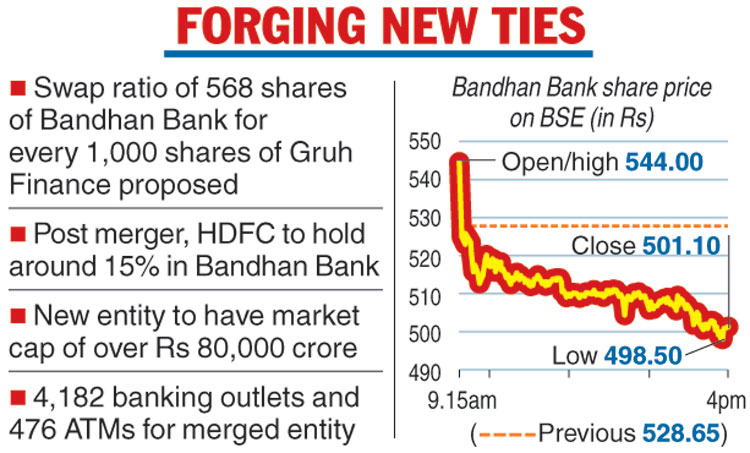 The Telegraph