BlackRock, Abu Dhabi stake in Tata green arm
Tata Power is also consolidating its renewable energy business under Tata Power Renewable Energy Ltd (TPREL)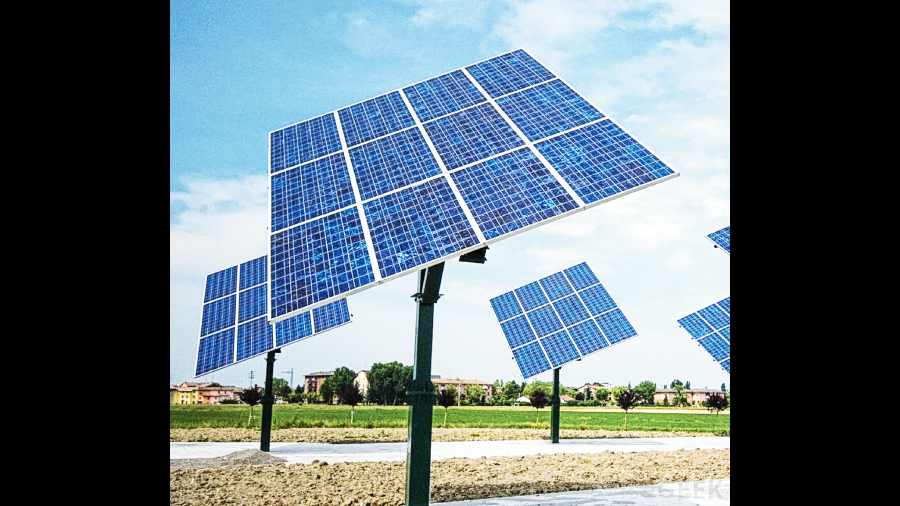 Representational image.
File photo.
---
Mumbai
|
Published 15.04.22, 03:46 AM
|
---
GreenForest New Energies Bidco Ltd (UK) — a consortium led by BlackRock Real Assets along with Mubadala Investment Company — is investing in the renewable energy subsidiary of Tata Power Company Ltd, valuing the arm at Rs 34,000 crore. Mubadala is the sovereign wealth fund of Abu Dhabi.
Tata Power is also consolidating its renewable energy business under Tata Power Renewable Energy Ltd (TPREL).
The investment by the BlackRock consortium signals the Tata group's intent to take on Mukesh Ambani and Gautam Adani who are ploughing billions of dollars in green energy.
GreenForest will invest Rs 4,000 crore ($525 million) in equity and compulsorily convertible instruments for around 10.53 per cent stake in TPREL. The final shareholding will be between 9.76 per cent to around 11.43 per cent based on the conversion price of the preference shares.
The consortium will have the right to nominate one director and one "observer" on the board of TPREL and its subsidiaries.
The agreement has an anti-dilution provision in the event of the issue of new shares, with  GreenForest having the right to acquire equity shares on pro-rata basis to maintain its shareholding.
Tata Power said GreenForest will also have "customary tag along and drag along rights'' for key strategic actions such as  a change in business, capital restructuring and mergers and acquisitions.
GreenForest will invest around Rs 2,000 crore at around Rs 235.38 per share in the first investment round.
In the second round, the Tatas will issue 20 crore compulsory convertible preference shares at Rs 100 per share, converted at a price based on actual performance in 2022-23.
The first round of capital infusion is expected to be completed by June 2022 and the balance funds is expected to be infused by end of the current calendar year.
Tata Power disclosed that it will transfer certain undertaking to TPREL. These include Tata Power Solar Systems, TP Saurya Ltd, Tata Power Green Energy Ltd and  TP Kirnali Solar Ltd.
The vertically integrated operations of Tata Power Renewables currently have around 4.9 GW of renewable energy assets. Over the next five years, Tata Power Renewables aims to achieve a portfolio of over 20 GW of renewables assets and a market leading position in the rooftop and electric vehicle charging space across India.
Ahead of the announcement, the shares of Tata Power closed marginally lower at Rs 273.05 on the BSE on Wednesday. The investment by Blackrock and the Abu Dhabi sovereign wealth fund is expected to drive up its shares when trading resumes next Monday.