Ranveer Allahbadia on cracking the code of social media influencing...
...and meeting his hero — ARNIE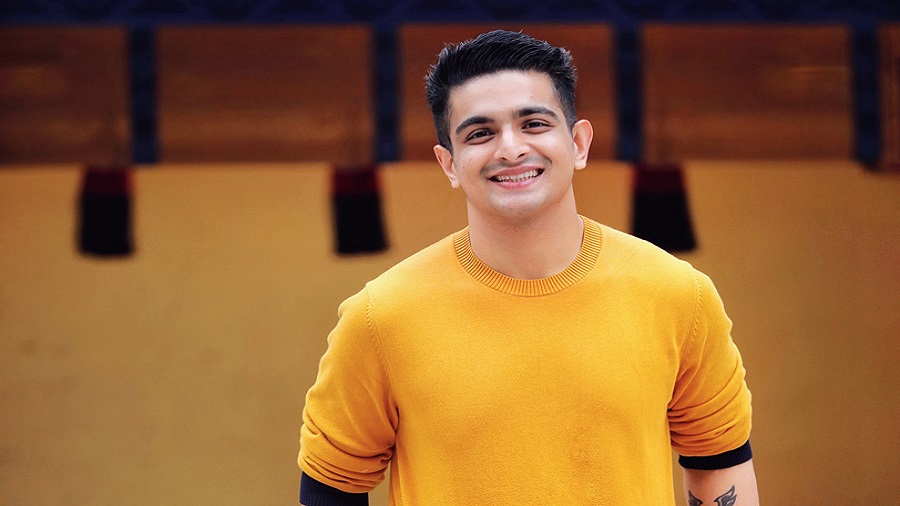 ---
---
From an engineering college student to having 2.02 million subscribers on YouTube, RanveerAllahbadia has made a name for himself with podcasts and videos about fashion, grooming, etiquette, meditation, mental health awareness, communication skills and entrepreneurship. The 27-year-old based out of Mumbai started his journey with fitness videos on his page BeerBiceps. He also hosts The Ranveer Show on his YouTube page which has featured the likes of Prateek Kuhad, Priyanka Chopra, Luke Coutinho, Saif Ali Khan, Rajkummar Rao and even his idol Arnold Schwarzenegger. A t2 chat with the podcaster who co-founded digital entertainment start-up Monk Entertainment with Viraj Sheth.

You started your YouTube channel by uploading fitness videos in 2014. Did you think you would come this far?
I expected more from myself honestly. I always feel like I've kind of underachieved because my goal has always been to also have a business set-up outside of YouTube. So I always feel like I'm on the path but I have a lot more to do.

The name BeerBiceps is quite ironical for a fitness page…
Back in the day, I always thought it was going to be a fitness channel so I always wanted to promote the idea of not getting obsessed with fitness; it has to be balanced. My way of preaching balance was that you should also party. Hence the name but eventually people started thinking that I'm calling myself BeerBiceps so it became a brand name and even though I wanted to change it over the years I can't because people associate with it.

Under the BeerBiceps page is also The Ranveer Show which did well on Spotify podcast charts. That must have been a big step....
Yeah, so podcasts are a big part of my future plans for the next five years at least, bringing a lot of international celebrities to Indian audiences and taking Indian celebrities to international audiences. We kind of grew it like an international podcast; we stopped the Indian charts. We just wanted to tap into the knowledge that a lot of successful people have gained over their lifetime.

What would you say makes your podcasts different from the ones that speak on similar topics?
Honestly, I do have that YouTube fan base, so that's a huge reason that my podcasts have stood out, it's got that readymade audience. If you want to run a podcast, in this country especially, you have to have presence on another platform, Instagram or Reddit at least. Podcast by themselves are an art. There is a way of capturing your listener's attention and a way of making it more interesting through content.

As a podcaster how on point do you have to be with your content and how careful do you have to be with what you're saying to so many listeners?
There is a learning curve involved. Honestly, the first 10 episodes weren't all that great but it's become better over time. Like there are topics people find interesting, there are guests people want to see… Even during a solo podcast it's about the pauses you take, the gaps between certain words... all these little things matter. It's a little complicated but you get better at the art form.

With the global pandemic keeping everyone indoors does it become a challenge for a YouTuber or podcaster to create content?
Initially the challenge was to figure our system; how we're going to transfer data from our PC to the editor's PC. There was a lot to do back then. I haven't got a break in a long time, so it is difficult to motivate yourself to work every day because you see everyone around is kind of taking a step back. But for content creators this time is crucial to create as much content as possible because you're sowing the seeds of the future.

You also did a show with Arnold Schwarzenegger. How did that happen?
So Disney contacted us and they knew that I've spoken about him in many of my videos in the past. They flew us down to Korea where I got a good few minutes with him. I told them (Arnold Shwarzenegger and Linda Hamilton) my story about how some of his speeches and video content helped me come out of some dark places in terms of mental health. He told me that he is proud of me and that has been the highlight of my life till date.

You are quite vocal about mental health awareness and did a show with Priyanka Chopra about the same. Given the situation, how are you keeping well with it?
First, I needed to find out if it is something going wrong biologically. Traditionally speaking, Indians are really tough when it comes to mental health issues. But what I have done is eliminate the wrong people from my life, limited my interaction with those who cause any negative effects on me. Second, I practise daily meditation and am regular with my fitness cycle. This has helped me immensely. Both these activities release a massive amount of dopamine in the bloodstream that pick me up from the lowest of phases.

Speaking as the co-founder of Monk Entertainment, how did you crack the code to social media influencing and marketing?
If you have done YouTube or Instagram or any of these things for a while, you start understanding the pattern. You're able to crack codes, you know what will do well, you know which influencers to work with and understand brand requirements and therefore make customised campaigns. But you have to have some kind of preconceived learning.