What's better than music live streams? A visual interpretation of it by VJs
Many music festivals — such as Tomorrowland, Burning Man, Sunburn and Ozora Festival — have gone online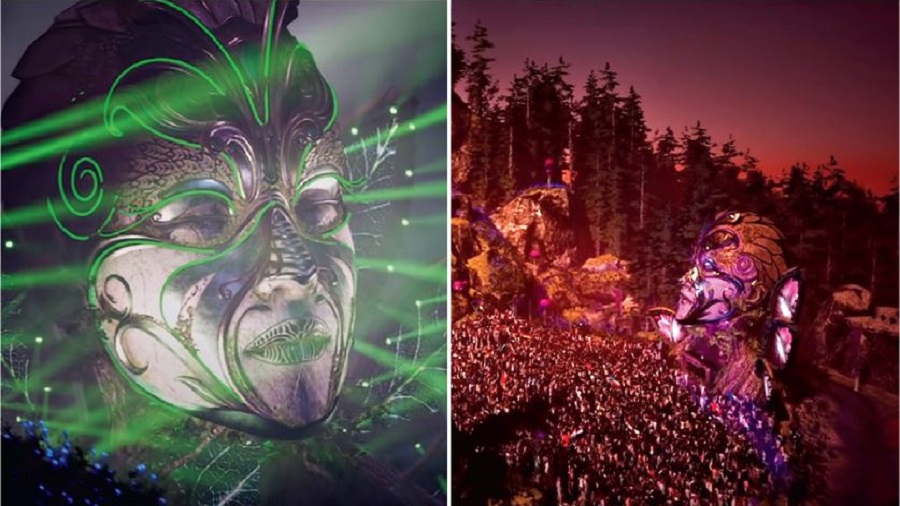 ---
---
A video jockey is a part of the nightlife scene as much as a DJ, which is why a lot of live streams are featuring visual artistes and jockeys. The only reason you could match your steps with Beyonce to Single Ladies or do the Chammak Challo with Shah Rukh Khan and Kareena Kapoor is because a VJ (video jockey) played those visuals. A lot of VJs are taking their work online to add that edge to an hour-long musical set. Some visual artistes are collaborating with DJs and artistes while some artistes are taking it upon themselves to give viewers a visual experience.
Many music festivals — such as Tomorrowland, Burning Man, Sunburn and Ozora Festival — have gone online, with some recreating a live audience along with a stage, lights and the DJ, of course. Calcutta-based visual jockeys have also put their best foot forward to recreate a club scene at home.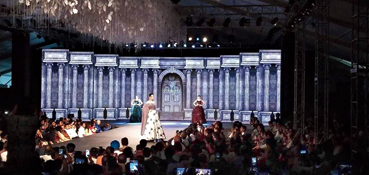 I want to be a VJ
The term VJ had started gaining popularity as it became associated with video jockeys who worked with music channels like MTV and VH1. The demand for video jockeys grew over time. "First people needed music, then they built a stage, then backdrops and lights were involved and eventually a VJ was needed," says Philip Gordon, renowned visual jockey from Calcutta.
But what is visual jockeying? It is the visual interpretation and representation of something that goes with the flow of music or sound. It could be a loop of a visual, a random freestyle or mash-up of content. Under VJing, many artistes use 3D mapping which helps the artiste project a 2D or 3D figure onto a surface. They also use the method of LED mapping on an LED stage to build shapes and sizes to execute ideas and manipulate perspectives. Along with this regular videos are also used.
To start VJing, Calcutta's Ritesh Jayswal recommends a good laptop with Resolume or ArKaos GrandVJ. Beginners can also search for DocOptic on YouTube which has 20 episodes on how to VJ. "You can start creating layers, visuals and get suggestions," he says. YouTube has always been a great pocket-friendly tutor but besides the basics, Ritesh also uses Photoshop, Adobe Premier Pro and Shutterstock to alter his content which he stores on a hard disk. iPads and cameras can also be linked to VJ software for better interpretation.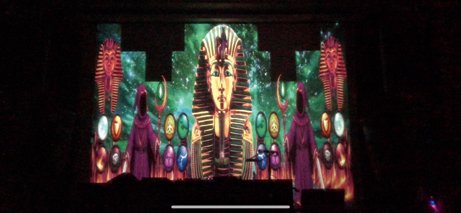 Digging Deeper
Five years in the industry, VJ Addy prefers doing visuals for club events rather than weddings. For Addy, a VJ's job is to create the right mood and ambience through visuals to keep the crowd entertained. "For that you need to love music and understand the beats and mood," he says. Addy was the resident VJ at Roxy before the lockdown.
VJ Philip Gordon has been in the industry for 10 years. From playing club gigs to Mandala Music Festival to Goa, the 33-year-old is known for his range of style and presentation. "I learned how to VJ from a friend from the US. Soon I was able to pull new ideas and incorporate them." Although it's important to know BPM (beats per minutes) and name of a track, Philip is confident enough to play it by ear. "One needs to understand the flow and when a song is entering or exiting," he says. Philip is currently working on a virtual reality experience where the artiste/DJ will be shot in front of a green screen where he/she will be showcased in a 3D mode in a visually-created atmosphere.
Luckily, Ritesh Jayswal, before he became a VJ, was a DJ. After training under his guru (VJ Kuldeep), Ritesh started making contracts with different clubs and bars from Calcutta and eventually made his name on the clubbing circuit. Ritesh has also performed at many weddings.
Is the process of VJing different at weddings? "Weddings are more artistic. You need to make a set-up, a backdrop, use VFX and make it vibrant. Music festivals, especially underground, are all about creating a vibe. Bollywood music is about catching the beat and matching the visuals," says Ritesh whose longest set has been 14 hours long.
When VJing, the artiste has to keep track of break downs, build-ups, understand the song's structure, drops, progressions and maintain the energy between the DJ and him/herself. "When DJs cut and chop songs, it's hard to know the next track," says Ritesh.
A DJ'S friend
With social media being the strongest platform to showcase art and talent at the moment, many artistes and DJs are collaborating with visual artistes to make their sets more appealing because "looking at a person push buttons for an hour is not fun". Each artiste in their own way is trying to make a live stream or set stand out.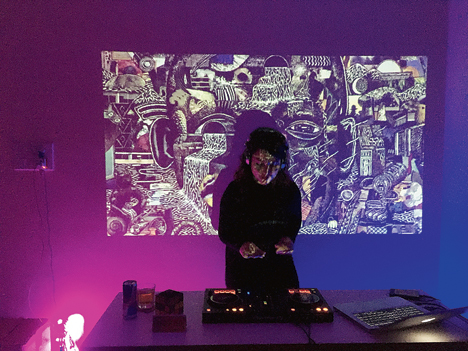 DJ Kunal Bose had created a set-up at his home with a green screen, lights, a sound card and a laptop to run OBS (Open Broadcaster Software) which helps steam live content without disturbances. While Kunal ensured his audio was playing straight from his console to the streaming software, Parth Raval took care of the visuals. In the live streams, Parth recreated 3D set-ups of a DJ booth with trippy visuals as the background and different characters and figures on each side (Thanos was also there!). In some of his previous projects Parth has also been able to recreate a virtual stage from scratch. "Parth never uses any downloaded content. He was with me during my time at Venom (now closed). He comes with me for my private gigs because he understands my flow and has been with me for the past 15 years," says Kunal.

While Kunal focused more on happy visuals, Vinay Daswani, aka Bubbleguns, on the other hand, wanted something more psychedelic. For a DJ set recorded in April, Bubbleguns collaborated with Delta Process, a project known for visual jockeying. As the pandemic kept the two apart, Bubbleguns recorded the audio of his set and sent it to Delta Process. Visually the set had slow-paced visuals highlighted with green, purple, white and yellow hues which changed place and shape according to the audio. A recorded video of Bubbleguns performing live was also fading in and out from time to time.
The second stream was in association with Master of Puppets festival (Europe) where he collaborated with Binary Fragmentation. Binary Fragmentation, who is also a game programmer, built visual patches for the set and made a live recording using a combination of Unity 3D (used to create 3D games and applications for mobile, desktop, the web, and consoles) and Resolume. Then with the help of Adobe After Effects (tool for motion graphics and visual effects) he had mastered all the elements in the visuals.
Mr Streetstyle, aka DJ Ritzzze, turned his live stream into a full-blown performance. Not only did he have visuals projected on a screen behind him but also brought flutist Raman on board.
"Since people can't go out and dance any more, I want to bring the dancing to them. It's all about adding extra elements," he says. According to a study by Microsoft, the average attention span of a human being is eight seconds and Ritzzze wants to hold the attention of his viewers using the three elements. Ritzzze plays his music on a low tempo, with Raman adding his soothing flute-based tunes and VJ Philip adds drama with his visuals. "I want to give them something beyond just playing music," he says.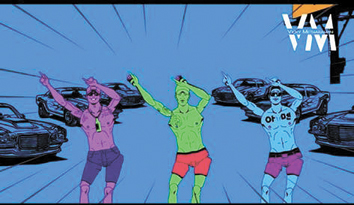 A VJ at heart
Although collaborating with visual jockeys is a great way of presenting your work, some musicians have taken it upon themselves to showcase visuals. Calcutta-based Bolly DJ Vicky Metharamani is set to launch his new project as a VDJ (video disk jockey) in November. While performing his DJ set live he will also be playing his visuals which will be compiled beforehand.
"If I like a remix of a song then I do my visual production prior to my performance (to that song) so when I play it everything is in sync," he says. For his international DJ sets he's working with a team from Singapore and for his Bollywood sets he is working with a team based in Mumbai. Although DJ Vicky won't be streaming this project live he will be preparing them for private gigs and staged events with an LED wall, which will have a strict regulation of graphics of 1080p along with visuals, animations, high-quality effects and text oblique fonts.
But why not hire a VJ? "This will help me be more in sync with my music since I have the best understanding of it. VJs make a huge difference in the industry but this is also a viable option in case of budget problems," said DJ Vicky.
Subhagata Singha aka Rivu also went live with a quirky appearance. His streamer buddies who played online gigs with him introduced the indie artiste to OBS. Using a blue screen that was gifted to him, Rivu used his webcam and phone to stream himself, with the webcam pointed at him and the phone to his guitar. The blue screen helped him make the shades of blue transparent in the stream and dropped a background. He also made both the cameras black-and-white "just for fun".
Was there more traction? "When people joined in they stayed a bit longer since people noticed there was some production value and it was interactive as well," he said. With the help of OBS Rivu was able to perform an uninterrupted live set with visual elements and animations. "I also use OBS when I'm teaching my students so they can see my guitar, me and the whiteboard that I work on."
Originally from Calcutta but currently based out of Bangalore, Shayantani C Gupta aka Shaiflai (or Shai) has also taken visual production into her hands. The techno DJ was supposed to collaborate with a video jockey but because the time frame didn't work out it was up to her to put up a good show. Following the flow of her two-hour set for Now You Tech (YouTube), Shaiflai stitched together some video clips of abstract shots of landscapes, club nights and hotel parties. As her set continues, the visuals move to minimal designs and patterns which appear to be trippy and a lot like paintings following a blue-and-pink colour scheme. "This was my vision of a journey. Since everyone is at home now, I wanted people to relate to it and take the viewer's mind out of the scope they are living in," said Shai. The visuals were showcased using a projector that was directed towards Shai, her set-up and a blank wall behind her.

Visually ahead?
Clearly, visuals play a big role in music and nightlife but the method of becoming a VJ sure is a tough one. As mentioned before, to begin VJing one must have access to a lot of content, from visuals to images. Unique pictures and images are only found on subscribed websites such as Fotocorp, Shutterstock, Getty Images and others, which cost a lot. A decent, entry-level VJ controller could start at Rs 8,000. The demo version of Resolume can only be downloaded for free and a sum has to be paid to unlock the entire application. "I paid close to Rs 25,000 for my VJing license which is required by every VJ to perform," says Ritesh.
When it comes to VJing, the country is apparently "not there yet". The demand for visual displays are high but due to budget constraints it's not possible in many places. "Calcutta till now isn't the perfect place where you can showcase music and visuals in a proper manner. Many places host live visual jockey shows but we are just not there yet," said Philip. According to him, on an international scale, organisers, festivals and clubs are "okay" with an LED layout and people do not want to move beyond it.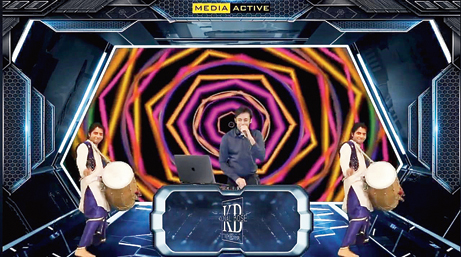 But does the concept of visuals take away attention from music? Shai believes the two complement each other and it is a story and/or journey. People won't vibe to music that is not good but then again people will not watch a visual live stream on mute. "Here the audience can understand that you're making an effort and both the elements really help," she said.
After the lockdown it has been hard for Addy to get some gigs but there is hope. He doesn't think most VJs follow the mood of a song, which is very important. "Most people don't understand the concept of visuals. My mother used to think that I was the light guy," he laughs. Clubs in Calcutta also don't have a proper screen for display, which is why the demand is not that high and so the payment seems to be less for them. "But slowly things are changing and will hopefully be better soon," says Addy.
The pandemic has affected everyone's work but for Binay Singh, aka Cosmic Traveller, he was forced to stop VJing and became a gamer instead. "I wasn't getting work; how much would I earn on collaborations? Luckily, I'm also a graphic designer." Binay would perform around 16 gigs per year and even travelled to cities like Mumbai, Hyderabad, Bangalore and Pune. But these cities found VJs from their own cities because of budget restraints of hosting and flying a VJ down."Some people are happy with background videos; that's their wish but I do not plan to get back to VJing," he said.
Visual artistes sure are making our social media pages bright and vibrant and getting the recognition they deserve.
By joining the forces of music with visuals a new experience is being provided to the viewers. Each artiste in his or her own way is providing unique ideas using the same medium and exposing viewers to newer thoughts.
The collaboration so far is working out great and will hopefully open doors to newer opportunities.