The name is D'Evil and his music holds a mirror to real-life experiences
Here's a chat with the rapper who also moonlights as an illustrator, scriptwriter and actor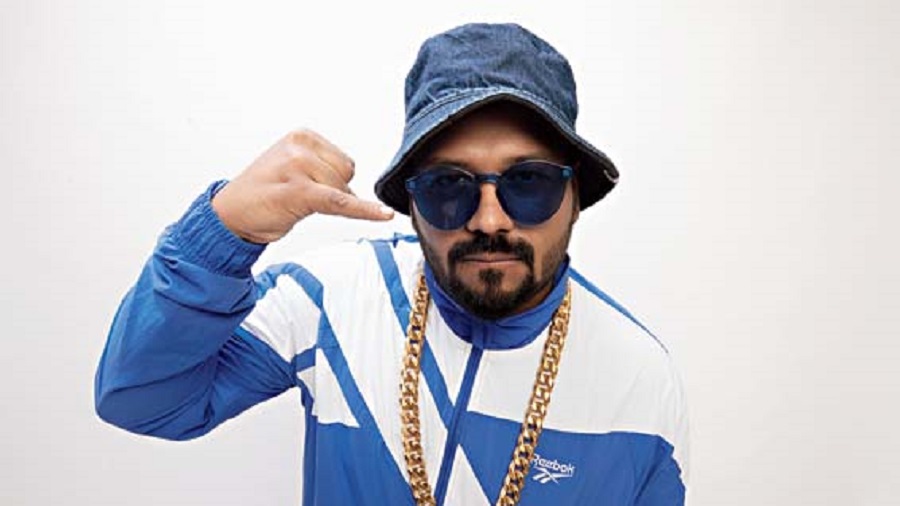 ---
---
From residing in a chawl in Dadar to releasing his music with Gully Gang Entertainment and featuring in Gully Boy, D'Evil has come a long way. On July 27, the rapper launched a song called Mumbai darshan, paying homage to the city of dreams. In the song, the 31-year-old raps over a subtle yet rhythmic beat, keeping the interest alive in the lyrics while his Apple Memoji travels through different parts of Mumbai on a virtual tour. The Gully Gang Entertainment-produced video received 80,000-plus views within a week of its launch.
D'Evil, aka Dhaval Parab, was formerly known as Hustler and was a part of an ethnic rap group called Munky Rhymz. He grew up watching telecasts of rappers like Eminem, Snoop Dogg and Dr. Dre on MTV before becoming a part of the music scene in 2009 with Kadki and Chal Bhak. In 2020 he released his collaboration (Brinks) with Elvis Brown on Mass Appeal India and the EP Shutdown.
Here's a chat with the rapper who also moonlights as an illustrator, scriptwriter and actor.

Mumbai darshan means sightseeing in Mumbai but what does the song mean to you?
I grew up in Mumbai and my city means a lot to me. Mumbai darshan is definitely cIose to my heart. I wanted to express Mumbai as a city through my vision, my lyrics and how we all are. It was written when I was at a songwriting camp with the team at Gully Gang Entertainment in Goa and being away from the city is how the thought process came about. This track is all what I want to convey about Mumbai because every time I am out of the city for work, I cannot wait to come back. Every moment in Mumbai is exceptional, that's why Mumbai is truly called a city of dreams.

So this your way of paying homage to your home?
Absolutely, I express through my lyrics and I am proud to be a Mumbaikar.

We really enjoy the vibe of the track and you keep the interest alive with the beat. How would you describe it?
Initially when the track was ready, I told the producer and friend Karan Kanchan from Gully Gang to make a beat for the track and briefed him. He just came up with the perfect sound. I wanted my audiences to focus on the lyrics more and the melody of the beats which are subtle yet rhythmic with minimal sounds.

The video depicts a virtual tour through Mumbai. What inspired the concept of the video?
The video shows a connection to the Mumbai Western Express Highway, which is one of the most popular roads used to commute and due to its rapid civic infrastructure deployment, I was inspired. In the video you will see elements like streets stalls with names added to it, such as Gully Gang studio (of course), plus the famous theatre Gaiety Galaxy, and other iconic places. Since the lockdown was imposed, I could not record a concept-based video but co-incidentally our content manager, Mohit from Gltch, showed me Apple Memoji and a thought got triggered... that I should make a video using my avatar.

Which parts of the video did Mr Doodlekar do?
(Laughs) Good question! Well I definitely love making doodles. In the video, the buildings, public toilet walls and the stalls have artwork which are done by me.

There is also a pinned comment to the YouTube video of Mumbai darshan, which says: "Comment with the name of the place! We'll pick the most commented one and take you on a virtual tour." What does it mean?
You will see something very interesting on this soon. Mohit from Gltch is putting a video together. We represented the city as a whole from the outside but this is going to be the audience's view and give it a bigger picture.

With the lockdown keeping everyone indoors, do you think your fans will have a better understanding of your music?
First, this is the first time we are witnessing such a pandemic worldwide, which has made the economy take a big hit. Businesses will take quite some time to settle down. Having said that, your passion and the drive to showcase your music does not stop. Yes, it is slowly picking up and the digital medium has taken a new turn and my audiences are definitely finding this new, just like myself. Considering the fact that we often perform live, this is a different vibe… connecting with your fans, greeting and "clicking" on performances. We all are trying our best to put out our music out. Our fans are just amazing.

Let's talk a bit about you. Your name was Hustler before it became D'Evil. Why the change?
It was a random thought as I was new and wanted to hustle it out. My sister, Aranya Johar, suggested the name D'Evil as it goes with my personality… as I am very notorious… hence I said: "Yes, why not." That's it!

You've had a knack for writing from a young age. You started writing poetry at age 11 and rap lyrics when you were 16. Was this a talent you discovered or is there also a family member who is a wordsmith?
No, I come from a background where my father was a banker and actor, that is where I learnt a bit of acting, and my mother is a banker. I was very inclined to write since I was young. I would just write and convey my thoughts through poetry or write my mind out. I realised my love to rhyme when I was in school and it picked up pace. Soon enough, I took this up as my passion and career.

Before becoming the artiste you are today, did you take part in rap battles?
My career started with rap battles. I did not know how to record a song, hook or master a track. I would rather participate in online rap communities. I have taken part in rap battles in clubs… these are popular places to get audiences. My second-last battle was me versus EMF… this is how we used to battle before… and the last rap battle I did was in Gully Boy, against MC Sher. Here I am as an artiste, doing different things I love with music.

Besides rapping, you are also an illustrator, actor and scriptwriter.
Rapping is my passion, my career. Other facets, like scriptwriting, doodling, acting… I wanted to explore these areas because I always wanted to learn something new and take up new projects, make my earnings count. Well, acting? I love it!

How are you seeing the Indian hip-hop evolve?
Hip-hop definitely is raising its bar each day. There are so many rappers who have that push now and are showcasing their talents. We are so proud that the community is steadily growing.
Spin It: New tracks
WAP
Hip-hop stars Megan Thee Stallion and Cardi B have released WAP. The duo have also unveiled the music video for the song, which takes place at a luxurious mansion with a fountain. "I just want to let y'all know, I wanna give y'all the heads up, the music video is going to be the censored version of the song, because the song is so nasty that YouTube was like, 'Hold on, wait a minute, someone might be too Goddamn nasty," Cardi B said on Instagram prior to the release.

Fool's Love Affair
Based on a demo Randy Travis recorded in the early 1980s, Fool's Love Affair is his first song in years. Originally recorded as a demo, the song was rediscovered by one of its writers, Charlie Monk (who wrote it with Milton Brown and Keith Stegall), who sent it to Travis and his longtime producer Kyle Lehning.

My Future
Billie Eilish's new song — My Future — comes with a fantastic animated music video created by Australian artist Andrew Onorato. She sings: I'm in love but not with anybody else/Just want to get to know myself… a poignant reflection on pandemic era.