He was hemmed in by the other four inside a Limousine with the glass separating them and the driver turned up. It was all too smoky inside. They were smoking. What? Never mind. Suddenly, while waiting at a New York traffic light, there was honking. Looking out the windows didn't help. The haze. So, one of the four turned down the glass to see who it was.
Where are you going, asked a voice from a car nearby.
We're going to Dylan's hotel.
Want to come?
I would have if I didn't have this recording session.
Oh. Call us if you need a good rhythm section.
The light turned green and off went the Limousine with all those on board, namely, John Lennon, Paul McCartney, George Harrison, Ringo Starr and their guest for the day, Richard Alderson. Who is Richard? At that time in 1966, he was touring with Bob Dylan and The Band as a recording/sound engineer. That day, he had spent hours with the Beatles at Abbey Road studios watching them record a song from Rubber Soul. So, they all decided to drop him back at the hotel where Dylan was staying. The guy in the other car who didn't join them was Mick Jagger. And the one signing off with the rhythm section offer? Why, John of course.
Close to 55 years later, when a pandemic has brought the world closer, Richard Alderson is on my Zoom screen, narrating this story that will be a part of his forthcoming memoir, which he plans to launch next year with an album he'll record with friends. Some of the songs in Backbone will be his own, reflecting on the material he has recorded from behind the console for over a lifetime. His recording credits, easily over a thousand albums, include legendary performers ranging from Nina Simone, Bob Dylan and Harry Belafonte to Grover Washington Jr, The Fugs, Pearls Before Swine and Roberta Flack.
Seriously? Yes. "Nina was an incredible talent. She had a whole genre to herself. And she is unique. Nobody else is like her," sums up Alderson. "And Harry, I loved the musicians in his band. And I loved what he stood for." As for Dylan, the soundman is crystal clear. "He's the greatest songwriter ever."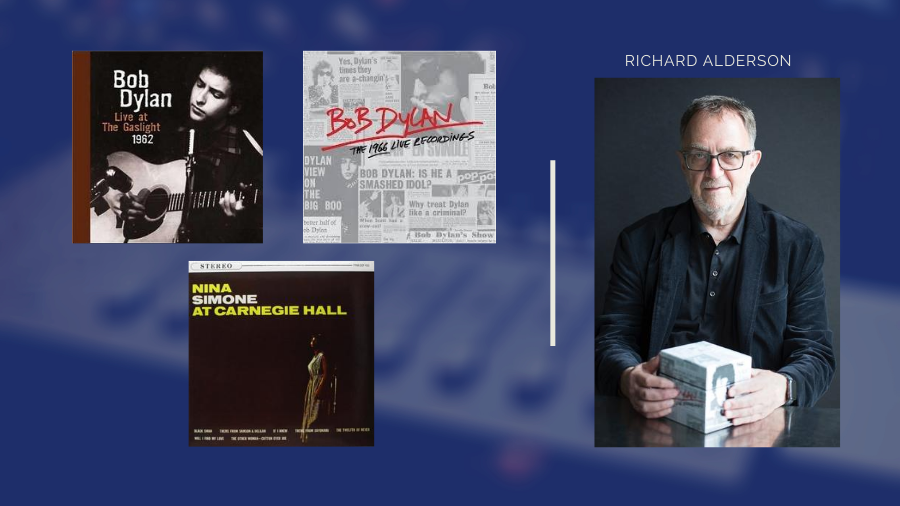 Richard Alderson holds on to the box set of Bob Dylan's 1966 live recordings, and some of the other albums he has recorded.
Jaimin Rajani, a Dylan die-hard who scripted the documentary, If Not For You, on Calcutta's oneness with Bob Dylan, joins our screen session, egging on Alderson to revisit the day at New York's Gaslight café when the singer-songwriter performed Hard Rain for the first time. That day, was he in sync with music's seminal moment?
"I always felt it was a very important moment. But the world didn't see it that way as far as I could see. I didn't know whether Dylan was going to change the world, but I knew it was wonderful. And it did change the world," avers Alderson. Yet, what about the tours with The Band, the booing, the seeming anger at Dylan going electric?
"I could never understand why they booed. Bob and The Band would do a magnificent performance of a song and the audience booed after that. I could never understand that because it sounded wonderful," Alderson says, sounding as befuddled as the members of The Band did at the time. Robbie Robertson provides another insight in his book, Testimony. After all, he was there on stage with Dylan. "Individually they didn't seem offended by the music; it was more of a mob mentality _ 'When Bob Dylan goes electric, you boo.' I saw it, and I got it. From that moment the cheers and the jeers no longer affected me," he writes, later describing how after the shows Dylan would tell them they were great and that they would play even louder the next time.
Deep down, Alderson reveals that he had always thought of Dylan as a rock n' roll man. Hence, Dylan moving to electric, to him, was not surprising in the least. "It was a perfectly natural progression for me that he should move on to an electric band. And he started off as a rock n' roller. He had a band in Wisconsin while growing up that was a rock n' roll band, and that's where his enthusiasms were. But at the time when he began, which was in the early '60s, folk music was the only structure that was there where he could express the kind of things that he expressed. And he quickly turned to rock n' roll which is where his love is… and classic three-chord rock n' roll remains his basic thing."
Which brings us to his latest, Rough and Rowdy Ways. "I think (it) is magnificent… a really wonderful record. It doesn't have much exploratory music on it. It's very simple music, but complex emotionally. And I know the band leader, the bass player, Tony Garnier, who has been with Bob for almost eight years, longer than any other musician ever."
Alderson's dreamy eyes light up while talking about the music of George Harrison, especially his use of Indian musical motifs, and Nina Simone, the classical piano virtuoso, who took to singing and playing like no other. "I love Harrison's interaction with the music of your country. And I love Ravi Shankar who was a synthesis player anyway… I love those songs of Harrison where he's greatly influenced by Indian music," he says.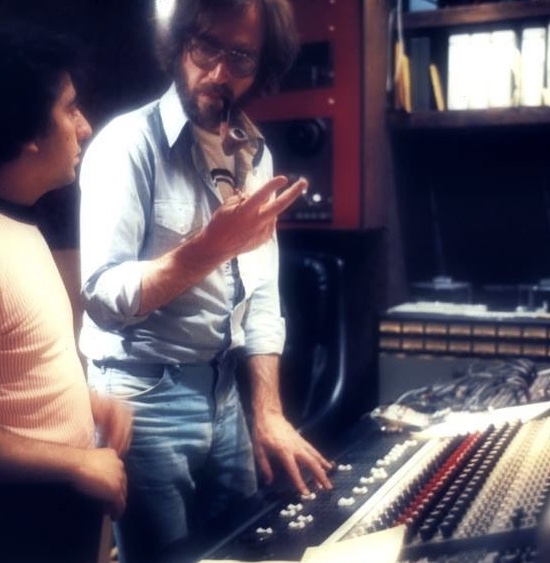 Richard Alderson at work
With Nina Simone the connection is personal, having recorded several of her albums. In Nina At The Village Gate, released in January 1962, you can hear Alderson, who was then the live sound man at the Greenwich (New York) nightclub, announce her arrival on stage. He did not record that album but went on to engineer many others with her. They shared an excellent rapport, something many find difficult to believe, given that Nina was known to be a difficult person, an impression that seems to have been partially reinforced in the documentary, What Happened Miss Simone? The Netflix presentation, for which Alderson was a consultant, also showcases some of her most electrifying performances along with her involvement with the civil rights movement. "The point of view of the documentary which I differed from was how difficult she was and how unstable she was as a human being. And I didn't figure into the picture. Al Schackman (guitar), who remains my good friend, was the talking head in that and he was with Nina all of his life," he says emphasising that both he and Al shared an excellent relationship with her. "I never wanted to start a fight with anybody, least of all Nina Simone. I had too much respect for her and I knew she was a very erratic personality and a very unpredictable person. But her talent overruled everything."
As a record producer and engineer, Alderson is surprisingly candid, and accommodative, on the question of sound quality in the era of Spotify and iTunes. "The best quality is represented by vinyl recordings unquestionably," he declares, as if to get that universal truth out of the equation. "So, given everything, if you have superb equipment and a great vinyl record, it will sound the best." Yet, even as he declares his total commitment to good quality sound, Alderson admits that compressed audio, the kind available on streaming services, are wonderfully convenient. Also, considerable improvements have been made in compression technology and the algorithms. "I mostly listen to compressed music, which by the way is better than ever. They have found many ways to improve it. At first it sounded really a shadow of the original. But now it sounds very much like the original."
Well, there you have it, audiophiles, take a deep breath. Relax. That was from someone who knows.
The pandemic has tricked many into believing that there may be more than 24 hours in a day. Alderson agrees it has given him more time to finish his book and then get working on the album. His tryst with the Beatles at Abbey Road, where he saw Paul McCartney play the drums but can't remember to which song, is yet to figure. "I am only up to 1962 and this happened in 1966," he says. Alderson has an impressive line-up in mind for the recording of Backbone, which will be helmed primarily by Al Schackman. "I have written a few songs… The songs represent, in part, what I recorded. Everyone will be part of it, including Dylan's bass player Tony Garnier, keyboard player Rob Mounsey and a drummer who appeared on more pop recordings than any other drummer that you've ever heard of. And I also intend to bring in Bill Eaton, who was Belafonte's and Aretha Franklin's musical director. He's an old friend."
Alderson doesn't want to delay any further. "I am 83. The youngest in the band is in his 60s."
Ready? Take One. Let the music play.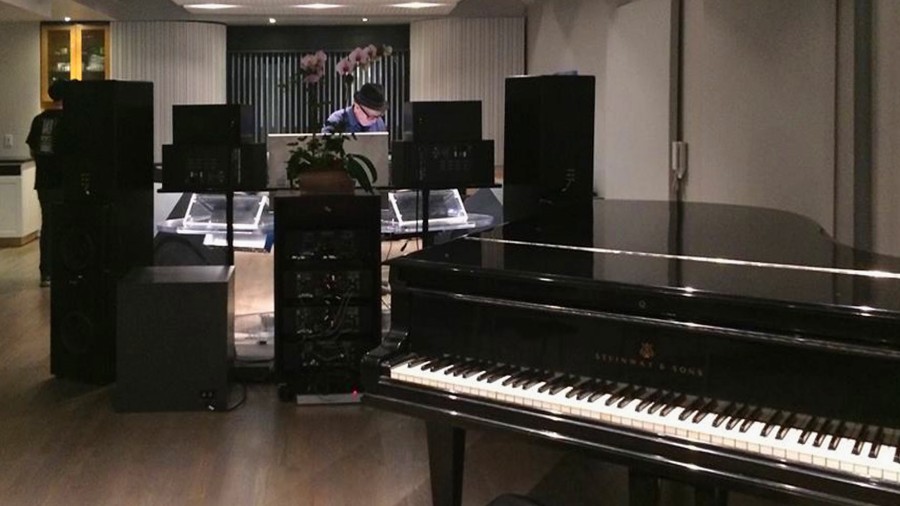 Richard Alderson behind the console