Singer Kishore Kumar was also a composer par excellence
On his birth anniversary, let's look at some of his compositions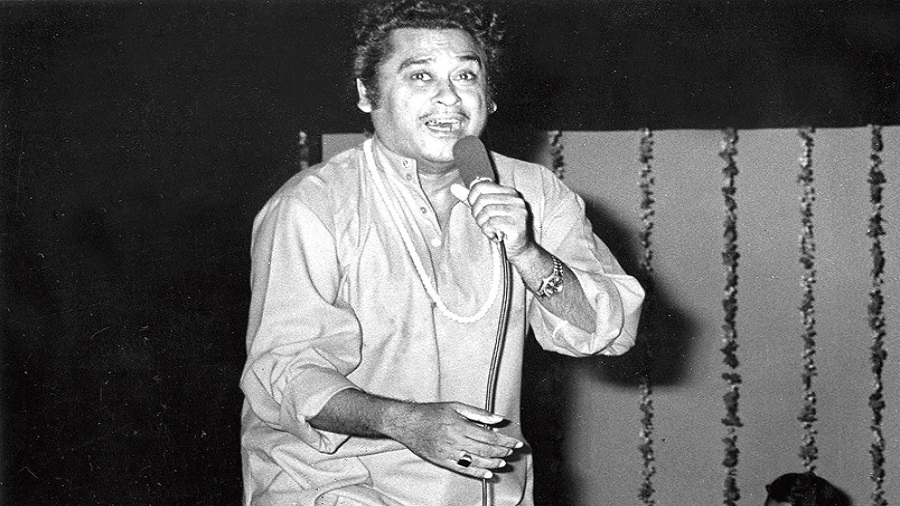 Kishore Kumar composed around 120 songs, a feat not too insignificant
The Telegraph
---
Published 03.08.20, 06:21 PM
|
---
Kishore Kumar's prolific singing and acting is well known, but not so much his composing ability — a treasure trove of mostly high-quality offering, spanning exquisite classical-based songs, soulful ballads, folk/bhatiali and foot-tapping Western-style numbers.
Around 1958-59, perhaps buoyed by the twin success of his productions Chalti Ka Naam Gaadi and Lukochuri, Kishore was mulling entering multiple aspects of film-making — story-writing, composing and directing — in a more serious way. After two aborted attempts, Neela Aasmaan and Suhaana Geet, he finally turned composer with Jhumroo (1961). As the screen opened out to the wide canvas of a toy train meandering up the majestic Himalayas and the words "Story by Kishore Kumar" flashed on the screen to his sonorous voice belting out the iconic title song (which he also wrote), the audience was in for a unique and immersive musical ride. Kishore, the composer, had arrived. He composed 11 songs for the film, an eclectic mix of romantic ditties, delectable Westernised numbers and raga-based fun songs replete with tribal chants and unusual percussion instruments. As if by providence, it was in the same year that R.D. Burman made his debut. Less than a decade later, this duo was to change the sound of Hindi film music forever.
The films that he made and, consequently, their soundtracks, wavered between two extremes. Serious, philosophical (somewhat melodramatic) films with nary a light moment — starting with Door Gagan Ki Chhaon Mein (his directorial debut) and ending with the posthumously released Mamta Ki Chhaon Mein, with Door Ka Rahi and the songless, musicless Door Wadiyon Mein Kahin in between. The basic plot premise was that of the eternal journeyman, an outlier perpetually wronged and misunderstood by society. And, for each of the three films, by design or by accident, he managed to pull out a Shailendra song, sometimes years after the lyricist's passing, and retrofit it to create a binding leitmotif. And then there were the "loony films", featuring him as the principal clown — as if mimicking his own perceived image among critics and the audience. While the quality of the films varied from zany brilliance (Badhti Ka Naam Dadhi, with its fourth wall breaks and esoteric inside jokes referencing his idols, Topol, Brando and Christopher Lee) to low-browed comedy (Shabash Daddy), the soundtracks were par excellence, displaying an astonishing range and creative depth. As an aside, Bappi Lahiri debuted as actor-singer in Badhti Ka Naam Dadhi. The other films in this genre were Hum Do Daaku and Chalti Ka Naam Zindagi, a rather cringeworthy sequel to his earlier runaway hit production.
Enthralling numbers
In terms of sheer variety, there were folk/bhatiali-based compositions like Main ek panchhi matwala re and Teri jeevan gaadi, raga-based melodies like Todke bandhan sarey in Brindavani Sarang, the incandescent Beqarar dil in Kirwani (that marked Sulakshana's debut) and Naa re naa in Tilang (impressively rendered by his wife, Leena), a moving bhajan (O jag ke rakhwale), a delightful qawwali, Yeh mohabbat kya karenge, as authentic as it gets, with harmonium, handclaps and an extended alaap that would have made Roshan proud, a Marathi natya sangeet (Mehmood's Mr. Ghanekar), and out-of-the-box situational songs, like the riotous "suicide song" in Parsee-dialected Gujarati, sung by the actors themselves (I.S. Johar, Bhagwan, Sundar and Maruti).
For Panthi hoon main, he seamlessly stitched together two Tagore songs, adding dollops of his own ingenuity, to create a masterpiece that is no less enthralling than the originals in question. He also borrowed liberally from Western compositions, like Frank Sinatra's Love and Marriage (Pyar aur shaadi), Paul Anka's Love Is A Lonely Song (Pyar ajnabi hai — unreleased), Cab Calloway's Minnie The Moocher (Haseeno nazneeno) and the two masterclass adaptations — Julius La Rosa's Domani (Thandi hawa ye) and Victor Young's theme from Shane (Neela Aasmaan, title song).
He once composed outside his home production for Zameen Aasmaan, a top-notch soundtrack that had music lovers craving for more. But given he was then the industry's numero uno male singer, composing was evidently not his priority but rather a whim.

His Bengali efforts
In 1973, Kishore composed his first Bengali Puja songs, a game-changing single featuring Noyono shoroshi keno, a stunning potpourri of three ragas, and Ei je nodi, a haunting tune grounded in folk but with a very sophisticated treatment with electric and acoustic rhythm guitars, congas, and a revved-up echo.
He composed 41 Bengali non-film songs (including a somewhat dreary, 26-minute-long musical drama, Rakhal Chandra Matal), of which he sang 23 and Amit Kumar sang 14. His own (sung) songs ranged from exquisite raga-based melodies, like the masterpiece in Puriya Dhanashree, Amar deep nebhano raat, and Amaar moner ei in Malgunji, to authentic folk (Manush jonmo diye bidhi) to the desolate Sedino akashe to the frenetic, Western-style Keno tumi chupi chupi, embellished with incredible vocal callisthenics and yodeling.
For the 1974 Pujas, Kishore and Lata (and HMV) sprang a delightful surprise on the listener when they composed for each other. Lata's Ki likhi tomay and Bhalobashar agun jwele, especially the latter, with their magnificent melodic content, would rank among the finest she has sung for any composer in Bengali, and that list is an illustrious one. Kishore also composed two songs for Hema Malini, beautiful tunes but the trepidation in her voice and the off-key singing somewhat marred the end product. He reserved some of his most dulcet tunes for Amit (his son), who sang them earnestly, but occasionally struggled with the more challenging tunes and the complex legato notes. Amit's many notable songs include Aaj ghore deep jwole, a honey-dripping Yaman with a slight Tagore-ish touch, and Pheraari hoyechhe mon, an astounding composition with an infectious guitar-keyboard-based arrangement.

The 'varied' sound of his music
Like the acting and singing chameleon that he was, Kishore's composing too was deceptive and did not conform to any distinguishable style. While Na ro ae mere dil (Zameen Aasmaan) could pass off as a Madan Mohan composition, Kisne yahan kisko jaana from the same soundtrack — with its Arabic chant and the castanets — will remind one of R.D. Burman's Matwali aankhon wale. Not having a regular team of his own, he worked mostly with renowned arrangers like Suhrid Kar (S.D. Burman), Basu Chakrabarti and team Pancham, and Frank Fernand (Kalyanji-Anandji), and this too might have contributed somewhat to the varied "sound" of his music.
Kishore composed around 120 songs, an output not too insignificant, and similar in volume to the venerated Sajjad Hussain's. Still, while the latter is (rightfully) mentioned with hushed reverence by connoisseurs and wannabe music critics alike, the same recognition seems to elude Kishore. Perhaps the pitfalls of being multifaceted.

The writer is a US-based finance professional whose passion is music