Art online: Chalk and cheese
The Spirit Remains Unlocked, the presentation of about 28 artists by The Art Route seemed a little undecided about its purpose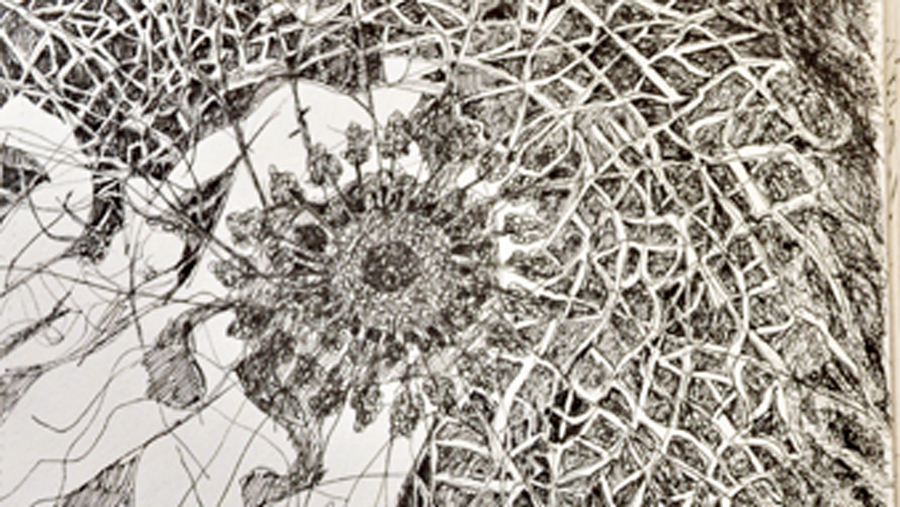 ---
---
Digital platforms are a democratic option open to all artists. But if the selection of works for online shows is democratic rather than discerning, no difference made between chalk and cheese, quality may get compromised for quantity. That's why, though The Spirit Remains Unlocked, the presentation of about 28 artists by The Art Route seemed a little undecided about its purpose.
Yet, several deserve a toast. The very first image, an acrylic by Mahesh Karambele, fractures space with shards and splinters of blues, browns and underlying whites in sly, shifting Layers of Emotions, echoing as much a conflicted psyche as a stressful urban site. Gayetri Deshpande's fine, lateral ripples of charcoal and its beguiling smears suggest a tremulous romanticism. A dynamic weave of arbitrary, accidental lines — loose, wriggly, writhing, tensile, tangled — is a captivating correlative to Ketaki Roy Choudhury's meditations on the complex relationship man shares with Nature as part of it yet apart in his consciousness of the self. Megha Madan's reticent monologue explores, like the two preceding artists, a range of possibilities that black and white can yield.
In Chandan Bhowmick's works of restless anxiety, matter seems to have been flung by uncontrollable centrifugal forces in fragments that, at times, allude to a debris of skeletons. Nidhi Agarwal's disparate motifs bring to mind spontaneous, unfocused, incoherent chatter to keep anxiety in check. Soumick Nag's combative smudges of paint hint at a disintegrating city which, in his case, is Delhi under the Covid assault. Ritu Aggarwal, however, probes the geometric anatomies of cities: the spooky shells of abandoned structures; and the chaos of architectural elements, rendered in a brash, peppy, Pop manner. Their antidote lies in the lyricism of Siraj Saxena's landscapes and Rajneesh Singh's inflected palimpsests, winking with elusive references.
Photographer Vijay Singh's nuanced textures, tones and light take on a kathakar's articulation in two frames but slip into a contemplative silence in his misty naturescapes. And Usha Garodia's porcelain and stoneware pieces are, with their curlicues, pirouettes and frayed scraps, delightfully capricious. Naveen Kumar, Neelam Gaur, Parul Mehra, Suchi Khanna and Venkatesh Sabbavarapu's Imperceptible Warriors should also be mentioned.