The luxury of a home
Perhaps the word 'nest' is more appropriate than 'home', which suggests a fixed physical space with walls and a roof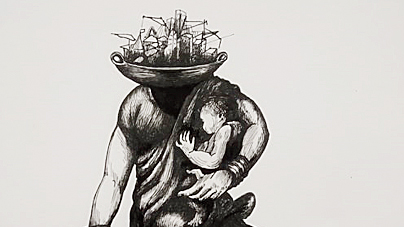 ---
---
The crucible of the individual's sense of self and of socialization is, of course, The Nest, as Anant Art's online show calls it. The word is more appropriate than 'home', which suggests a fixed physical space with walls and a roof. But that luxury is denied to migrants — as Moutushi Chakraborty reminds viewers in this season of acute distress — and to homeless wanderers. Her pen-and-ink women are headless, with loads on their shoulders. But one sprouts a cloud: bereft though she is, she can still, presumably, dream. The labourer in Migrant Homes holds her child in one arm and a hammer in the other. This endorses Nature's dispensation for the animal world: home is where the mother is.
Or the mother tongue, as Manju Mohanadas senses. Because, for the hearing-abled child, consciousness is formed as much with the weave of words as with the senses. In her ink drawings, to be relished with or without the anchor of the theme, skeins of balletic lines float in space, or get densely enmeshed into a script of faux letters. The fragile, faded geometric patterns of Sonatina Mendes, as seductively tenuous as memory, also have an autonomous appeal.
The geometry of architecture isn't anonymous when imbued with an ambience. Bhartti Verma's black and white interiors personalize a period mise-en-scene with space, light, objects and touches of colour that hint at an intimate, living absence. In Jitha Karthikeyan's oils, rooms acquire a quiet identity in one work but, in the other, remain impersonal, cold to the imagined ideal the word evokes.
But for the ideal to remain idyllic, it needs a drudge to take care of deadening rituals like washing utensils. Especially during a lockdown. That's the wry caveat suggested by Dimple Shah's performance. However, no lockdown can blunt Nirali Lal's debunking wit, as she tracks pandemic moods through watercolour faces. Sonali Laha's mood is somewhat indulgent in its pensive romanticism. But that's unexpectedly shattered by Home on Red Land, which relives the horror of homes being washed away in this season of unending distress.