Neel Dutt pens a 'musical' piece
'As far as my scoring is concerned, Saheber Cutlet is a homage to the great musicals I grew up with'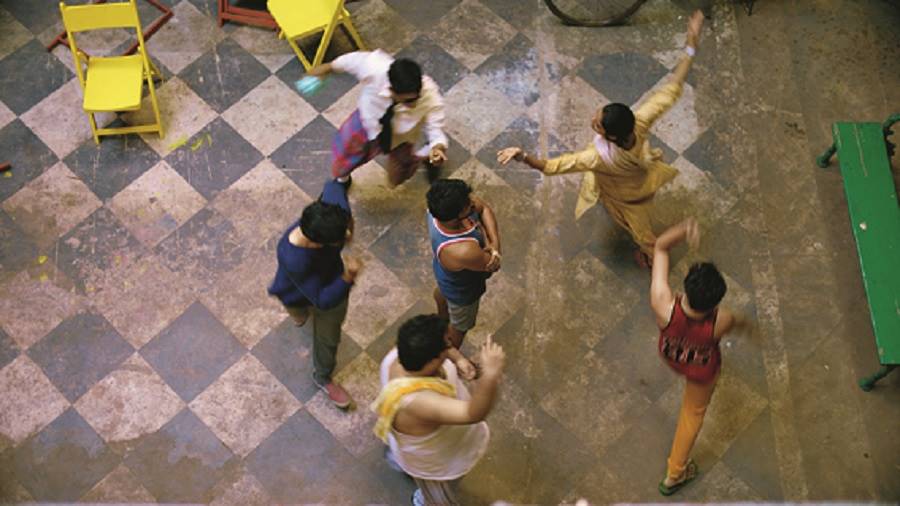 ---
---
My earliest memory of watching a movie in a theatre for the first time goes back to a re-release of The Sound of Music in the early '80s. What's remarkable is that I still remember watching the entire picnic sequence of the Doe-A-Deer song on the giant screen. That's also the first song that I learnt to hum. The songs had a magical effect. Probably because of their innate simplicity and catchiness. Surprisingly, the only other big screen memory from that time is watching Goopy Gyne Bagha Byne, another musical. The same thing happened the second time too. Montrimoshai and Dekho re became instant requests by persistent relatives, which I performed shamelessly on the spot at every family gathering. I must have been five years old.
These experiences coupled with years of spending evenings at my parents' theatre rehearsals — where mostly musicals were being staged, be it Marat/Sade or The Threepenny Opera or West Side Story or Man of La Mancha — left an everlasting impact on my senses, be it visual or musical. This culminated in an invaluable collection of vinyls of some of the greatest musicals ever. Hence, musicals in their truest forms have become an integral part of me.

An Exotic Magical Universe
Later on in life when I started composing music for the big screen, some of these songs kept inspiring me in some way or the other. Sometimes consciously and at other times as an imprint at the back of my mind that sparked off some melodic approach in some crazy way.
As a composer I always wanted to compose for a 'real' musical as opposed to mere songs in a film. Like in a Broadway musical where the cast mostly sing themselves, where songs replace dialogues. A musical does not necessarily deal with musicians or music as the premise or plot of the film. However, all the actors need to be singers as well.
Musicals have an exotic magical universe no matter how contemporary or realistic their settings are. Be it the gritty underbelly of a Dickensian London, a courtroom in Chicago or the imaginary village of 'Aamloki' somewhere in rural Bengal.
Characters singing in rhyme and choreographed movements sync in to give a magical quality. Emotions get heightened and the overall impact is always beautiful no matter how sad or ecstatic the situations are. Christopher Plummer singing Edelweiss in the perfect baritone in The Sound of Music, Gene Kelly jumping onto a lamp post with an umbrella in Singin' in the Rain, Jack Wild and Mark Lester dancing their way through a picturesque Central London where everyone from a fish seller to a policeman sing and move in perfect rhythm in Oliver! the musical, Goopy's mellow outpouring of helpless optimism as he belts out Ek je chhilo raja inside a lonely fort in Goopy Gyne Bagha Byne are unforgettable sequences that can never get dated. It is remarkable how we, living in a totally different reality in the 21st century, still relate to these songs and sequences in various moments of our lives.
These thoughts came to me while I was composing my first ever score for a musical, Saheber Cutlet. Before getting to that I would like to share with you a few of my favourite musicals and the reasons why I like them so much.

The Sound of Music
My first film in a theatre, this one holds a special place. What attracts me most about this film is the sheer simplicity of its soundtrack even though I have realised how difficult it is to create such timeless classics. My Favourite Things has become a jazz classic performed by some of the greatest musicians that ever walked the earth. One very interesting thing is that after every four or five years a new favourite emerges from this soundtrack. I think that's a magnificent quality for any album.

Oliver!
The Carol Reed classic featuring the legendary song Food, Glorious Food, written by the great Lionel Bart, has become an all-time hit. A frail, tremulous yet an angelic Oliver singing the beautiful Where Is Love? in a lonely dungeon is one of the best moments in the history of musicals. Ron Moody's iconic portrayal of Fagin makes it one of the most memorable performances.

Singin' In The Rain
Gene Kelly pushed the Hollywood musicals quite a few giant steps with this film. The song Singin' In The Rain that has influenced generations of Broadway musicals from West Side Story to La La Land's opening street ballet is perhaps one of the best dance sequence ever performed in a film. The film marks the theme of transition of cinema from silent to the talkies. In fact, this musical is a foremost example of impeccable integration between the music and the story.

West Side Story
This Robert Wise classic is a contemporary adaptation of Shakespeare's Romeo & Juliet against the background of street-gang rivalry. What was until then treated in gritty realism, juvenile delinquency that is, was given a mind-blowing unconventional treatment in the form of a musical. Jerome Robbins's spectacular choreography marked an entirely new way of visualising a song sequence. Leonard Bernstein's score constantly accentuates the tense narrative in spite of breaking into some of the most melodious jazz tunes ever. Richard Beymer's Maria went on to become a jazz standard.

Cabaret
Few musicals have been able to successfully present song sequences that comment upon rather than advance the story. Bob Fosse shook up the conventional musical and proved for the first time that a musical form can fuse social commentary and challenging style into a mainstream movie that went on to become a cult.

Goopy Gyne Bagha Byne
The only true musical in form and content from India. Something like this was unimaginable. The sheer brilliance of the genius auteur opened up a whole new world for the Bengali audience. Musically this film shows Ray's deft handling of a variety of regional Indian genres that were seldom used in a film score. Never before has the folk music of the Kutch region been woven so beautifully into a film soundtrack. Remember the flute pieces in the background score when Goopy and Bagha travel to Shundi? The lyrics as well as the musical arrangements mark a sharp departure from the Indian film music of the time. Here was conversations and dialogues in rhyme that built up to masterpieces. The iconic Bhooter naach will remain as one of the best sequences in the history of musicals.

Saheber Cutlet
With Saheber Cutlet I finally got the opportunity to compose a musical in its truest form. Food, being the premise of the film, gave us a chance to delve into the exotic and the magical. Director Anjan Dutt and I decided to treat this film like a proper musical where the actors sang their parts themselves. The sequences have been very carefully crafted to move the plot ahead.
What we've tried to achieve is to integrate the songs and their sequences with the narrative, making them one integral whole. The musical treatment adds to a totally different approach in bringing out the idiosyncrasies of the characters and their backgrounds.
We live in an experimental, unconventional, footloose world where piquant flavours, diverse taste buds are constantly being developed unconsciously. Today we are more open to the world of exotica than before. The cosmo-ness of food has brought the world much closer. It has made us more young-at-heart.
Saheber Cutlet celebrates these youthful connections no matter how bizarre the situations are. The 'musical' treatment highlights this bizarreness. Actors singing their own parts add to their emotions. An effervescent small-time lawyer Balmiki (Ambarish Bhattacharya) singing with an old harmonium is in sharp contrast with the coarse haughty Potla (Suprobhat).
A sophisticated city-bred chef, Arjun's vocals is in sharp contrast with the almost snarly Kana Ukil (Kanchan Mullick). I owe it to an absolute brilliant cast who sang seamlessly into their roles.
The actors singing themselves make their characters more real, which seldom happens when a playback singer is used. In this film I'd call them performers and not actors.
The nature of a musical is always very dramatic. That way our music has a high-voltage feel, operatic in parts without losing the inherent simplicity of the compositions. The lyrics crafted by Anjan Dutt have some intrinsic social commentary of our times inspite of them being written for specific sequences of the film. The songs do make a lot of sense even if one listens to them out of context. As far as my scoring is concerned, Saheber Cutlet is a homage in my own little way to the great musicals I grew up with.
Which is your favourite musical and why? Tell t2@abp.in