Kamakshi Khanna's Qareeb is about self-care
The R&B and indie-pop-inspired song underlines the message that the most important relationship is the one you have with yourself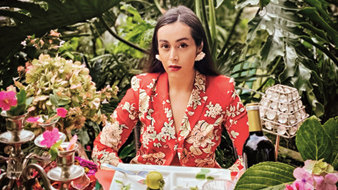 ---
---
After a three-year gap Delhi-based singer, Kamakshi Khanna has released a new song, this time her Hindi debut track, Qareeb, which has crossed one million views within a month of it's release on YouTube. The 27-year-old claims to show a different side to her with the new release as most of her past releases have been in English.
The R&B and indie-pop-inspired song underlines the message that the most important relationship is the one you have with yourself. Over to Kamakshi.
Why did you decide on a Hindi song?
I do have a very strong background in singing in Hindi. I am trained in Hindustani classical and the only thing I never did was writing my music in Hindi. This song happened completely by accident because I got a call about an opportunity where I had to write a Hindi song and that opened the door because the product was a failed submission. I wrote the song in a day and writing in Hindi was something I was excited about.
Were you nervous about it?
Definitely because I've released an EP, my album, most of my covers are all in English. Most of the shows I do are also in English, so it is definitely a different side of me which I was 90 per cent excited about. But there was also a 10 per cent that was wondering this change thing. Does it change my narrative, what I've been expressing myself as.... But honestly, I don't think it has at all. I just feel like this is a different side to me.
Why the three-year break?
I have never released a single before; I've only released EPs, albums and longer repertoire. Because the EP and albums were so close to one another, I personally felt a little bit of a burnout when it came to releasing music and started taking a step back and started to write a lot of music. I also started teaching very seriously. So I decided that when the time is right I will put music out and plus this is my first time where a label (Artist Originals) is supporting me and backing me up.
Qareeb is about self-care and emotional growth. Where does the thought stem from?
If you listen to the song, it doesn't say anything about self-love directly. It's just a song for a partner where you're just expressing how grateful you are for love. I wanted to take that narrative and put it into love… relationships for example. Whatever it is, it may change you a lot and they help you transform and learn so much about yourself and even the letting go of it does that. So I wanted the crux of the position to be that although the song is literally talking about the love for a partner. But this story comes out more through the music video.
Yes, the music video depicts a girl going through different relationships in her life....
Yeah and different phases of her life and finally finds her own person. It's a stop motion video that catches her transformation as a person over the years. The entire video was made out of cut-outs of felt cloth by this amazing director, Arsh.
The video was done via Zoom and WhatsApp?
Absolutely, I've never met Arsh; I've only spoken to her. I just saw her videos on Instagram. And she had just started experimenting with stop motion by the way. This is her first full-fledged stop-motion video.
Did you write a lot of music during your break?
I have a couple of singles, one of them is done and I'm working on a few currently. There's a full-fledged English album, there's another collaborative album on the cards. I've also been doing this thing called the Green Rome Sessions which is me singing stripped down versions of my unreleased songs on my Instagram page.