Amaal Mallik on music and more
'You either have to choose your soul or you have to choose your bank. I want to save original music'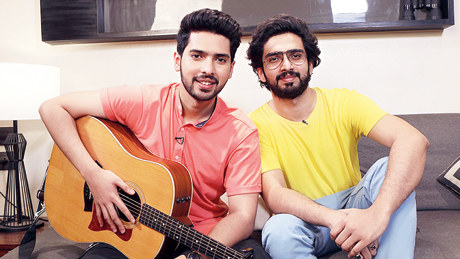 ---
---
We are speaking to Amaal Mallik just a few hours after his younger brother Armaan has won a Europe Music Award (EMA) for his English debut single Control. "What a day! I am so emotional today," big bro Amaal tells us.
Amaal himself has been in the spotlight for the praise he's been getting for Tu mera nahi, his foray into the pop music space. We chat with the 30-year-old singer-composer on music and more.

Congratulations for Armaan's EMA win...
I just called him up and spoke to him for half-an-hour. We haven't met in four-five days, we've only been doing video calls and he's been joining my social media 'lives' and like a sweetheart, he's been promoting my song (smiles).
It was a dream that he saw and I am glad I could be a part of this journey. Everything that he created in India has brought him to where he is today... he's the little 'prince of romance' as everyone calls him (laughs). All the daadis, chachis, bhatijis... every category of female relationship that's available in this country... he's in everyone's hearts. I am glad that my music in the Hindi film industry could make him reach this point. And then on, he's made this journey solely on his own steam and with the support of our parents.
This win is a first step for Armaan, but it's a very big step for India. I don't think anyone at his age is so grounded when it comes to the success he's had. The jump was always tricky, but he's made it to the other side with such a big award. He's taken the Maliks international. He's more like the elder brother... he's the 50-year-old brain and I am the 17-year-old heart! (Laughs)
It's also celebration time with your debut pop single Tu mera nahi grabbing millions of views...
I knew the views would come in because the song is good and I also have a respectful and substantial body of film work. Winning hearts is more important for me. My fans are in love with the song and for me that's victory.
Kiara (Advani), Parineeti (Chopra) and Tiger (Shroff), who are very close friends of mine, have been all praises for the song. 'You've played you only, and very well,' is what they are telling me about the music video of Tu mera nahi. The human being as well as the musician side of me has been captured very well in this song. It's about love, and about letting go with respect. If someone doesn't want you in their life, then bounce from the room in slo-mo wth Tu mera nahi playing in the background (laughs).
Do you think this foray was long overdue or is this the right time?
Luckily or unluckily for everyone else, no one really expects me to arrive at the time that I do! (Laughs) I have a saying for myself, which is not something that I am proud of... 'main late aata hoon par great aata hoon'. I don't like doing substandard work... I can't sleep at night if I make a bad song. It was a long time coming... it's a dream that I have harboured since I was 15. But I always knew that I had to be a brand and build an image that people could invest in, and then I would get this chance. I just didn't want to do a cover of my own song... I don't like resting on past laurels.
I chose Tu mera nahi out of 15 songs. I finished my commitments to De De Pyaar De, Kabir Singh and Badla, which were three very successful albums for me in 2019. And then when I hit 30, I thought this is the right time because I could just lose my young fans in a few years, unless I look like a superstar at 45 (laughs).
But I think this is the right time for artistes like me who want to put out great content with soul in it. Independent music is currently flying in India... there's Armaan and Badshah.... And then there are people like Prateek Kuhad and Jasleen (Royal), who are doing the purest work.
I am someone who likes to take my time. I do one album in three years, unlike others. Right now I am only scoring for Saina Nehwal's biopic (called Saina) and I also make my debut as background composer with that album.
I grew up on the Indipop of the '90s, which had some great music. What's your view on the pop music scene now and isn't it overly dominated by Punjabi pop?
Yes, absolutely! Bollywood and independent pop both have this influx of Punjabi music. It does work, no problems with that. But right now, it's become a safe haven for too many people who believe, 'Let's do Punjabi because only that is working'. If you don't let only the Punjabis do Punjabi and you also start doing it, then it's very boring (laughs). I may end up doing a Punjabi song one day, but I will make sure it's not like what Guru (Randhawa) or B Praak do.
I respect that industry for being so united and they have shown that they don't need Bollywood or Indipop to do well... Punjabi pop is a little country in itself in a way. In India, the UK, Canada, Punjabi pop is the biggest... there's no running away from the fact that it's really big.
As you said, the '90s were really beautiful with Sonu ji (Nigam) and Shaan and KK... there were remixes then also, but they were tastefully done. There were some beautiful songs like Deewana, Tanha dil, Yaaron.... And, of course, Lucky Ali who showed that one heartfelt song (O sanam) and one beautiful location and a little bit of humming can make you a superstar.
Those risk-taking things are a little less today. Where business comes in, art gets diluted. The artiste then has to take a stand as to what he or she wants to do. My only mantra has been that if you can't do new, then just do you... just be yourself. You either have to choose your soul or you have to choose your bank. I want to save original music and I am on that journey.
In the Bollywood music scene, with so much power and influence exercised by music labels and with composers expected to toe a line, is it practically possible for an artiste to remain true to oneself?
I've said this time and again, fearlessly. But you can't just blame the label alone. Producers and labels are joining hands and co-producing films. When the investment is so high, they want the returns to happen immediately. Multiple music composers on a single film album kills the homogeneity of the music.
Then there is this whole wave of recreations — I have also done Kar gayi chull, but it was a sort of tribute to the original song. In most recreations, you don't find the original composer any more. Some remixes are good, like Aankh maare that Tanishk (Bagchi) did. But things that are randomly done don't work. A remix has to be justified. I am doing Mumbai Saga with Sanjay Gupta which is set in the '90s and so using a song from the '80s is justified.
I have left about 16-17 films because they wanted only one song from me, and that also a song which is not original. I try and stay away from remixes just to bring the volume down. And there is no point blaming only the new composers, even Pritam da, Shankar-Ehsaan-Loy, Vishal-Shekhar, they have all done it. Everyone has done it, but now we have just overdone it. The seniors are in the position to say 'no' to a lot of things. I don't have that position, but I still say 'no'.
Aren't you wary of being this outspoken, especially when so much is at stake for a career so young?
I am not looking to maintain an image. I have always been for music and I have spoken against many things that have happened at awards, or within the film industry.... All the controversies that could have happened with an artiste in 20-30 years have happened to me in five years. I've learnt to deal with it. I am always someone who will stand up for what is right... it's not a put-on.
I don't speak against the industry, I speak for the industry's betterment. I may be a small part of it as a musician, but a musician can change lives. People love me for who I am, and if in the process of speaking out, I get lesser work, then it's amazing... I will take more holidays (laughs)