Get started with your kitchen garden with these tips
Discover and find out the difference in flavour between market-bought and homegrown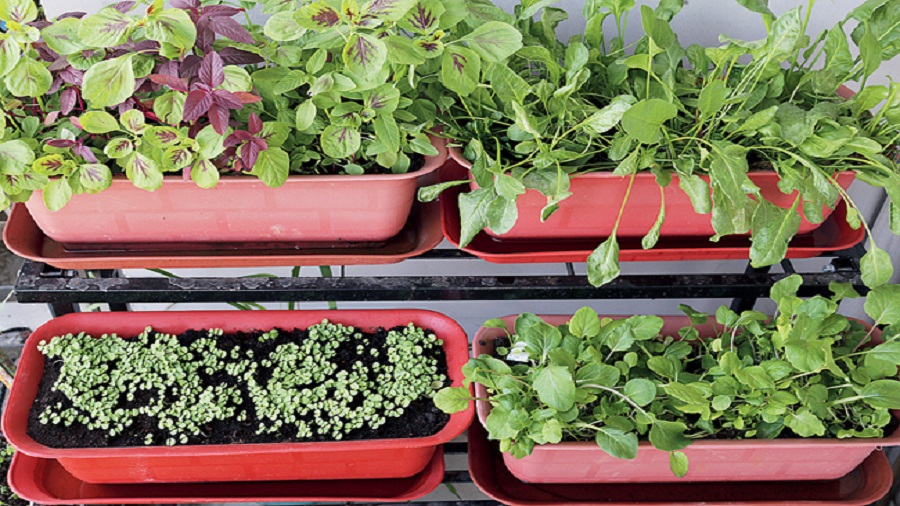 ---
---
Most of us have experienced the nourishing qualities of food being prepared with love and shared with joy. It's safe to assume that we all harbour the instinct that it's truly possible to stir love into a pot of soup — from my garden to the plate. In today's world, most of the food is processed, imported, and marketed for convenience and year-round availability. So much so that probably one has forgotten what is seasonal. Having your own kitchen garden might sound like a task or a time-consuming hobby but you don't need much to get cracking and start growing some food. Discover and find out the difference in flavour between market-bought and homegrown.
Let's start with these common edible plants to let you really appreciate your garden. To start growing you would require appropriate pots, seeds, good quality soil and a watering can in case of outdoors. While choosing planters, I personally like to follow a colour or a pattern in different sizes. There can't be any excuses for not being able to step out because we can start growing vegetables/herbs from our kitchen waste without actually stepping out.
Let space not be a constraint when we have set an intent and get a little innovative while choosing our options such as:
1. A growing table.
2. Container gardening.
3. Take unused kitchen utensils and start utilising them for growing, like old pots/pans/plastic containers/old drums — anything you lay your hands on.
4. Reuse your egg trays for
growing seedlings.
5. Hydroponics gardening.
Easy to grow
Potatoes
Roasted, boiled, or mashed, the fact is that you can't ignore them. They are your comfort food. Imagine the flavour of having cheese and onion rosti or jacket potatoes with sour cream with your home-growns. Potatoes are the simplest to grow. You may be familiar with the fact that if left alone, they grow by themselves. Bury a few potatoes in soil and in no time, you will have a new plant grow beautifully. You can use a grow bag or even an old drum. The trick is to not plant too many as they need a lot of space to grow.

Pumpkin
I tried this for the first time this lockdown. Took the seeds from the pumpkin, dried them and put them in the soil. In about a week, I was rewarded back. Remember that it's a creeper and you will have to weave its path as per your space. It is advisable to get some wooden stakes or garden wire for easy manoeuvring.

Chillies
Hot and spicy, it's the perfect addition to your monsoon curries. You can grow chilies and bell peppers in a similar fashion (like pumpkin) as they contain lots of seeds. You don't necessarily need a large container for this. A small pot by the window will do just fine but use just one seedling per pot. Little amount of water and you will sail through.
Lemon
These can also be grown with home-bought lemons. Let the seeds dry and plant them, let the seedling grow in a small pot, and once it's of a decent size, transfer it to an appropriate pot. Believe me, once you use the lemon zest from your own home-grown lemons in your G&T, you will pat yourself for the labour of love.

Mint
Speaking of gin and tonic, how can you not have some mint around. Ah, the smell of freshly infused mint in honey or wine! It's the perfect balm in these trying times. Or how about making some spicy cucumber mint margarita and adding some fun to our Saturday nights. Cut the mint stems just below a node, remove all but the top leaves and put them in a mason jar with an inch of water. Re-plant in a larger pot as it grows. Bonus points for growing them are the fact that mints make for excellent insect repellents. It aids in digestion and boosts immunity too. It adds a refreshing and cool aroma to your environment.

Green scallions or spring onions
Just put unused parts of the onion with some roots in a glass of water and put it where it will get some natural light. Few days later, it will get new shoots. Plant them in a suitable container. Use it the next time you stir up some Asian cuisine or just about any garnishing.

Lettuce
This is one of the easiest vegetables to grow, making it a great choice for container gardening or tabletop gardens. They grow well in cool weather. Although flavour varies with each variety, leafy greens and raw food are a great start to your meal.
Basil
The all-time favourite basil is for me, the most perfect herb. How liberally I add it to my pizza, my Thai soups, Bloody Mary, and of course, all over the salads. There's nothing like clipping fresh basil leaves and adding to whatever you are cooking. Basil is easy to grow from seed and germinates within four to six weeks. You can also propagate by using a cutting of basil and placing it in water for roots to grow. Within a week you can transplant it. It needs a good amount of sunlight.

Monika Poddar owns Calcutta-based plant boutique Chlorofyl. Reach her on Facebook at @ChlorofylKol and @chlorofyl_giftinggreens on Instagram