Anupam Roy on 10 years of his classic song Amake Amar Moto Thakte Dao
We got chatting with Anupam on that August beginning and his rise and rise in the music world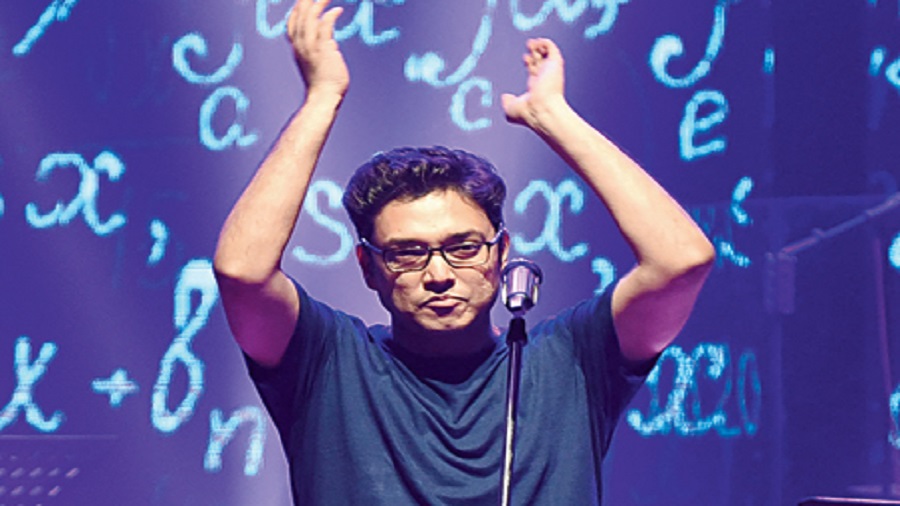 ---
---
Anupam Roy's Amake amar moto thakte dao (from Srijit Mukherji's film Autograph, starring Prosenjit, Indraneil Sengupta, Nandana Sen) dropped on August 20 in 2010, and it took Calcutta by storm. The song was on everyone's lips and it catapulted Anupam into stardom. With the song completing a decade, The Telegraph got chatting with Anupam on that August beginning and his rise and rise in the music world.

How do you look back on Amake amar moto... and the phenomenon now?
When I look back now, khub aschorjyo lagey. How everything happened. It does not feel like so much time has passed. It does not feel like 10 years have gone by. It almost feels like the song was released yesterday. I am really, really thankful to the people of Bengal and beyond who have showered so much love on this song and welcomed me to the industry.

You wrote Amake... in May 2009 and performed it first in Bangalore. What are your memories?
When I wrote the song I had no idea that it would become so important and meaningful to so many people. That it would resonate with so many. I did not think of it along those lines when writing it. The words came naturally to me and it reflected what I was feeling inside. It is a love song that came to me one afternoon in Bangalore. I had to step out but when I came back in the evening I completed the song.

Do you remember the time before the release of Amake amar moto... and what was happening then?
I would perform the song at friendly get-togethers. One day I performed the song in front of Srijitda (Mukherji) there and he really liked it. I got to know that Anjan Dutt was coming to Bangalore for a performance. Srijitda arranged for a slot for me… and I got the opportunity to perform two songs, one of them being Amake amar moto. I was still working on the song at that point of time and the refrain... 'Na na na na na'… came to me then during soundcheck. That refrain was not there in the original song. It got added later. It was a special moment for me since I got to perform before a large crowd. It was a big thing for me.

What happened once the song released?
It was magic! Suddenly all that excitement among the listeners, the outpouring of congratulatory messages and phone calls, the media frenzy... I could feel all of that from Bangalore. I was new to social media then. People were writing on Facebook, sending me friend requests, tagging me... journalists started calling me from important news channels and newspapers. Just before the release of the song, I was in Bangalore, working. I was busy recording my own album then… recording songs like Phaka frame and Ekbar bol.

When did you know it had exploded?
Before the Pujas. I was in Calcutta for the audio launch in August and then for the film release during the Pujas. I could really feel the vibe then. I got to know the song was being played at different pandals. I was excited, and I started thinking of quitting my job in Bangalore and returning to Calcutta.

Why do you think the song connected in the way it did?
It is a mystery... the one who can decode it would be able to deliver similar successful hits! If I could figure it out then I would have made songs like Amake amar moto… one after the other (smiles). No one knows which song would connect when. Of course, people like to listen to new things… which they found in the lyrics, the voice, the melody.

Would you like to make a sequel to the song or revisit it or update it in the future?
I would like to rerecord the song in the future. But since people are still listening to the song, I would not like to make a sequel to it right now!

How would you sum up your last 10 years in the industry?
It feels like I was on a jet plane and time just flew by. It was really fun-filled. During school or college I was under pressure. I had to give 10 hours to my studies every day. I was working 10 to 12 hours a day at my job. After that I was writing and composing songs. At that time, life was really difficult for me. In the last 10 years, life became more free-flowing. I could enjoy artistic liberties. I enjoy this life… and as such there is no tension. Of course I have been lucky… people loved the music I presented. I got to do concerts, I travelled the world… it was a life-changing experience. The last 10 years have been the best 10 years of my life. I am lucky that people loved the brand of music I established. I try to keep it simple and honest and if I can translate it through my writing and melody, I guess it works.

Did you ever come under pressure to match the phenomenal success of Amake amar moto?
It is beyond my control. So I don't come under pressure. All the songs are special to me.

How do you present it in concerts? Do you change certain things about it at times?
We changed the presentation gradually… and there is such a frenzy when we perform the song at concerts. Everyone sings this song… I almost don't sing it. It is an amazing experience. The audience creates the magic every time at the concerts. I am just a medium. The audience connects directly with the song.

You are now producing many of your own songs and releasing them on your YouTube channel.
I have been recording and experimenting a lot during this time. I have released songs like Porichoy, which is heavily socio-political, and Bhalo theko 19, which is an experimental song. There was another song called Nirbashoner gaan, which talked about the mon kharap that stemmed from the lockdown. I also released English and Hindi songs from my channel. My song Aisi raaton did phenomenally well… I feel encouraged to create more such songs.

Would you like to do an online concert from home? What are your thoughts on digital concerts?
Musician prefer performing live, before an audience. It involves a different kind of energy… different kinds of moments get created at concerts. The Bengali music industry has been hit severely by the pandemic. Our music industry works through live gigs. We can't do live shows now. Yes,many musicians are doing online gigs now. I think it is happening mostly in the east. Right now, I don't feel the urge to do an online concert. I am hoping things will get better soon and we would get to perform live, like we used to before. Let's see what happens. We are hoping for the best.