Where the elephant god sleeps
A team of eight blind first-time trekkers scales 13,000 feet and goes all the way to Dodital. Bitan Sikdar tells their story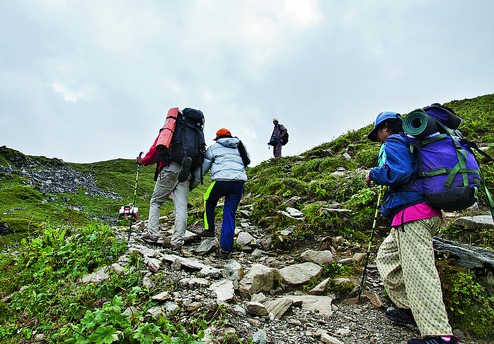 ---
---
Faeries, come take me out of this dull world,
For I would ride with you upon the wind,
Run on the top of the dishevelled tide,
And dance upon the mountains like a flame.
When he came across these lines, Shubhendu says, he felt Yeats was echoing him and Anjana, Alamgir, Bhaju, Basudeb, Sukhdeb, Biswajit and Jhinuk. This team of eight blind trekkers from Calcutta headed for Dodital in Uttarakhand via Darwa Pass one day in early September with enough "faeries" in attendance.
Shubhendu is 18 years old and blind since birth. A fun-loving character with a penchant for adventure sports and poetry, he is used to living with what Helen Keller would call "tangible white darkness". The trek had been organised by the Voice of World, a multi-unit non-profit organisation for the differently abled, which is also an affiliate member of the Indian Mountaineering Foundation.
On reaching Darwa Pass, "Raja da" or Raja Abhimannyu, who is one of the seven-member volunteer team accompanying the trekkers, announced that the spot they stood on overlooked the mighty peak of Banderpunch.
Shubhendu's description of what he saw turns out to be a summation of what he heard and felt that moment and the moments that led up to it. He says, "We trekked through an uneven mountain trail, crossed bugyals or high-altitude meadows and kept moving for many hours, albeit with small breaks, till we reached this place from where I could hear the wind heave, and the mountain stream gurgle, faint but still audible."
He tells us how, as he lowered himself onto one rock, he heard the excited voi-ces of Bhaju and Basudeb, figured that Jhinuk was sitting somewhere close by and Anjana was demolishing a bar of chocolate.
Mountaineer Sumita Roy congratulated all eight first-timers for reaching the Darwa Pass, the highest point of their trail at almost 13,000 feet. From this point onwards the trail towards Dodital was mostly downhill - sharp in places, punctuated with many streams.
The Dodital, or freshwater lake, is situated at an altitude of almost 10,000 feet. To reach there, Roy's training and experience of expeditions came in handy. She says, "Vision brings with it apprehensions. The visually challenged don't fret over each and every step."
That day, Anjana is thankful, was cloudy. She knows a sunny weather at times can prove exhausting for long treks. Anjana, 20, is from Bankura. Till 2011, she had vision in one eye, but thereafter she met with an accident and lost her sight completely. The shock was too much. Anjana withdrew herself from normal life. Her education came to a halt. In 2016, she joined the Voice of World school and now, she has negotiated a 12-hour-trek from Hanuman Chatti to Seema Thach in a 24-hour span.
Mountaineer Mitra Bhanu Nayak, who was Anjana's faerie guardian, told her how the trail to the pass is the traditional route for nomadic herdsmen. They take their cattle up to a height from where, it is said, the peak of Swargarohini is so close that one can touch it if one stretches out an arm. Sadhus also use this path while moving between the shrines of Gangotri and Yamunotri. Says Nayak, "After reaching the pass, her smile said it all. But, go on, ask her what it felt like." Anjana replies, "That day, I overcame my own limitations. To me, that in itself was the steeper climb."
But none of this came about in a day. One had to go through considerable training - walking on loose boulders and climbing steep stretches in order to get a feel of the altitude. It helped them negotiate sharp bends and cross rivulets. Says Abhimannyu, "Though it's a bit risky to go for hill trekking in rains, we chose this time for our expedition keeping in mind the moderate temperature."
Gargi Gupta, the founder of Voice of World, says, "Now we can plan and get ready for more ambitious programmes." What Gupta says ties in nicely with the programme theme titled Kshamatayan or empowerment.
According to Kedarkhand of the Skanda Purana, Dodital is the birthplace of the Hindu god Ganesh, who chose it as his abode as well. This is how Shubhendu linked myth and reality and worked his way up. "The lord with the elephant's head is a 'special god'. I told myself that he would smoothen the path of his 'special' devotees."