Where's my home?
Several elderly people with Alzheimer's disease have disappeared from their homes. Many of them are never found. The problem will only get more acute, warns Avijit Chatterjee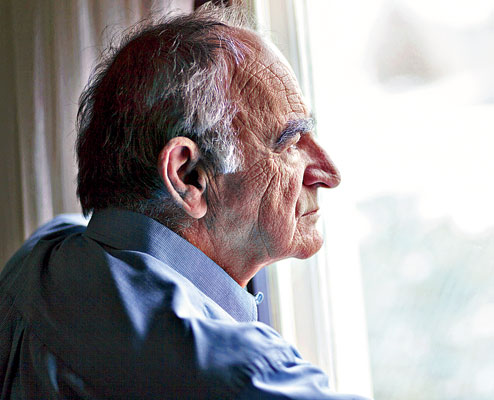 ---
Published 19.07.15, 12:00 AM
|
---
Ved Prakash Singhal was out in the garden as always, pottering around and watering the pots. And then, suddenly, he was not there anymore.
"He disappeared," says his son Ankush, who has been running from pillar to post from October 1 in search of his 68-year-old father. For the last nine months, since his father's disappearance from their Panipat house, he has been visiting police stations, nursing homes, hospitals, old age homes and even the morgues in and around Haryana and Delhi. But he is still to find him.
Singhal's memory was failing, but Ankush never thought he could have been suffering from Alzheimer's, one of the most common types of dementia, an overall term for conditions that occur when the brain no longer functions properly.
The fear of people with Alzheimer's wandering away from home came to the fore recently when the renowned musician, Pandit Vithal Rao Sivpurkar, was found by a constable lying unconscious near the Begumpet flyover in Hyderabad. He died soon after he was brought to a hospital. The prolific ghazal singer, an Alzheimer's patient, was the last musician in the Nizam's court.
There have been several cases of mostly elderly people with memory disorders disappearing from their homes. The problem is compounded by the fact that Alzheimer's goes largely undetected in India. Doctors say the earliest symptoms are memory lapses which get worse over time and start to interfere with daily life. In most cases, however, family members fail to recognise the onset of the disease, dismissing it as something related to old age.
Mahesh Sadhwani thought his mother's high blood pressure was responsible for her incoherent speech and the fact that she became anxious and irritable - which, the doctors say, are actually tell-tale signs of Alzheimer's.
One day, she walked out of their Mumbai house, and never returned. "My mother visited temples and gurdwaras daily. So when we did not find her at home, we thought she had probably gone to a temple or gurdwara. But when she did not return after a few hours we got worried and began looking for her," Sadhwani says.
It's been over a year, and she's still not been found. The family has lodged a missing person complaint with the police and scoured almost the whole of Mumbai. "We looked for her at all the religious spots, destitute homes, hospitals and railway stations in Mumbai but could not find her anywhere," Sadhwani says.
It is estimated that there are around four million people with Alzheimer's in India. "About 50-60 per cent of people with Alzheimer's wander off at some point of time during their illness," notes Dr P.T. Sivakumar, a consultant in adult and geriatric psychiatry, National Institute of Mental Health And Neurosciences (Nimhans), Bangalore.
That would mean that around 2.4 million people with Alzheimer's wander off, points out Nilanjana Maulik, national secretary, Alzheimer's and Related Disorders Society of India (ARDSI), and director of dementia services at ARDSI's Calcutta chapter. "It is huge," she says.
Experts believe that without a cure in sight for Alzheimer's, the problem could reach epidemic proportions unless urgent steps are taken. A report by the Alzheimer's Disease International last December revealed that by 2050, the number of people suffering from dementia in the Asia Pacific region will rise to 71 million from 23 million. India will come second in the list, witnessing an unprecedented three-fold rise, with over 12 million patients.
Yet, it is a condition that few seem to know of. Most often, family members approach doctors or counselling centres only when a person goes missing. When B.S. Jyothi's 91-year-old father Subba Rao walked out of his Bangalore home on two occasions, and was brought back by some good Samaritans, she approached ARDSI, one of the main resources for dementia caregivers in India.
Rao was under treatment for Alzheimer's and had been under constant care of family members. But then one October morning two years ago, when the milkman rang the bell at his Kalyan Nagar home, he opened the door and quietly slipped out. That was the last anyone saw him.
Prabhakar Thakur's family knew he had Alzheimer's and ensured that he was never left alone. As his was a joint family, there was always someone to keep an eye on the 81-year-old senior. But one day in February 2014, when his daughter was leaving for her house, he went to the door to bid her goodbye - and then walked out. The family hasn't seen him since then.
The question that many family members of people with Alzheimer's ask is why their patients wander off. Dr Sivakumar points out that since Alzheimer's is a condition that leads to a loss of cognitive abilities and a progressive loss of memory, people get easily confused or disoriented. They lose the faculty to navigate and lose their way.
"It is one of the most common behavioural problems of dementia patients," he says.
Maulik of ARDSI believes that most people wander off because they feel uncertain or disoriented in their own environment. "They may also be searching for their past or feeling lost or trying to escape from their boredom or pain."
Sometimes they walk off engrossed in a childhood memory. "They may be looking for a shop or trying to find food or even trying to do something that they used to do many years ago like picking up their children from school or going to work in the field or trying to find their original home," says Dr Amit Dias, founder secretary, Dementia Society of Goa, and assistant professor, preventive medicine, Goa Medical College.
Most people who go missing are not found in time. According to the US-based Alzheimer's Association, if a person is not found within 24 hours, up to half of individuals who wander off will suffer serious injury or death.
ARDSI chairperson Meera Pattabiraman recalls that a retired senior army officer, suffering from Alzheimer's, died of starvation on a railway platform in Delhi, seven days after he walked out of his home when his caregiver was asleep. Awareness of Alzheimer's disease could prevent such incidents, she feels.
"Sensitising people about the disease is important so that the moment we see an elderly person moving around aimlessly on the road, we immediately reach out to help him or her. The family members should also be made aware of the difficulties faced by elderly persons so that they ensure they are never left alone," she says.
In many parts of the world, lifesaving location devices are available which help families trace their missing relatives. The US has a public notification system - known as Silver Alert - to broadcast information about missing seniors with Alzheimer's disease, dementia or other mental disabilities. In India, some companies are bringing out devices to help track down a missing person, but experts say they are not of much help.
For people like Ankush, the knowledge - about Alzheimer's, and ways of dealing with the illness - comes too late.