When Waheeda sat on Raj
Lyricist Shailendra's iconic film Teesri Kasam was shot in a small town in Madhya Pradesh. The film's leading stars — Waheeda Rehman and Raj Kapoor — were almost mobbed by a crowd that surrounded the train they were travelling in, on their way back to Mumbai. Kapoor, as red as a tomato, was all ready for a fight. Rehman recalls in a new book how she literally pinned him down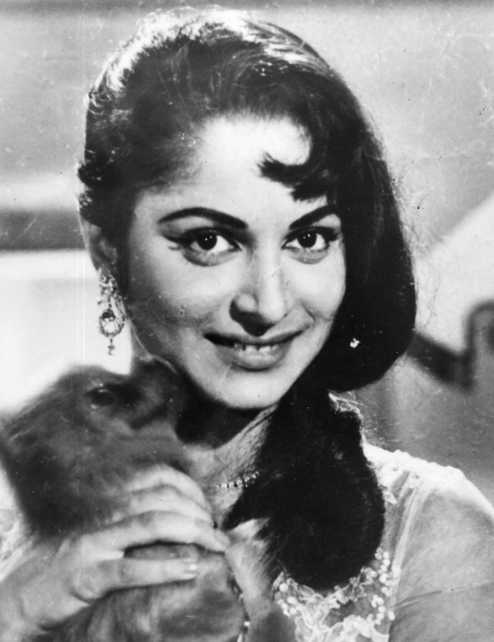 ---
Published 29.03.14, 06:30 PM
|
---
Nasreen Munni Kabir: Another unusual film you made was Teesri Kasam, which was based on a story called Maare Gaye Gulfaam by the celebrated Hindi writer Renu. That was the second time you were cast opposite Raj Kapoor after Ek Dil Sao Afsane in 1963.
Waheeda Rehman: When I heard Rajji was going to play Hiraman, the hero of the film, a bullock-cart driver, I wondered how he would look in a dhoti. Sometimes you have a strong image of someone and you can't imagine that person as another personality. I had seen Awara and many Raj Kapoor movies. He was very influenced by Charlie Chaplin and imitated him. Rajji had sad eyes.
It turned out that Raj Kapoor was excellent as Hiraman. He had no mannerisms and acted in a natural style. Actually, we were both encouraged not to act in the true sense of the word.
The Bengali director Basu Bhattacharya wanted us to perform in a natural style, to give a lifelike performance. Most Bengali directors asked their actors to be natural. They also preferred filming away from the studio on real locations to enhance a sense of realism in their stories. So some scenes of Teesri Kasam were filmed near the Powai Lake, and the rest was shot in Bina, a small town near Bhopal.
Rajji thought the ending of the film should be changed and Hiraman and Hirabai should go away together. But no one agreed to that. The whole point of the story was Hiraman's teesri kasam [third vow] — never to let a nautanki girl travel in his cart again. The writer Renu — who had also written the dialogue for the film — would have been furious if the ending had been changed.
I must tell you about an extraordinary incident that happened at the end of the Teesri Kasam shoot. We had to travel to Bina by train, as there were no flights in those days. When the shooting was over, Rajji, two of his friends, my sister Sayeeda, my hairdresser and I made our way to the station to leave on an early afternoon train for Bombay.
We got on to the train and settled in our air-conditioned compartments. We heard the train engine start and then stop. We assumed it must be some technical problem because again the train started and stopped. Finally, we looked out of the compartment window to see what was going on. The railway station at Bina was very small and on either side of the train we could see huge crowds of students on the platforms. Then we heard people shouting: Utro, utro, dekhna hai, dekhna hai. [Get down! We want to see you.]

Someone came and asked Rajji to talk to the student leaders and tell them to calm the crowd down. Rajji opened the door and talked to a group of young men who had gathered near the compartment door. They told him that the local students had wanted to watch the shooting of Teesri Kasam, but were repeatedly given the wrong location address by the production team. By the time they cycled to the spot, having bunked their classes, they could not find a soul there. Apparently, this had happened over many days and so they did not get the chance to see Rajji and me. Now they were very insistent about seeing us.
But Rajji immediately said: 'You have seen me, but Waheeda Rehman is not coming out.'
'Why not? We're her fans.'
He was adamant: 'No, she won't come out. She is a woman.'
Rajji's reply incited them further and they said: 'So what? She must see her fans or else we will not allow the train to leave the station.'
The situation became very tense. I don't know what came over Rajji but he dug his heels in and said: 'No!' Then he closed the compartment door. That did it! The crowd became furious and started hurling stones and hitting the train with big iron bars. They did not let the train move an inch. We had to duck down in our compartments to avoid being hurt while Rajji was getting more and more enraged. He wanted to go out and confront the crowd. His friends tried to restrain him and, when they realised they couldn't, they pushed him into our compartment and said: 'Ladies! Take care of him. He has gone wild.'
And so the three of us — Sayeeda, my hairdresser and I — had to literally pin Rajji on to the seat. I sat on his chest while my sister held on to his legs. He became red as a tomato and tried to wriggle out of our grip while we were struggling to keep him down. We kept imploring him: 'No, Rajji, no!' To which he protested: 'Let me go! Let me go!'
It became such a drama — but maybe I should say a comedy!
***
WR: In the early 1960s, Shailendra, who produced the film, called to say he wanted to come over to discuss a film and brought Basuda to the house. It was Basuda's first film. They offered me the role of Hirabai and I said no. I had this bad habit of saying no at first. Why? I don't know. Shailendra said I should sleep over it and then decide. This is what all the producers would say. When he called again, I lied to him saying Guru Duttji was starting a movie and I was working in it. But then Shailendra called Guru Duttji who said: 'Hein? What movie?' Immediately Guru Duttji called me: 'Did you say no to Shailendra? Why? Don't you want to earn money to run the house? If you sit at home, how will you manage? And another thing. Why did you lie?'
'I didn't know what to do. I lied.'
'That isn't good. Shailendra is a very nice person. You must do it. I can't understand you. This is bad. I think you're a lazy person.'
Teesri Kasam took a long time in production and was finally released in 1966.
It started with Ray
Nasreen Munni Kabir: Were you familiar with R.K. Narayan's novel [Guide] before starting the film?
Waheeda Rehman: It was Mr [Satyajit] Ray who asked me to read the novel because he was considering adapting it. He told me if the film ever took off, he would cast me as Rosie. She had to be a good dancer and he knew south Indians were usually good dancers, and so he had thought of me.
I had forgotten all about it when a year or two later Dev [Anand] told me he was producing the film. I asked: 'You mean R.K. Narayan's novel? But isn't Mr Ray making it?' Dev said: 'No, no, I know about that. I have bought the rights of the book.'
Satyajit Ray would have conceived the film in a completely different way. But I believe I was fated to play Rosie, no matter who was going to direct the film...
NMK: Did you think Rosie was a bold character for the time? Did she break with social norms?
WR: Many people told me I was making a mistake by accepting the role. 'You're shooting yourself in the foot. This will be your last film.' There were many reasons for their concern. The first being that when the audience is introduced to Rosie they discover she is a married woman... On top of that, Rosie leaves her husband and goes off to live with Raju the guide. But they do not marry. This was very bold...
She slaps her husband and walks out on him. A wife reacting like that was never seen in Hindi films...
Recently a young woman I met told me she thought the song Aaj phir jeene ki tamanna hai was the first feminist song of Hindi cinema because it describes a woman who takes her life in her own hands. Yes! I want to live.