'What troubles me most is how unsafe Bengal has become for women under Trinamul'
Newly nominated to the Rajya Sabha by the BJP, Roopa Ganguly tells Debaashish Bhattacharya how she's drawing the battle-lines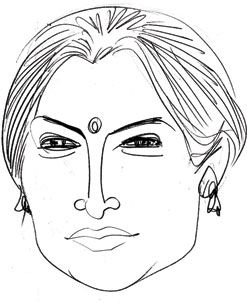 ---
Published 16.10.16, 12:00 AM
|
---
It's been a long day for Roopa Ganguly. She's just back from Mumbai after a week; she owns a house there but Mumbai isn't home to her, Calcutta is. The day hasn't gone too well. Her flight was delayed, and then the Puja snarls. And chaos must have greeted her at home. When I arrive at her apartment overlooking the Royal Calcutta Golf Club, everything seems upside down. The flat is being spruced up — the living room floor and furniture are shrouded in plastic sheets, all splattered with paint.
As I sit down at a rectangular table in Ganguly's home office — a tiny, windowless air-conditioned room, I notice an array of trophies on the shelves from her days as a television and cinema actress.
The evening has merged into night, and as Ganguly — the Draupadi of B.R. Chopra's epic television series Mahabharat, which made her a household name — steps into the room, she looks decidedly weary.
But no amount of exhaustion can dampen her enthusiasm for tea and politics. When a young woman brings us tea, Roopa gestures at my cup and moans about too much milk in it; an additional teabag is ordered to get the Darjeeling just right. "You give me anything to eat from anywhere in the world, I wouldn't mind. But when it comes to tea, I am extremely finicky." She's wearing a cotton sari and no make-up; her signature tresses cascade down her shoulders.
She's about to become busier than she currently is; the BJP has just nominated her to the Rajya Sabha, an honour she says she was scarcely prepared for.
Ganguly, the BJP's emerging face in the "sunrise state", is clearly being groomed for higher things by the leadership. "It's a big opportunity to highlight the issues facing Bengal, especially political violence and the future of the young people getting sucked into it,'' says the president of the Bengal BJP's women's wing who, by her own count, has been assaulted five times in the last 20 months.
"What troubles me most is not just how unsafe Bengal has become for women but the way the young men are attacking our women for mostly political reasons. What will happen to this generation of young men who are involved in violence? After all, they too are from Bengal," Ganguly, 49, says.
To be sure, Roopa Ganguly, is up for the fight. As one BJP leader put it, she isn't one of those "velvety" leaders from filmdom who adorn the political stage demurely. The fiery leader — who many feel could match the Trinamul boss in temper and throat power, if nothing else — is stubborn and tenacious, traits she says she inherited from her parents who were from Dhaka and Barisal in what is now Bangladesh.
"Why are they attacking me? Is it only because I belong to a rival party? Or is it because I dare raise my voice against what's happening in Bengal today?" she asks, her right palm clenched.
Clearly, Ganguly — who has acted in such acclaimed films as Mrinal Sen's Ek Din Achanak, Gautam Ghose's Padma Nadir Majhi and Aparna Sen's Yugant — does not mind the heat, grime and sweat of politics. If anything, they remind her of her hardscrabble childhood.
She was barely five when her parents moved to Kalyani, a town in Nadia district, with her, an only child, from Calcutta, where she was born.
She fondly remembers those days spent in a small house in the small town as her father, Samarendralal Ganguly, struggled to feed his family as a factory worker.
"My parents grew vegetables in a small yard in our house and on our rooftop. We ate the fried eggplants grown in our garden and bottle gourds grown on the rooftop,'' she recalls.
It was the early 1970s and Bengal was in the grip of a violent Naxalite movement. But she remembers little of that. "No one from our family has ever been in politics and we never discussed politics at home."
What she remembers is that she was a sprinter who won a number of prizes in schools, first in Kalyani and then in Calcutta, where she and her mother Juthika returned after four years in Kalyani. Her father had by then left for Dhaka to try, unsuccessfully, his hand at the then thriving jute business.
It was a struggle for the mother and daughter. They rented a cramped apartment in Dhakuria in south Calcutta. As Ganguly attended school in Jodhpur Park — teachers appreciated her melodious voice and her athleticism — her mother sewed friends' and relatives' clothes to pay for the rent and daughter's education.
"Those days were hard but I never felt we were poor because my uncles and cousins in Calcutta were always supportive,'' she says. When she was a Class VI student her father fell seriously ill in Bangladesh and her mother left her in a hostel to go to Bangladesh to care for her husband.
She put herself through college in Calcutta, doing a degree in Science with English, Mathematics and Economics. "It was hard, I gave tuitions, taught four students a day to make whatever I could," she recalls.
Ganguly always wanted to be an architect. "I never had a Barbie but I always built houses with whatever I could lay my hands on."
Ganguly says she became an actor purely by chance; she had "absolutely no interest" in films. She hardly ever watched any films and only knew a few names, among them Amitabh Bachchan and Jaya Bhaduri.
But running into a filmmaker at a wedding ceremony changed all that.
That was in 1986.
"Filmmaker Bijoy Chatterjee, who was a close relative of my aunt, was looking for a fresh face with unplucked eyebrows and rustic charms for a series of short films on the national channel, based on stories by Rabindranath Tagore. I fit the bill." Her first acting stint in Dena Paona brought her a princely sum of Rs 3,000. "I did a total of three films in that series and earned Rs 9,000, a lot of money for me then."
Within two years, she was offered the role of Draupadi in Mahabharat. That changed her life. Mahabharat also showed what obstinacy Ganguly was capable of. "They started laughing at me because I could not read Hindi or speak it properly while doing Mahabharat. I also could not ride a horse needed for the role. They mocked me, saying they would prepare a ladder for me. I resolved to change all that," she recalls.
She took lessons in Hindi at a tutorial in Calcutta's Bhawanipore and learnt to ride at the Juhu beach in Mumbai. It was not long before the Mahabharat team started marvelling at her newfound skills. Ganguly calls herself a "shameless learner" and is among the few politicians from Bengal who speak Hindi fluently.
If her foray into acting was accidental, so was her entry into politics. She says she had never toyed with the idea of joining politics until the BJP approached her in 2014, asking her to contest the Lok Sabha elections. She declined.
"I had no clue about politics at the time and fighting an election was not a game," she says. But then, the 2014 offer sparked an interest in politics. "I started following the party and what it did. I found the party pro-development."
On January 7, 2015, Ganguly joined the BJP, taking the party flag from Union finance minister Arun Jaitley at Howrah. By December-end, she was made the president of the party's state mahila morcha. "The party leadership naturally saw something in me. Or else, why would they give me such an important position within a year of joining politics," she asks.
She contested the Assembly elections in April from Howrah North, but lost to Trinamul's Laxmi Ratan Shukla, a former cricketer and a political rookie.
But defeat doesn't deter Ganguly. She insists she is in the party for the long haul. She met BJP president Amit Shah in Calcutta sometime ago and he asked her to meet him when she came to Delhi. The first thing she says she did was call her prabhari and Bengal BJP minder Kailash Vijayvargiya and tell him about what the party president had said.
"I will meet Amit Shahji in Delhi only when Kailashji or other senior leaders make the appointment. I am not going to seek an appointment with the party president directly. I am in no hurry," she says.
Clearly, Ganguly — not very popular with senior BJP state leaders who look at her rise in the party with suspicion — is careful not to ruffle too many feathers in the party, especially at national level. And her political acumen, acquired quickly, already seems to be paying dividends, with Vijayvargiya, close to the party president, playing a crucial role in her nomination to the Rajya Sabha.
As the party seeks to prepare her to take on the Bengal chief minister, Ganguly dismisses any speculation about her leading the party in the state or emerging as its chief ministerial candidate in the next Assembly elections.
"I would request you not to bring up all this since it will unnecessarily divert people's attention from the real issues in Bengal," she says, her voice hardening.
At the moment, she stresses that her job is to criss-cross the heartland of Bengal trying to bolster the women's wing of the party.
By the way, she has no plans to stay on in Delhi as an MP. "I will attend the sessions but will return to Bengal when a session is over," she says.
What she intends to do is to "get to as many of our workers as possible" across the state.
"I don't want them to come to me. I would rather go to them,'' Ganguly says.
---
tetevitae
1988: Ganguly shoots to national fame as Draupadi in B.R. Chopra's TV series Mahabharat. By way of prep, she takes lessons in Hindi. A self-confessed 'shameless learner', today, she is one of the few politicians from Bengal to speak a chaste Hindi
After Mahabharat she did several landmark films — Mrinal Sen's Ek Din Achanak (1989), Gautam Ghose's Padma Nadir Majhi (1993), Aparna Sen's Yugant (1995), Rituparno Ghosh's Antarmahal (2005)
2012: Wins the National Award for Best Female Playback Singer for her rendition of Tagore's Dure kothay dure dure and Aaji bijon ghore in the Bengali film Abosheshey
Apart from music, known for her passion for cars and gadgets. In the 70s when relatives settled abroad visited the family and plied the other kids with dolls and toys, she would cherish her magnetic screwdrivers
2014: Offered a Lok Sabha ticket by the BJP, but she turns down the offer only to join in 2015; soon becomes head of Bengal BJP's mahila morcha
2016: Contests Assembly elections, but loses from Howrah North to Trinamul's Laxmi Ratan Shukla. Nominated to the Rajya Sabha in place of cricketer Navjot Singh Sidhu