War and peace in Karbala
Skinny jeans and dead bodies, billiard tables and teen soldiers — Karbala is a story of conflicting images. Sonia Sarkar visits the holy city in Iraq and finds that another war is being waged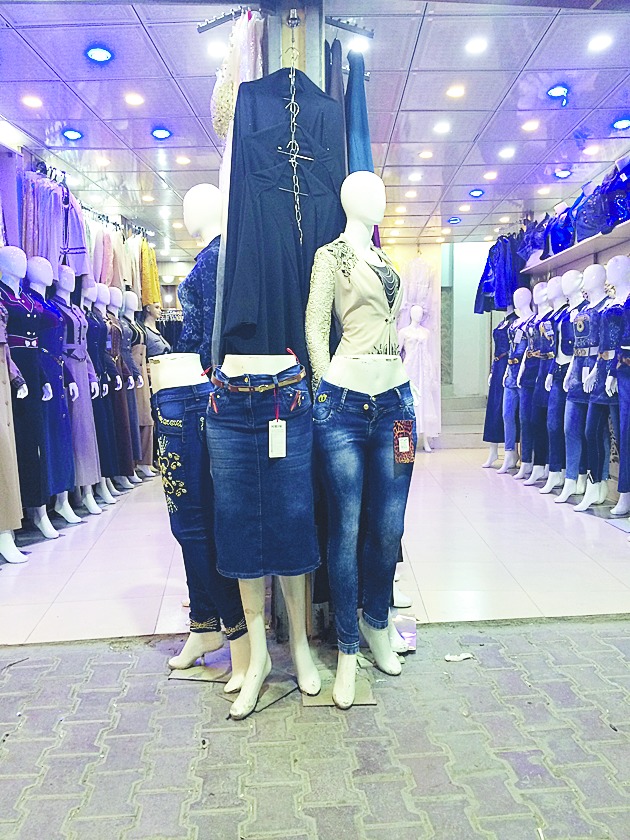 ---
---
Friday evenings at the Al Kawthar shopping complex on Al-Jumhuriya Street in Karbala are busy. Less than 100 metres from the shrine of Imam Hussein Ibn Ali, burqa clad women shop for leather bags, skinny jeans and heart-shaped soft toys. A few yards away, cheerful young men play billiards inside a noisy cafeteria. By the Nahr-al-Furat - the Euphrates - families unwind.
But it doesn't take much to change the mood in Karbala. A group of young men in uniform, carrying three dead bodies, marches towards the Karbala shrine. The dead are men killed by the Islamic State of Iraq and Syria (ISIS), or Daesh, in war-ravaged Fallujah, 120km from Karbala, home to 1.86 million Iraqis.
Just 100km from the Iraqi capital of Baghdad, Karbala is a picture of contrasting images. On the one hand, there are five-star hotels, shopping malls, theme parks, 5D theatres and apartments. On the other hand, huge billboards with photographs of young men killed by the ISIS, cavalcades of armoured vehicles and video clips from the warfront on television remind visitors that the country is still at war.
"The two images of Karbala could be contrasting but they are a part of each other. Both represent today's reality of Iraq," Muhammad Alawadi Al Musawi, lecturer, department of history, University of Karbala, points out.
Karbala is where Hussein Ibn Ali, the grandson of Prophet Muhammad, was believed to have been killed by the ruler of the Umayyad dynasty, Yazid, in 680 AD. Some 50 million tourists visit it every year.
Efforts are on to erase the picture of violence that is today associated with Iraq. And the movement is being spearheaded by the shrine, whose coffers are rich.
"We want to make Karbala a world class city and change the face of Iraq. The world believes Iraq is all about war but we want to change the image of Iraq through Karbala," says Fawzy Al-Shaher, general manager, Khayrat Al-Sobtayn, an investment company floated by the shrine. "We want to make Karbala the next developed city after Baghdad in Iraq."
With a two-year budget of US $500 million, it has started several projects. One of the biggest is the construction of the Imam Hussein International Airport with help from China. Currently, all major airlines operate from the Najaf airport, 76km from Karbala.
Old-timers point out that Karbala, which witnessed Shia unrest against former President Saddam Hussein in 1979, was a neglected city during his regime. But now it is unrecognisable. With construction galore, land rates are shooting up as malls, restaurants and auditoriums come up.
"The effort is to tell the world that Iraq is beyond sectarian divide between the Shias and Sunnis," says Sheikh Mahdi Al Karbalai, the chief cleric of the Holy Shrine of Imam Hussain.
Ironically, war cannot be taken out of the lives of the people of Karbala - or of Iraq. Iraq has been ravaged by war several times in the past 35 years. In 1980, the protracted Iran-Iraq war began as Saddam attacked Iran. In 1991, he invaded Kuwait in what was to be known as the Gulf War. Iraq was forced to retreat and economic sanctions were imposed on it. In 2003, US forces invaded Iraq, supposedly to destroy weapons of mass destruction. Saddam was captured and executed in 2006.
In 2014, a new war began, as the ISIS seized huge swathes of areas in northern and western Iraq, including the cities of Mosul, Fallujah and Tikrit. The town of Jurf al-Sakhar, 60km from Karbala, was captured by the ISIS but recaptured by Iraqi forces in 2014.
Karbala has been relatively safe, but there was an incident in 2007 when 12 men from Qods Force, a branch of the Iranian Revolutionary Guard Corps, disguised as US soldiers, entered the Provincial Joint Coordination Center in Karbala and killed five US army men.
But the shadow of the war continues to loom over Karbala. Even toy shops are not spared.
"Every child wants to buy a toy gun or a military tank," says Sala Al Hashmi, owner of a toy shop in Karbala. "Children see visuals of men in uniform brandishing guns and want to be like them."
Children, as young as eight, speak of defeating the ISIS. "I want to fight Daesh," says eight-year-old Murtaba Rahim, who is celebrating his birthday in a military camp in Karbala. His father was killed by the ISIS four years ago while he was protecting the Sayyidah Zaynab mosque in Syria, the centre of religious studies for Shias.
Teenagers have been making a beeline for the mobilisation force, al-Hashd al-Shaabi, which was formed in 2014 after the Shiite cleric, the grand Ayatollah Ali al-Sistani, gave out a call to civilians to fight the ISIS. Civilians are now trained in using weapons such as Kalashnikovs, Tabuk sniper rifles and M2 Browning machine guns by the Iraqi army under the supervision of military advisers from the US, Canada and Iran.
Sixteen-year-old Ali Fadal Abbas is among the 1.2 lakh civilians to have joined the force. Son of a daily wage earner, Abbas has been promised a monthly salary of Rs 40,106 (US$600) but has not received any wages for the past three months because of a fund crunch.
"But that doesn't stop us from fighting. The ISIS has attacked our homes; we have to save our homes," he says.
But Iraq is not just about battling enemies. Azhar Talafar owns a garment shop in Karbala and likes to play billiards in the evenings. For him, life is "normal", he says.
"I will also go [join the forces] when there is need. Till then, I can relax," he says.
Muhammad Youssif is not overly worried about the ISIS either. He is celebrating the grand wedding of a cousin in a five-star hotel, where the room tariff for a night is around Rs 11,695. "We can afford this. And a wedding is special," Youssif says.
Life in parts of Iraq is changing rapidly, and there are some concerns, too.
Elders are worried about drug addiction among the youth. In 2012, the city police had shut down the cafés and billiard halls in the city, holding that they were being used by drug dealers. The other emerging problem is of the use of alcohol - outlawed by Islamic law. Reports of trucks loaded with alcohol being seized by the administration often appear in local newspapers. Rehabilitation centres have come up in the city, too, to deal with drug and alcohol abuse.
"These are the new challenges besides the war. We have to deal with them firmly," Al Musawi says.
War, clearly, is an unending metaphor.
The reporter visited Karbala at the invitation of the administrators of the Holy Shrine of Imam Hussain