To turn the hungry tide
One man's leftover can be another's meal. Some volunteers and restaurateurs have stepped forward to convert wasted food to public profit, reports Sharmistha Ghosal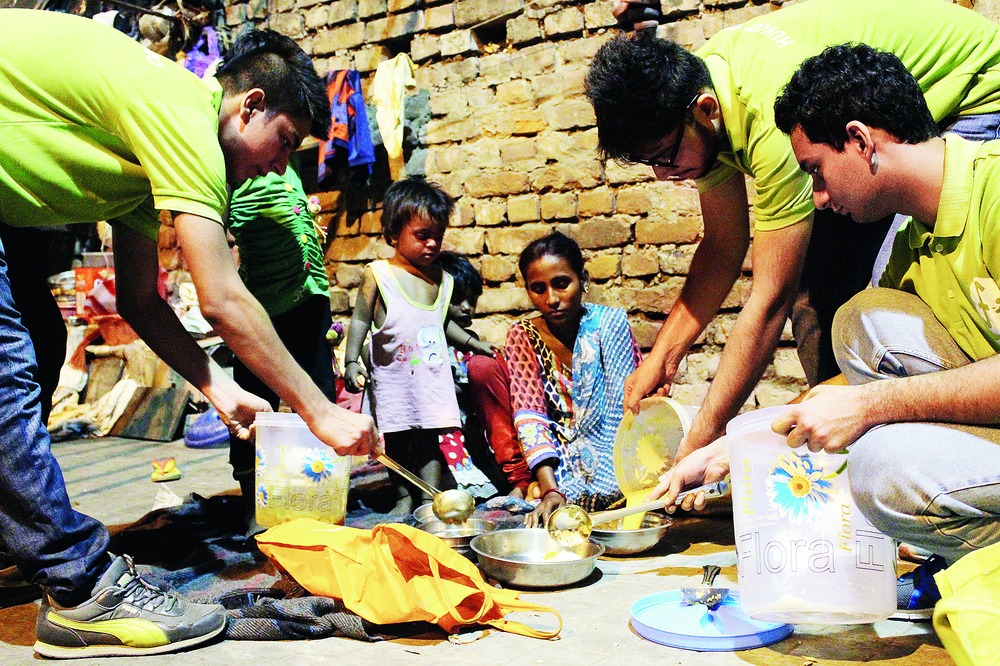 ---
Published 13.11.16, 12:00 AM
|
---
Rag picker Montu Poddar and wife Rita live with their two children under the Gariahat flyover.Montu makes about Rs 20 to 40 a day. His two big spends - the pay-and-use corporation toilet and food for his toddlers. Inevitably, most days the couple goes hungry.
" Ki korbo, agey to bachchara. Amra jol kheye katiye di. (What to do! The children are the priority, we make do with water)," says Rita.
In a city that has pavement dwellers in excess of a lakh, the Poddars are not the only ones going hungry. Not for nothing is India ranked 63rd among 88 countries in the Global Hunger Index.
But then, this is also a country with a staggering amount of food wasted and thrown away. However, that's changing. A quiet movement is taking shape in the metros, Calcutta included, to collect excess food and distribute it among the hungry.
Delhi's Robin Hood Army (RHA) is an NGO that sources and distributes surplus food from restaurants. RHA has been active in Calcutta since October 2014 and currently has tie-ups with a dozen restaurants and serves up to 1,500 people every Sunday.
The volunteers, or Robins as they call themselves, plan and organise the distribution effort depending on the quantity of food at hand. "We do not accept monetary contributions. The idea is to create self-sustained chapters that will look after their local community," says Ankita Dokania, who heads the Calcutta chapter of the RHA.
Radhika and Udayan Bubna are newlyweds. They run an e-portal. The two are also RHA volunteers. "It is priceless, the smile on the faces of these kids when you hand them the food," says Udayan, before getting busy distributing food packets to nearly 150 people under the flyover near Kidderpore.
It is late evening and the air is thick with the smell of horse dung. But the children have spied the food packets and are oblivious to all else.
"We come here every Sunday. I have eaten a lot of tasty items. I don't even know their names," says five-year-old Nazia between mouthfuls of noodles.
But sourcing food is no easy task. Shimanti Das, who runs the Calcutta chapter of the NGO, Schools of the World, says it is not entirely a case of lack of will. According to her, logistical problems - preservation and transportation of excess food - get in the way.
"Not many NGOs in Calcutta have the manpower or infrastructure and funds to improve in this area," says Das.
A senior employee of a five-star hotel recalls one time when the food given for distribution caused food poisoning. "Cooked food has limited shelf life and must be preserved carefully. Most NGOs don't have proper infrastructure. That's why we have stopped giving away excess food," says the employee who does not want to be identified.
Kallol Banerjee is manager of Marco Polo, a fine dining restaurant in south Calcutta. "We do not cook in excess, but whatever little we do is for our staff. We have proper infrastructure in place to ensure that no food is wasted," he says.
Feeding India is a Delhi-based organisation that has been active in Calcutta for the last one year. Juzer Hamid, a graduate from St. Xavier's College, who is the NGO's city head, says most city restaurants have been unresponsive. So, Hamid and his team, mostly student volunteers, have tied up with 70 paying guest (PG) facilities in and around Park Street and Bhawanipore.
But there are not nearly enough volunteers. "With 45 volunteers we can collect food only from around 10-12 PGs and feed around 40-50 people. If we could have collected from all 70, that alone could have given food security to an entire slum," he rues.
Hamid and his team hope to reach the target of feeding 200 people daily in another year's time. To that end, they are running awareness campaigns in colleges and neighbourhoods. "This World Food day (October 16) we fed around hundred children in a blind school with the excess food we got from a wedding party," he adds.
Caterers are a big source of excess food. Most party organisers arrange for excess food, but the items are available only at 1 or 2am. Since almost all items are perishable, the real challenge is to collect the food at this ungodly hour and preserve it properly before distributing it at the earliest opportunity.
"Unlike restaurants, caterers are burdened with excess food and want to get rid of them. So throwing them away is the easiest option," adds Hamid.
Some restaurateurs are beginning to come around to the idea of a little charity on the side, though. Says Mohammad Ishtiaque, owner of Shiraz and Lazeez, "There is a huge slum near Park Circus. Whenever we have excess food, we distribute among these people." Debaditya Chowdhury, owner of Chowman and Oudh 1590, makes a similar claim.
Samira Azhar, who belongs to the family that runs the Aminia chain of restaurants, has herself turned crusader. Azhar who is also a Robin, makes sure that Aminia cooks 30 packets of food every Sunday for the poor. "That apart, if any excess is left on any given day, I make it a point that they are given to the hungry," says the 27-year-old. That's something Montu and Rita of Gariahat should get to hear about.