'The RSS seniors are the most chilled out people you meet'
Piyush Goyal was embarrassed about wearing khaki shorts when he was a young boy. But the minister — considered one of the few able men in Narendra Modi's Cabinet — tells Radhika Ramaseshan that his association with the Rashtriya Swayamsevak Sangh is the best thing that's happened to him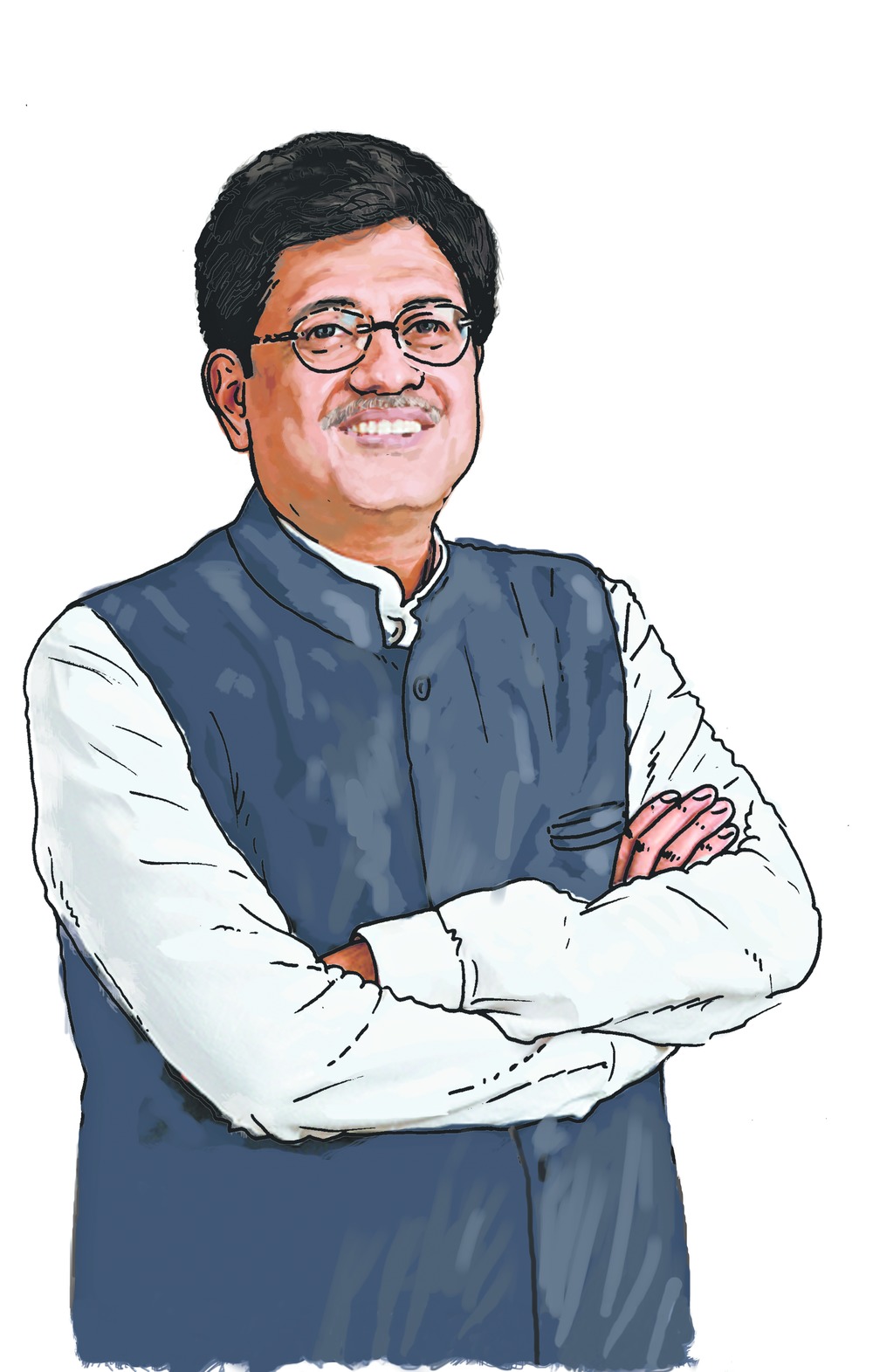 ---
---
As a child, Piyush Goyal played marbles with Atal Bihari Vajpayee. As an adolescent, he argued endlessly with Rashtriya Swayamsevak Sangh (RSS) leader Bhaurao Deoras on the Sangh's sartorial tastes. As a young adult, he micro-managed L.K. Advani's first Lok Sabha election from Delhi.
At 51, he faces the challenges that arise from holding multiple portfolios related to Prime Minister Narendra Modi's core interests and delivering on the tangibles within deadlines the boss sets. Not surprisingly, in a Cabinet often described as lacklustre, Goyal is seen as one of the few ministers with get-up-and-go.
In an expansive but sparsely furnished office in central Delhi - one of the many spaces he occupies as a minister of state independently in charge of power, coal and new and renewable energy - he tries hard not to betray the pressures he is up against in a tormenting summer, worsened by droughts, water crunch and possibly power outages.
He remembers, with a slight shudder, his entry into power in what he calls a baptism by fire.
"There was a crisis in Delhi shortly after I took over, caused by a powerful thunderstorm. A major transmission grid had collapsed. In hindsight, it was a great learning experience. We came to convert the challenges we inherited (from the United Progressive Alliance government) into opportunities to restore people's faith in these sectors. It helped that I got great support from Modi ji because he is an expert in the sectors I handle," he says.
Goyal recounts an encounter he had with Modi for whom coal and power are critical to the touted growth story.
Last year, Modi casually asked Goyal how many LED (light-emitting diode) bulbs, the hot new thing on a conservationist's agenda, he had distributed.
"I said I will find out. The Prime Minister persisted and asked, but what's the number today? Unless you monitor, you will have no idea of the target you have achieved. That prompted me to create the DELP app," he says, referring to the government's domestic efficient lighting programme. "So now I have real-time data on how people use power," he adds.
Has the bureaucracy, used to the Congress's "live-and-let-live" working credo, adapted itself to the Modi government's reputedly interventionist ways? Goyal is appropriately tactful.
"I am delighted with the support from the bureaucracy. You need to empower them and make them accountable together. If the bureaucracy is confident of a minister's backing, and importantly, if the minister is not pushing a personal agenda, it will work," he explains.
His coal secretary, Anil Swaroop, I point out, promptly alerts social media sites on every push the ministry makes. "I have no issues because I allow everyone to share information and be transparent," Goyal says.
Yet, is Goyal the only one to take Modi's raps every now and then, albeit in a nice avuncular way, as he confessed at a recent media conclave? He's on guard, not sounding as chatty as he was before the larger audience.
"Modi ji is an outstanding, inspirational leader. He has the skill of subtle messaging. He gives you nuggets. If you miss out on them, too bad, that's your loss. But the app episode taught me to learn about auditing my own performance and making people accountable," he replies.
What of his famous carp against Modi that went " na jaunga, na jaane dunga" (I won't go nor let you go) when he had to forfeit his annual family vacations as a minister?
Goyal's chary about answering that one, too. "I have a fantastically supportive wife who sees an opportunity for me to give back to the country what it gave to all of us," he says.
Seema, whom he married 25 years ago, is a social worker who has now taken a "back seat", in tune with his schedule. "She is looking after my health," says Goyal, a vegetarian, who's a tad concerned over the fact that he doesn't have the time to work out as arduously as he used to.
For someone who stands out as one of the Bharatiya Janata Party's most chilled out leaders, jokes with journalists and laughs at himself, Goyal has been minted in the RSS school of life and manners. His personal website posts pictures of himself seated with two former RSS " sarsanghachalaks" (chiefs), M.S. Golwalkar and Balasaheb Deoras, as a young boy when they stayed at his parents' house. He's not defensive about his relationship with the Sangh.
"My association with the RSS is the best thing that happened to me. I am proud of it because it has grounded me in moral moorings, it has brought checks and balances on my personality and my work because I have an ideal to look up to. People look up to gurus and spiritual masters. The RSS provided me with all of that with pragmatism and practicality," he says, before answering my query on how the Sangh's stratified thinking often circumscribed an adherent's outlook.
"You guys have a misconception about the RSS. The RSS seniors are the most chilled-out people you meet. There's so much you can do at a shakha (the Sangh's daily camps for its volunteers). We play sports, interact with people of all communities. Someone may be a billionaire, another person may be from a slum. But in a shakha we are equals. There are no special privileges for anyone, not even a diamond trader," he says.
Goyal talks about the "endless arguments" he had with Bhaurao Deoras (Balasaheb's brother) about changing the RSS's uniform. "I used to say I was embarrassed to wear those oversized khaki shorts," Goyal recalls.
After 91 years, in March this year, the Sangh listened to Goyal and discarded the mocking label of "knickerwallah". It switched from the shorts that flared clumsily at the bottom without flattering any sort of physique, to full-length brown trousers.
Goyal claims his oratorical prowess, an essential ingredient for success in the BJP, was honed in the Sangh. "Once or twice a week, we were told to speak on a subject that was proposed in advance so that you could do your research. Then you spoke in front of so many people."
He recounts that when he first became an MP (in the Rajya Sabha), his chief whip, Maya Singh, asked him to speak on the insurance bill. "She said I would be leading the debate for the BJP. I had three days to prepare. My shakha training came in handy, and I pulled it off," he says.
To Goyal, politics and the RSS did not happen serendipitously.
His father, Vedprakash Goyal, a Haryanvi who adopted Mumbai as his home, was in the Sangh, while his mother, Chandrakanta, was thrice an MLA from Mumbai and an "ardent follower" of Sangh patriarch Nanaji Deshmukh.
"My mother was a social worker in Matunga and Wadala. Nobody recognised her as a politician. I remember driving her every third day at 3am and 4am to the slums because someone was harassed by the cops or there was a fight between two communities. She won for the first time by defeating the then finance minister of Maharashtra," he says.
Vedprakash was a Rajya Sabha MP, a minister in the Vajpayee government and the BJP's national treasurer for decades as his son is, albeit "in an informal capacity before someone else is appointed".
Yet, he is loath to describe himself as a "dynast", a term often used to describe a politician's politician offspring. "My mother refused to allow me to fight (from her seat) after she retired in 2004. No dynasty, she said. In fact, the BJP lost that seat in the elections thereafter until the last one," he says.
Goyal - a chartered accountant and law graduate - went on to become an investment banker. Although the Goyals were close to Vajpayee and Advani, his shift from Mumbai to Delhi was formalised in 2010 by Nitin Gadkari. "He appointed me as the treasurer and brought me into the Rajya Sabha. It shows his magnanimity. As the BJP president, he could have taken the Rajya Sabha seat but my party is fair," he claims.
Does he see his children, Dhruv and Radhika, studying at Harvard University, in politics five years from now?
Dhruv, he says, "hated politics" until Class IX, when he was swayed by a news anchor of an English channel whose prime time debates he never missed. He interned with Modi's office when he was the Gujarat chief minister.
Goyal doesn't proffer a straight answer but between the lines, he conveys what he expects of Dhruv. "He contested the students' elections at Harvard and was elected as the union's vice-president - the first foreign student to hold a post. Indeed, he is passionate about politics," he says, paving the way for a third-generation Goyal in the BJP.