The house that Mother built
Read more below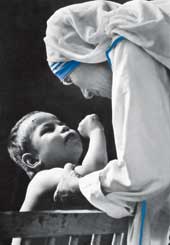 ---
Published 02.09.07, 12:00 AM
|
---
IN HER SHADOW: (From top) Mother Teresa served the "poorest of the poor"; Sister Nirmala; and the destitute at Nirmal Hriday
An old, shrunken man lets out a bone-rattling cough. Others — emaciated, vacant-eyed — lie prostrate on their narrow beds. Many of them are too ill to leave this place alive and, as if to underline that fact, a faint stench of decay and death hangs in the air. This is the men's ward of Nirmal Hriday, the home for the dying and destitute that Mother Teresa set up in Calcutta in 1952. At 4.15 pm, when the August sun is still blazing outside, dinner begins to be served — a meal of two pieces of bread and a portion of potato curry. Missionaries of Charity nuns and foreign volunteers flit about, getting ready to feed the inmates. And an elderly Irishman serves them water from a big plastic bucket.
It's not quite what you'd expect from a modern care centre. "But we don't want modern things," protests Sister Glenda, who runs the home. "Since Mother died, there's been no change here — no change," she says emphatically, almost jubilantly.
Indeed, 10 years after Mother Teresa's death, little seems to have changed in the Missionaries of Charity (MoC), the order she founded in 1950. "Service to the poorest of the poor", the cornerstone of Mother Teresa's credo, remains its fundamental article of faith. And any change — in the way that service is carried out — simply does not figure in its scheme of things.
But Mother Teresa, beatified by the Pope in 2003, would probably have wanted it that way. Agnes Gonxa Bojaxhiu, the Albanian nun who came to Calcutta in 1929, and went on to become a global icon of selfless care, would have approved that her order had not veered from its path.
That is not to say, however, that the MoC has remained utterly static. When Mother Teresa died on September 5, 1997, it was already a flourishing congregation, with missions in 120 countries. Since then, it has ventured into 14 more countries, including places like Mali, Chad, Israel, Norway, Bosnia, Azerbaijan, Kazakhstan, and so on. "The change has been our growth," says Sister Nirmala, 73, who took over as Superior General of the order a few months before Mother Teresa died. Though China, where Mother Teresa had long wanted a presence, is yet to open its doors to it, the MoC has set up 166 new homes worldwide. The number of its nuns has swelled too — from 3842 in 1997 to as many as 4853 today.
Clearly, the Missionaries of Charity is thriving. The intense media glare may have faded away with Mother Teresa's passing, but it continues to draw the faithful, and it continues to send its sisters in their signature blue-bordered saris to minister to the old and the sick, the lonely and the dying, the abandoned and the unloved.
The donations too have been pouring in as copiously as before. "We have enough funds," says Sister Nirmala, smiling serenely. "We have more than we need."
It's a statement that befits an order known for its austerity. At Mother House, the MoC headquarters in Calcutta, the nuns do not have fans in their rooms even today. Archbishop (Retd) Henry D'Souza, who knew Mother Teresa closely, remembers a time when she would not allow water to be pumped to the upper floors of the building. "The sisters had to carry their water in buckets," he says. Sister Glenda recalls that in the Seventies, when Calcutta used to have long and excruciating power cuts, someone had offered to donate a generator to Nirmal Hriday. "But Mother refused it," she says.
Such an avowed denial of comfort, not just in the practice of their faith, but also in the facilities they provide to those they care for, has often led critics to describe Mother Teresa and her order as hopelessly obscurantist.
In an interview to Free Inquiry magazine, Christopher Hitchens, who wrote the critical and highly controversial book, Missionary Position: Mother Teresa in Theory and Practice (1995), had remarked: "The care facilities are grotesquely simple ... miles behind any modern conception of what medical science is supposed to do…Very rightly it is said that she tends to the dying, because if you were doing anything but dying she really hasn't got much to offer."
It's a shocking indictment, and one that seems even more so in the context of the enormous wealth that the order apparently enjoys. No one knows exactly how much money it has — the nuns are not telling — but disaffected former members have gone on record to say that the MoC is sitting on funds that run into millions of dollars.
So should the Missionaries of Charity not use its vast resources to modernise and upgrade its care facilities? A recent book of Mother Teresa's letters has focused attention on an hitherto unknown aspect of her extraordinary life, namely, her spiritual torment when she felt the absence of god from her soul. It's making scholars redefine their understanding of Calcutta's "Saint of the Gutters". Her anguished confessions show that her faith was not always as rock solid as it appeared to be, and — so goes the refrain — that she was therefore more human, more heroic, than was ever imagined before. The question is, if Mother Teresa herself is being reassessed, and that too with the blessing of her church, shouldn't her order permit itself to change? And maybe, overhaul its somewhat rudimentary style of functioning?
Those who are intimately associated with the MoC do not think that is likely to happen. At least, not in the near future. Says Archbishop D'Souza, "Change may be a good thing per se. But by the very nature of this congregation, the nature of the things they are meant to do, it may not be required of them. They did not, for instance, set out to build hospitals." Sunita Kumar, wife of former tennis player Naresh Kumar, who knew and loved Mother Teresa and continues to work with the MoC, also feels that the order is unlikely to change its working style."I have seen them make such rapid progress in this set-up that it is unthinkable that they will change in any way."
However, the lack of sophisticated facilities does not appear to have dimmed the enthusiasm of the volunteers who come from all over the world to serve at the various MoC homes in Calcutta. On the contrary, they seem to feel that it lends an added spiritual edge to their work among the disadvantaged. "I want to do the best for those who do not have the best," says Patricia Fernandez, 32, a nurse from Madrid, who is caring for the dying in Nirmal Hriday. Patricia is on her third visit here and plans to come back again "Their suffering helps me to understand my own suffering," she says earnestly.
At Shishu Bhavan, the home for abandoned children, 21-year-old Ley, a student from Taiwan, is helping out at the section that houses some 40 children with varying degrees of physical and mental handicaps. "They have so little, but you give them a toy and they are happy. That makes me happy," she says, struggling with her English.
This area of Shishu Bhavan is strung out with streamers and toys suspended from the ceiling. A cassette player booms out popular songs, including a scratchy We Shall Overcome. On the small cots stacked close to each other lie the children with severe cerebral palsy, their twisted bodies frozen in attitudes of unspeakable agony. The place is not too clean, though, and there is an air of ramshackle shabbiness everywhere. But you forget all that when three-year-old Ramita, a slow learner you are told, bounds out of nowhere and grinning broadly, gives you a tight hug. At that moment you are just thankful that the nuns are there to love and care for children like her.
Change? That will perhaps come in the fullness of time.