The curse of Chambal
Read more below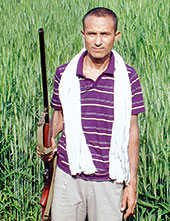 ---
Published 07.04.13, 12:00 AM
|
---
GUNS AND MEN: (From top) Pradip Singh Tomar, Charan Singh Sikarwar and Mohar Singh. Pictures by Debaashish Bhattacharya
Age has mellowed him somewhat and he now walks with a cane. But his penetrating eyes still reflect the wilds of Chambal that he once ruled.
"When I spoke, everyone fell silent," says Daku Mohar Singh. "They still do," adds the 73-year-old former brigand, twirling his handlebar moustache. He had more than 60 cases of murder, robbery and kidnapping against him when he turned himself over in 1972, ending a life of crime that lasted 16 years.
But today Mohar Singh, who spends his days farming his land, is a symbol of a bygone era. Chambal — whose dacoits were romanticised in films such as Sholay, Bandit Queen and Pan Singh Tomar, which won its lead actor Irrfan Khan a national award last month — has long bid goodbye to its band of outlaws. Over the years, over 500 dacoits have been killed in police encounters, while scores of others have surrendered to the police.
"No organised gangs of dacoits operate here any longer," says inspector-general of police (Chambal range) S.M. Afzal. "They have either surrendered or have been eliminated."
It took Chambal — consisting of the Morena, Bhind and Sheopur districts of Madhya Pradesh — nearly 40 years to cleanse itself of its home-grown marauders. The last major police encounter — in which nine bandits including Jagjivan Parihar with a bounty of Rs 9 lakh on his head were killed — took place in Morena district in March 2007.
Yet, peace has not returned to Chambal. The dacoits are gone, but the guns are still to be silenced.
A widely prevalent "gun culture" has added to Chambal's continuing lawlessness. Bhind has 29,800 licenced guns, while Morena has 27,626 guns, mostly 12-bore or 315-bore rifles. No one knows for sure how many illegal guns Chambal has.
"You have to have a gun in Chambal. Or people think you are weak," says farmer Pradip Singh Tomar of Hingotiyai village in Morena, cradling a rifle. The family fires the gun, usually in the air, on occasions such as Holi and Diwali.
But the real problem is not of festival firings or village-level skirmishes. Guns in the hands of the new terror of Chambal, the sand and stone mafia, are an issue the police are grappling with.
If dacoits earlier moved around the ravines and jungles of Chambal on foot (dacoits on horseback only happened in Hindi films, says Bhind CID inspector Bhawar Singh Jadon), the region's neo-dacoits have their own ways. The gangsters tear around in their spanking new SUVs, using tractors that are ubiquitous on Chambal roads to cart away sand and stones with impunity.
Last year on Holi, when a young IPS officer, Narendra Kumar, tried to stop a loaded tractor, he was crushed to death in Morena's Banmore.
Chambal is rich in sand and sandstones and with construction booming in nearby cities like Gwalior, these are in high demand. Officials say the state government auctioned the sand and stones until a court order banned the sale in the mid-1990s to protect the wildlife in the Chambal national sanctuary.
"It's a serious problem. We are trying to crack down on it, but it's difficult," IGP Afzal says, acknowledging that those involved enjoy political patronage. Last month, when police seized two tractor-loads of sand at Saraichola in Morena, it led to a full-scale attack on the police.
"Scores of people armed with guns managed to take away the five men we'd nabbed, along with one of the two seized tractors. They fired on us and torched a number of government and private vehicles," says inspector B.K. Parasar of Saraichola police station.
Clearly, as one chapter of dacoits has ended, another has opened up. It will be a while before the new marauders make it to Chambal's famous 50-page police album of slain dacoits. The album — with 182 black-and-white photos of the bullet-riddled bodies — features the pantheon of outlaws — from bandit queen Putli Bai (killed in 1958) to king Man Singh, who murdered 185 people and was killed in 1955. The album, says Charan Singh Sikarwar — Channa Daku to locals — was why he finally surrendered after living in the wilds for seven years.
The former sarpanch of Bamora village in Bhind district killed a man after he implicated him in an arson case in 2005. He took to the ravines of Chambal and became a dacoit, committing several robberies. He finally surrendered in April last year after being persuaded by his wife Sunita. "She wanted me to stay alive," he says. That, and the thought of becoming another picture in the album, convinced him to surrender, he says.
In a bid to curb the lawlessness of Chambal, efforts are on to curb the use of guns — once encouraged by the state government so that villagers could take on the dacoits. In recent years, authorities have been issuing fewer licences. "We hardly issue five licences a year now and that too after much verification and enquiries," says inspector Shiyaram Gupta, in charge of the gun licence section in the Morena district police headquarters.
Police officers, however, admit that guns on the other side of the divide did their bit in wiping out dacoits. "The menace ended because we killed them ruthlessly," says Bhind city superintendent of police K.D. Sonakiya, who has killed more than 40 bandits, including Parihar. "Those afraid of dying in police encounters have surrendered."
As part of surrender deals with the authorities, none of the former gang leaders has been hanged. Police say many of the surrendered dacoits have money, earned during their days in the ravines mainly from ransom, which they stashed away in safe places so they could use them later.
So Channa Daku survives on his 20 bighas of land in Bhind district, which he gets farmed. He plans to buy a plot of land in Morena soon and build a house.
Mohar Singh also farms, taking care of his 125 bighas in Mehgaon in Bhind district. He was elected "unopposed" to the Mehgaon municipality for two terms in the mid-1990s — the first time as commissioner and in the second term as chairman.
Barely 20 when he murdered a man in a fit of rage over a disputed piece of land, Mohar Singh took to the ravines in the early Sixties. He became a bagi, or rebel, as dacoits called themselves to emphasise their fight against the oppression of higher castes in caste-ridden Chambal society. He spent eight years in jail after he surrendered in 1972.
Sikarwar's trial is expected to start soon. But the man with bloodshot eyes and a chilling gaze is not thinking of it; his attention is focused on the wedding of his two daughters, aged 20 and 22. The date has been fixed for May 21.
"I want to be a good father and see them married before I go off to jail," he says.
Bandit Kings and Queens
The Dong-Batri (brothers) were the chief marauders of Chambal in the 1930s
Sultan Singh and Putli Bai unleashed a reign of terror in the 1940s
Man Singh led the biggest gang of bandits in Chambal. He fell to police bullets in 1955.
Phoolan Devi became famous in 1981 after she shot dead 20 men in the village of Behmai in Uttar Pradesh to avenge the murder of her lover.
Malkhan Singh, another notorious bandit who had more than 100 cases of murder and dacoity against him, used a letterhead printed with his name to demand ransom. When he surrendered in Bhind in 1982, he had earned lakhs from ransom.
Surrender Story
In the early 1960s, the first surrender of dacoits was organised by Gandhian Acharya Vinoba Bhave.
The second round of mass surrender of dacoits was organised by late socialist leader Jayaprakash Narayan at Morena in 1972, in which leaders like Mohar Singh laid down their arms.