Pitching the Queer
LGBTQ activists are finding ways of mainstreaming alternative lives and styles, reports Varuna Verma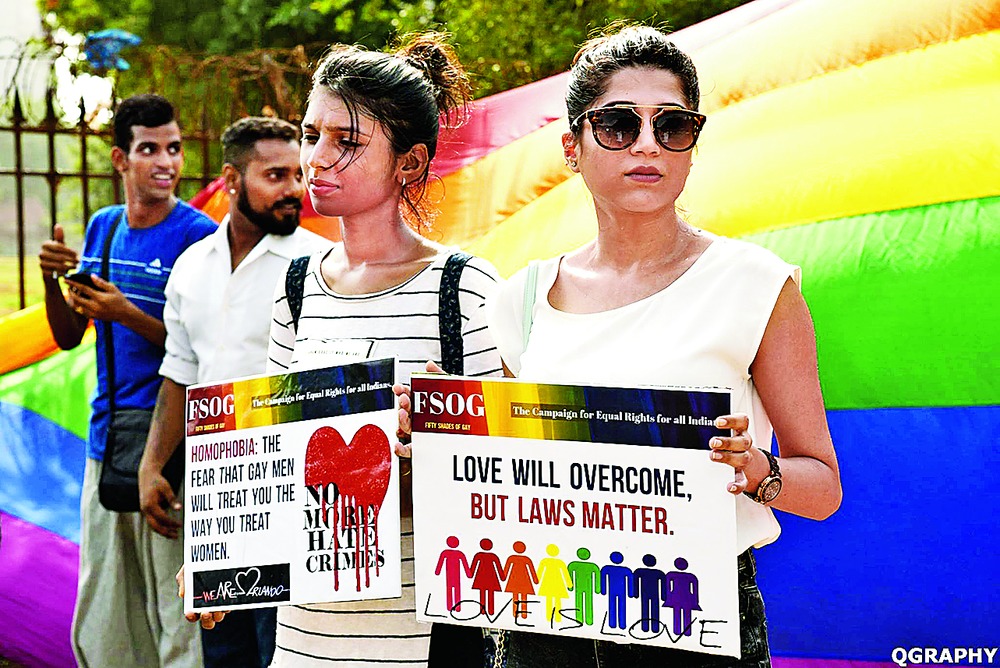 ---
Published 18.09.16, 12:00 AM
|
---
Navin Noronha had promised himself he'd come out about his sexuality in his first stand-up comic act. "Comedy is best when it's real," believes the 25-year-old, Mumbai-based engineer-turned-humourist.
It was 2014. Noronha went up on stage, at an open mic event at The Hive, a centre for performing arts and technology in Mumbai, and forgot his lines. "I had planned a nice transition, to veer the talk to homosexuality. But I ended up cracking terrible office coffee machine jokes," recalls the artiste.
He finally blurted out, "I am gay" - and waited for a slipper to come flying his way. "Instead, there was a loud cheer from the audience," says Noronha, who now refers to his sexuality with gay abandon in his gigs.
He has also started hosting The Rainbow Mic, an event exclusively for queer performers and allies at The Hive. Last year, he teamed up with two fellow gay comics to create an LGBTQ-themed comedy special, called The Homo's Odyssey.
A queer identity isn't a touchy issue anymore with India's young, urban audience, finds Noronha. "My colleagues encouraged me to find humour in my reality. Which is what I did. And it worked," says the comedian.
The task of empowering India's 2.5 million strong lesbian, gay, bisexual, transgender and queer (LGBTQ) community, clearly, no longer rests with the NGOs. Also, the movement has gone beyond pride marches and staging protests against Section 377 of the Indian Penal Code.
The point about being different-yet-normal is now being driven home in out-of-the-box ways. There's an Instagram campaign to bust homophobia, a political party seeking sexual freedom, books exploring queer tales in Indian mythology, music albums, LGBTQ-themed art shows and a fiercely fought Mr Gay World India pageant.
"Everyone has a platform to voice their views. This has created a sense of empowerment," says Reshma Thomas, a PhD student and painter, who has held four exhibitions of her LGBTQ-themed abstract, acrylic paintings.
In December 2013 - when the Supreme Court struck down a Delhi High Court verdict that decriminalised homosexuality - Shubham Mehrotra found herself battling a strange emotion. "I felt ashamed of being an Indian," recalls the 24-year-old filmmaker, who studied broadcast journalism at the University of Leeds, UK.
Instagram became Mehrotra's protest platform. This February, she rolled out a campaign - Fifty Shades of Gay (FSOG). "There's so much more to a person than his sexuality. FSOG is a platform for LGBTQ people to tell their stories," says Mehrotra. Television actor Sushant Divgikar, this year's Mr Gay World India Anwesh Sahoo and fashion designer Jason D'Souza have featured in the campaign.
The filmmaker recently launched a parallel campaign - I am an Ally - to engage the heterosexual majority. The campaign's newest ally is Pammi Aunty, a middle-aged Punjabi aunt character - who wears curlers and a face pack and gossips on the phone - played by actor Ssumier Pasricha.
Pasricha has shot six videos for FSOG. In one of them, Pammi Aunty learns that Handa Behenji's son's engagement was called off because he was gay. "Handa Behenji should be happy. She can have all her jewellery to herself," she retorts, adding, "It's good he didn't ruin a girl's life."
Statistics say the average urban youth spends "one-sixteenth of his waking hours" on the social media. "It's the best place to grab attention," says Mehrotra, adding that FSOG has 102 million followers on Facebook and Instagram.
"The social media has changed the way information is delivered and consumed. It's playing a big role in bringing LGBTQ stories into the mainstream," believes Mehrotra.
Some of these stories are explosive. Laxmi Narayan Tripathi's kiss-and-tell autobiography, Red Lipstick: The Men in My Life, published last month, has sent many men scurrying for cover, says the transgender activist and head of the Mumbai-based NGO, Astitva Trust.
"It's a story of all the men who loved me, sexually abused me, insulted me and spent their nights between my satin bedsheets. It's personal and unapologetically intimate," elaborates the 37-year-old reality TV star.
Tripathi says she wrote the book to confront her own history, and to change perceptions about India's transgender community. "People nurse biases against transgenders because they don't know any better. I thought why not write about myself," says the activist.
Rose Venkatesan didn't set out to be a transgender activist when she signed up to host a Tamil talk show, Ippadikku Rose (Yours truly, Rose) on Vijay TV in 2008. It was incidental.
"Here was a well-dressed, well-educated, articulate transgender woman discussing politics and climate change, reaching millions of Tamil homes. It broke a lot of stereotypes," says Venkatesan, who studied biomedical engineering at the Louisiana Tech University, Dallas, and is now an actor, singer, corporate trainer and organic farmer.
Though the talk show made Venkatesan a celebrity, it didn't stop the sniggers. Venkatesan decided to enter politics. In 2012, she announced the launch of a political outfit - the Sexual Liberation Party of India. However, it didn't find any takers.
Music is Venkatesan's new medium of activism. Her first album, Chocolate Roses, releases next month. "The songs talk of my journey from being Ramesh to Rose," she says.
Corporate India is also creating new spaces to initiate dialogues on diversity. The Godrej India Culture Lab organises an annual programme, Diversity Funda, to generate awareness on LGBTQ inclusion through panel discussions and movie screenings.
Radhika Piramal, managing director of VIP Industries, was part of the panel discussion last year, where she spoke about her sexual journey as a lesbian for the first time. "When a high-profile businessperson like Piramal comes out, the first wall of silence is broken," says Parmesh Shahani, who heads the Godrej Lab.
Sharing the stage with Piramal was Padma Iyer, mother of gay rights activist Harish Iyer. Worried that her son was getting older and didn't have a life partner yet, she placed an advertisement in a Mumbai newspaper last year, seeking a, "25 to 30 year old, well placed, animal loving, vegetarian and preferably Iyer" groom for her son. The ad went viral.
The ad elicited many responses, including one from a suitable Iyer boy. But nothing worked out. "We are back to square one," rues the senior Iyer.