Paying for a city's sins
How did Chennai get flooded? What went wrong? T.V. Jayan and Kavitha Shanmugam find out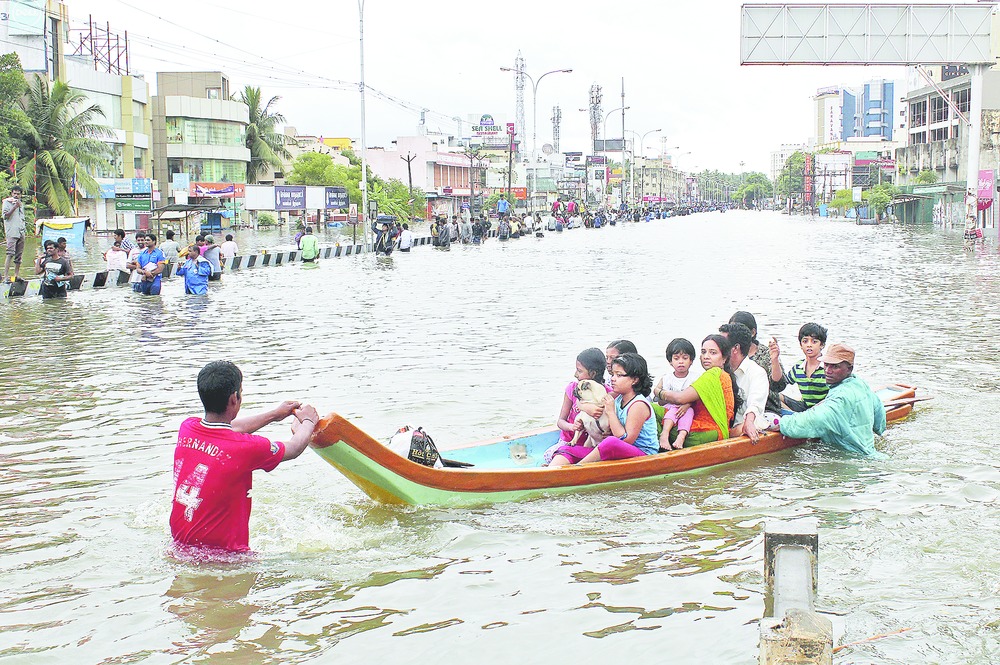 ---
Published 06.12.15, 12:00 AM
|
---
Chennai is ready for the rains, said its mayor proudly just before the onset of the northeast monsoon, which brings rains to the city and other parts of Tamil Nadu from October to December. Just how ready - or how completely unprepared - it was became apparent earlier this week.
Houses are still under water. People are wading through waist-deep water carrying babies and old people. Cars are floating. Power and communication lines have snapped. Public transport has come to a standstill. The city's airport, a part of which was built on the Adyar riverbed, was under water. The sight of 30-odd aircraft with their undercarriages submerged in floodwater clearly indicates that there is something seriously wrong with the process of urban planning, city experts say.
"While the first spell of heavy rains in the second week of November paralysed the city, the second spell totally crippled it," says Chennai-based social activist and writer Nithyanand Jayaraman. "If any area remained devoid of water, it was more by default than by design."
At the Chennai corporation zonal office in Adyar, bottles of Amma drinking water are being unloaded from trucks and stacked at the entrance. Senior officers are said to be busy supervising rescue operations at Kotturpuram, along the banks of the Adyar river, which got inundated when huge quantities of water were released from an overflowing reservoir later last week.
Chennai came under 490 millimetres of rain on December 1. Nearly 60-70 per cent of the city is under water, a former commissioner of the Chennai Municipal Corporation, who does not wish to be named, says.
"I have not seen anything like these rains. I was born and have lived here 72 years of my life. We have never received 12-30 inches of rain in a day," says P. Shankar, a former Tamil Nadu government chief secretary and former secretary to the government of India.
The rains, everybody agrees, were unprecedented. But urban planners believe that the city has been destroyed by "mindless development" - executed by the land mafia with bureaucrats and politicians - over the last two decades.
Many major public works such as flyovers and bridges have not only flouted environmental norms, but also blocked the natural flow of water. As a result, areas around major carriageways start collecting water immediately after the start of the monsoon season.
"A number of cities including Chennai are both water-scarce and prone to flooding. The problems are related to excessive construction, which leads to poor recharge of groundwater aquifers and blocking of natural drainage systems," says Sushmita Sengupta, deputy programme manager specialising in water management at the New Delhi-based Centre for Science and Environment.
Was the city also caught napping? "We never allowed the Chembarambakkam reservoir to fill. We used to release water much in advance and leave space for rainwater," the ex-commissioner says.
Chennai has an 800km-long storm water drainage system. The former city commissioner points out that twice before the monsoon - in June and then in September - the storm water drains were de-silted during his time.
"I wonder if they did it this time. They knew that four more depressions were building up, so why did they not take any precaution? We know the low lying areas. The drains should have been de-silted and pumping mechanisms should have been in place."
An officer holds that the storm system is no longer adequate. "The transformation of Chennai from a small city a couple of decades ago to a metro of 4.8 million people now is making the storm water drainage system inefficient." To top it, in many areas, sewer lines are illegally connected to storm water drains.
They also argue that the situation was different from other years. Water had to be released to the rivers as many reservoirs were overflowing because of excess rains. Water from these reservoirs, instead of flowing into the sea through the rivers, entered the city as the rivers were already in spate. The floodplains of the rivers, which have been witnessing unchecked construction, got flooded.
Illegal construction across Chennai, many believe, is the main reason the city can no longer cope with heavy rains. In a submission to the Madras High Court, the Chennai Metropolitan Development Authority recently said there were 1,50,000 illegal structures in the city. Most of these buildings - apartments and industrial complexes - have come up in marshy land or floodplains.
Many lakes and other natural water bodies in the city, which in the past used to hold rainwater and help recharge the city's aquifers, have been either completely or partially "reclaimed" - that is, they have been turned into land and built upon.
Take Pallikaranai wetland near Velachery. The wetland, which has been rampantly encroached upon over the years, is now less than one-tenth of its original size. The adjoining Velachery lake also shares a similar fate ( see map).
According to the Centre's National Institute of Disaster Management (NIDM), Chennai had about 650 lakes, ponds and storage tanks till about two decades ago. Today, it has fewer than 30.
Even the recently inaugurated Mass Rapid Transport System is built over the Buckingham Canal, a 700km-long waterway constructed by the British. The stations that came up along the route have encroached upon the canal, narrowing it considerably. And the fact that an airport has been allowed to come up on the floodplains of the river shows the local authorities' disregard for environmental or ecological stipulations, experts say.
"From littering plastic bags to choking spillways and catchments with illegal or unmindful construction, we do everything wrong," says Major General Anurag Gupta, advisor (operations), National Disaster Management Authority, New Delhi.
Attempts have been made to beef up the drain water system. A major project was supported by the World Bank while another came under the Jawaharlal Nehru National Urban Renewal Mission. But even areas where new storm drains were built came under water.
Anil Kumar Gupta, associate professor at NIDM, believes that the existing drains are poorly maintained. "Their flow is often blocked by plastic waste," says Gupta, who published a study in the journal Current Science in 2011 about the vulnerability of Chennai and Bangalore to urban floods.
A well-to-do couple in their eighties would know just how vulnerable they are. They live in Mogappair in a two-storey house; their only son lives in England.
Their house is flooded. They have moved up to the first floor, but the kitchen is downstairs. Food is scarce because there are no eateries around.
"The roads are flooded outside our house and beyond. How will we old people wade through these waters to get food," asks the doctor, a cancer survivor who has just recovered from a bad fall. "I will move out of here but I have to survive these floods first," he says sadly.