Once upon a rebel and a cause
When revolutions die, there are no comets seen. And those who were once at the forefront are left stoking the embers of a fire that now burns only in their hearts. Prasun Acharya profiles self-proclaimed ULFA chairman Arabinda Rajkhowa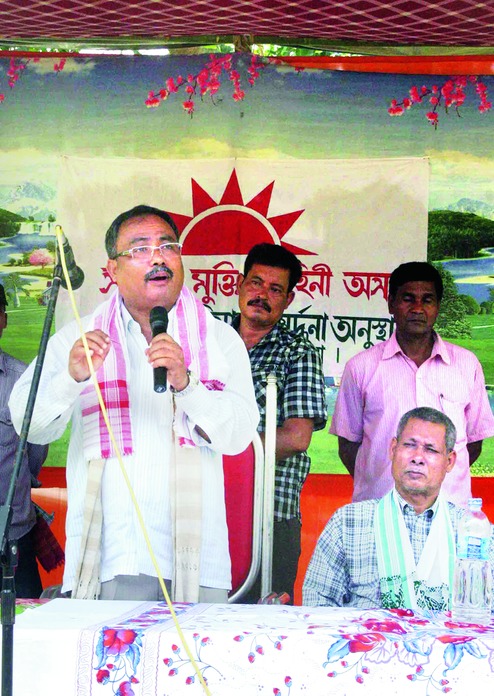 ---
---
Small places have been known to give birth to big movements. Naxalbari, Chauri Chaura... Likewise, Simalaguri in Assam's Sivasagar.
On April 7, 1979, a group of young men got together at Sivasagar's Rang Ghar and the curtains went up on the United Liberation Force of Assam (Ulfa). The young men belonged to the Asom Jatiyatabadi Yuva Chatra Parishad (AJYCP), a radical student's group of Assam.
AJYCP's aim, according to its constitution, was to "remain outside the domain of parliamentary politics in the interest of the people of Assam and to establish peace, equality and prosperity in socio-economic aspects of Assam by abolishing the neo colonial exploitation of the Indian state". The main demand of the other prominent students' body, the All Assam Student's Union (AASU) was to ensure that illegal immigrants (read, Bangladeshis) were not included in the state's voters' list.
Ulfa was ideologically more aligned with AJYCP, though the immigration issue was also at its core. It raised the demand for a sovereign Assam, separate from the Indian state, based on Ahom identity and culture. Rang Ghar was a fitting venue. Sivasagar, after all, had once been the seat of the Ahom kingdom; and Rang Ghar is said to be the oldest amphitheatre in Asia.
Among the crowd was a 23-year-old by the name of Rajiv Rajkonwar, who in later years came to be the chairman of the now banned Ulfa, and better known as Arabinda Rajkhowa.
***
A good drama is replete with fine ironies. Rajkhowa was the son of Gandhian parents. Father Umakanta was a schoolteacher and freedom fighter. Mother Damayanti was a housewife.
The late 1960s and 70s were turbulent times for the whole country and Assam was no exception. The Bangladesh War brought on its heels an influx of refugees from the neighbouring country. Then came the Emergency. Unrest piled on unrest. Assam always was rich in natural resources - oil, natural gas, coal mines, tea gardens, forests - but lack of job opportunities, under-development and poverty were festering issues. All of it now became part of the agenda of student politics, which blamed it on an uncaring Congress government and thieving "outsiders". Rajkhowa was a product of these times.
After his school leaving exams, Rajkhowa moved to Guwahati for higher studies. It was there that he became leader of AJYCP.
In 1977, the Janata Party came to power in the state and, in 1978, AASU started the agitation against Bengali-speaking people who had migrated to the northeastern state from East Pakistan or Bangladesh post Partition. Shortly after its birth, Ulfa called for an armed struggle against the Govern-ment of India, under the leadership of Paresh Baruah, Anup Chetia, Rajkhowa and others.
Rajkhowa left college midway. He went into the forests of Upper Assam and started training in arms.
On March 15, 1980, Ulfa made its presence felt for the first time. Someone lobbed a grenade at Congress chief minister Hiteswar Saikia's convoy. Saikia escaped, but the next year, Ulfa killed the commissioner of Upper Assam, S. Parthasarathi. More killings followed. Police launched a manhunt. Beginning then, Rajkhowa was on the run for the next 29 years.
Love blooms under the strangest of circumstances. At some point, after moving to Guwahati, Rajkhowa had met and fallen in love with Kaveri Kachari, a young poet, singer and student of Gauhati University. When he turned fugitive, so did she.
In July 1983, Rajkhowa along with Paresh Baruah and others went to Myanmar. The Nationalist Socialist Council of Nagaland (NSCN), much like the Ulfa, was a rebel group fighting for a sovereign Naga state. It was headquartered in Myanmar. There, the Ulfa stalwarts underwent more sophisticated arms training. Very soon Rajkhowa became a sharp shooter and a master of guerrilla warfare. He now lived mostly in Bangladesh and Myanmar and also travelled to Thailand, Malaysia, Singapore, East Timor, even Europe.
In 1986, AJYCP merged with Ulfa and Rajkhowa, as leader of both groups, became the chairman. Baruah was the commander in chief. Even at this point, Rajkhowa went by his birth name - Rajiv. It was only after he assumed chairmanship that he became Arabinda. The Ulfa, by this time, was very active; its terrorist activities rocked the state.
A large area of Upper Assam, mostly forests and hills along the Assam-Myanmar border, became a free zone for Ulfa. Recruitment, training, all of it happened here. Rajkhowa with his 40 teammates arrived in Sivasagar in the winter of 1987 and distributed Made in China arms. The new recruits abducted, demanded ransom and killed with gusto. But as a local boy, Rajkhowa had a support base among the people. He made full use of it.
Many a time, the state government offered to hold peace talks, but Ulfa members would have none of it.
***
In November 1990, the government of India banned Ulfa. It launched a counter-offensive called Operation Bajrang. Hundreds of Ulfa activists surrendered, many were killed. Rajkhowa told his comrades he was willing to have a dialogue with the government if it would stop the operation. His suggestion, however, was nullified by Baruah, who was Ulfa chief. It was the beginning of a lifetime of a rift. Around this time, Rajkhowa got married to Kaveri.
Two years later, the Indian Army launched Operation Rhino. Thousands of Ulfa members surrendered their arms. They came to be known as the Sulfa or Surrendered Ulfa; some of them were rehabilitated by the government. Rajkhowa was now amenable to peace talks with the Centre, but not Baruah.
But none of this meant that Rajkhowa was any less convinced about the demand for a sovereign state. He had simply changed tack - from brute force to political savvy.
He sought external help to carry forward the war against the Government of India. He went to Geneva in 1995, 1996 and again in 1997, but returned empty-handed. Rajkhowa and his close aide, Pradip Gogoi, shifted base from Myanmar to Bangladesh. Another irony. Later in an interview, Rajkhowa said, "All is fair in love and war." When Rajkhowa was in Bangladesh, he became a father for the first time.
Ulfa general-secretary Anup Chetia was arrested in 1997 by Bangladesh police. The Awami League came to power in 2008. The Indian government put pressure on Bangladesh to take action against Ulfa. It worked. Most of the Ulfa camps ware destroyed by the Bangladeshi force. Side by side, a dialogue started with some Ulfa leaders via RAW officials. Sources say huge amounts of money were spent in this process and RAW officials assured Rajkhowa and his family - wife, son and daughter - that they would be safe.
***
It is a matter of debate whether Rajkhowa and his family surrendered to the Indian security forces or they were arrested in 2009. Rajkhowa's version: the Border Security Force arrested him. The other version: he and some Ulfa leaders surrendered to Bangladesh police because the government denied them shelter. After negotiation with RAW and the Indian intelligence, police took them to Chittagong and handed them over to Indian forces. Rajkhowa's critics say that basically he, Kaveri and the others were sick and tired of hiding in a foreign land and desperately wanted to lead a normal life.
Rajkhowa and his family first went to New Delhi. Later, Rajkhowa was taken to Guwahati and produced before a special Tada court. He was granted bail on January 1, 2011, and released from Guwahati Central Jail. To date, Rajkhowa claims to be the chairman of Ulfa. He still believes one day a sovereign Assam will be a reality.
In the meantime, Assam is updating the National Register of Citizens (NRC). The list was originally put together with the aim of determining who is an Indian citizen and who is not. The current updation was one of the promises BJP made during the Assembly elections last year; the idea being to expose or reveal to the rest of the country the large numbers of Bangladeshi immigrants settled illegally in the region.
The final list is supposed to be ready by December 2017. And buzz is that the numbers will not be as alarming as BJP expected them to be - people have managed to turn in the requisite documents to prove residency. The Ulfa lost its sting long ago. After the 2017 NRC, it might lose the very argument for its creation. Mr Rajkhowa, are you there?
Rajkonwar to Rajkhowa
♦ In 1956, Rajiv Rajkonwar is born in Sivasagar in Assam, younger of two brothers. The elder, Ajoy, continues to live in their native village, Lakwa
♦ In the 1970s, Rajkhowa moves to Guwahati, founds the Ulfa along with some others. Assumes the name
Arabinda Rajkhowa
♦ Wife Kaveri becomes chief of the women's wing. She runs an NGO for women now
♦ The late 1980s and 1990s are the heydays of the Ulfa. During this time Rajkhowa, as chairman of Ulfa, is a man on the move, lives in Myanmar for a while and later, Bangladesh
♦ On November 30, 2009, he and his family are arrested some place close to Chittagong, along the India-Bangladesh border
♦ Soon after, Ulfa chief Paresh Baruah, who continues to be a fugitive and with whom Rajkhowa shared a tenuous relationship, expels him from Ulfa. Rajkhowa, however, continues to claim the contrary.