Look East policy
Spunky stories, trim budgets and an overwhelming response at the box office. Hindi film producers are remaking Bengali hits for good reason, says Sharmistha Ghosal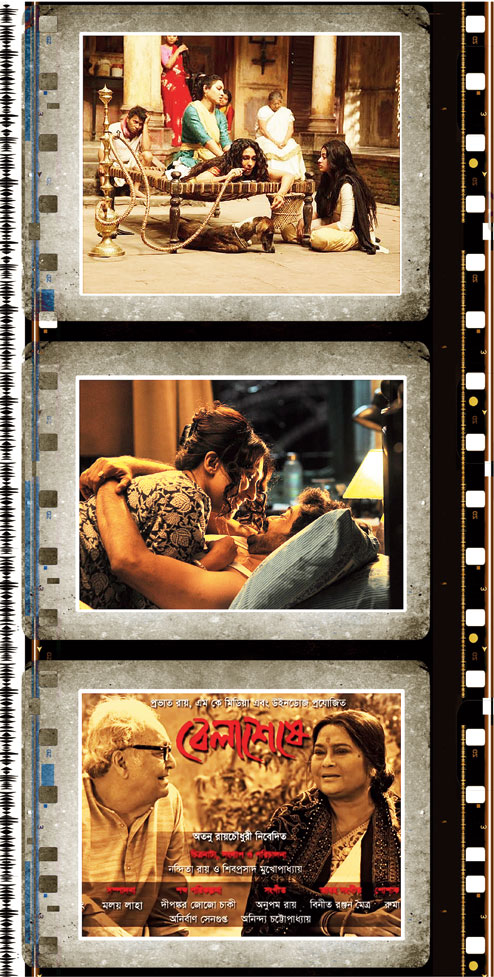 ---
Published 19.06.16, 12:00 AM
|
---
The Bollywood films - two still under discussion - have memorable storylines. One is about a brothel located just where India and Pakistan's new border is being drawn. In the second film, an elderly man decides to divorce his wife on the 50th year of their marriage. A divorced couple meet after 10 years in a train in the third.
Do the stories sound familiar? They should, for they are the themes of three recent Bengali films. And soon you will find them in their Hindi avatars, playing in a hall near you.
Srijit Mukherji's Rajkahini, a Partition drama, is already being shot as Begum Jaan in Hindi. Shiboprosad Mukherjee and Nandita Roy's Bela Sheshe, about the elderly couple's parting of ways in the autumn of their lives, and Praktan, on the divorced duo's sudden encounter, are likely to be remade in Hindi soon.
"Talks are on," says an insider.
Bengali films with interesting themes and shot on tight budgets have caught the eye of Mumbai producers. A host of reasons - including the box office success of these films - has prompted the Hindi film industry to seriously consider remakes in Hindi.
"Regional cinema has always been the breeding ground for fresh and talented filmmakers who have new ideas and the depth to depict human drama," feels Mukesh Bhatt of Vishesh Films, the producers of Begum Jaan. Bhatt is also discussing the remaking of Bela Sheshe and Praktan with its directors.
Bengal and what was Bombay have had strong cinema links. "How could Bollywood have evolved without the likes of Bimal Roy and Asit Sen," asks Kaushik Ganguly, director of Cinemawala and other films.
A great many Bengali films were remade in Hindi up to the 70s. Among them were Padosan, Chhoti Si Mulaqat, Balika Badhu, Mamta and Lal Patthar. Asit Sen, Tarun Majumdar and Tapan Sinha often turned their successful Bengali films into Hindi hits. But many of the Hindi versions - such as Bawarchi, Amar Prem and the 80s' film Ijaazat - were directed by well-known Bollywood directors.
The trend, however, faded as films changed with time. The focus was on big - and the advent of superstars and multi-starrers sidelined credible plots. Bengali cinema, too, had by then hit rock-bottom, showcasing eminently forgettable comedies and action films.
Industry watchers believe that the turnaround in Bengal came with directors such as the late Rituparno Ghosh. His 1994 film Unishe April won several National Awards - and marked the return, albeit still in patches, of Bengali cinema on the national cinematic map. The works of others directors - Kaushik Ganguly, Srijit Mukherji, Shiboprosad Mukherjee, Anjan Dutta, Anik Dutta, Arindam Sil and Aditya Vikram Sengupta, to name some - were soon being watched with interest in Bengal, and outside.
Part of the charm, Srijit Mukherji points out, is the fact that Bengali films are made on shoestring budgets.
Bhatt agrees. "The corporate production houses have corrupted Bollywood," he rues. "They make movies to make money; I want to make money to make movies. And for that I need fresh talents who have hunger and are not fat with success."
Another possible reason why Bengai films are being embraced in Bollywood is the fact that new Hindi film directors - such as Sujoy Ghosh, Shoojit Sircar and Dibakar Banerjee - have turned the spotlight on Bengal.
"Calcutta is the location for films such as Kahaani, TE3N, Piku and Detective Byomkesh Bakshy! - and all these have clicked," Mukherji stresses.
To boot, the new Bengali films have stories that are fresh and interesting. "Bengali movies rule the roost when it comes to content, which has always been the undisputed king of cinema," stresses Ganguly, adding that he often gets offers from Bollywood to remake his films in Hindi.
Content, Shiboprosad Mukherjee stresses, has universal appeal. Tollywood's focus on family oriented stories is being appreciated in Bollywood, he holds.
Bengali films are also being released outside of Bengal, leading to greater interest across the country. Praktan was released in 50 cinemas across Pune, Jaipur, Chennai, Hyderabad, Bangalore and Delhi, besides 10 locations in the US, says Nandu Ahuja, SVP, India Theatrical, Eros International Media, its distributor. "Right now it's running successfully in 35 cinemas or so," he says.
Director Arindam Sil believes that Bollywood is looking elsewhere because many of its big-budget films have not worked in recent times. "On the other hand, a movie made with Rs 1-2 crore is making Rs 35-40 crore. A few producers have approached me for remaking Ebar Shabor, and I have a couple of other new offers," he adds.
What eggs Bollywood on is also the fact that the Bengali films are hits. "For fresh scripts by relatively new directors, random mass tests are becoming a norm in the big studios of Bollywood. But in the case of remakes, the acid test is already over," Mukherjee points out.
There is, of course, no guarantee that a money-spinning regional film will yield the same results when remade. Gang of Ghosts (2014), the Hindi remake of the 2012 blockbuster Bhooter Bhabishyat, sank without a trace.
"I refused to make the film when the producers approached me. Films like Bhooter Bhabishyat, where dialogues have a major role to play, the political satire and comedy are bound to get lost in translation. I could see it was going to be a disaster," says Anik Dutta, director of the Bengali film.
Filmmakers such as Ganguly and Dutta are not very keen on the trend of turning all Bengali hits into Hindi films unless they can be adapted to a different cultural context. "Thank God, no one dared to touch Satyajit Ray's Pather Panchali. I shudder to think what would have happened if they did," Dutta says.
Yet, despite all the successes Bengali films remade into Hindi have witnessed, the Bengali industry will never earn the status of national cinema, Ganguly points out. "Great work is also being done in Marathi, Kannada, Malayalam and Andhra films. But they are not seen as national cinema," he rues.