Keep the Faith, fashionably
Muslim women the world over are making a visual treat of traditional wear, says Sonia Sarkar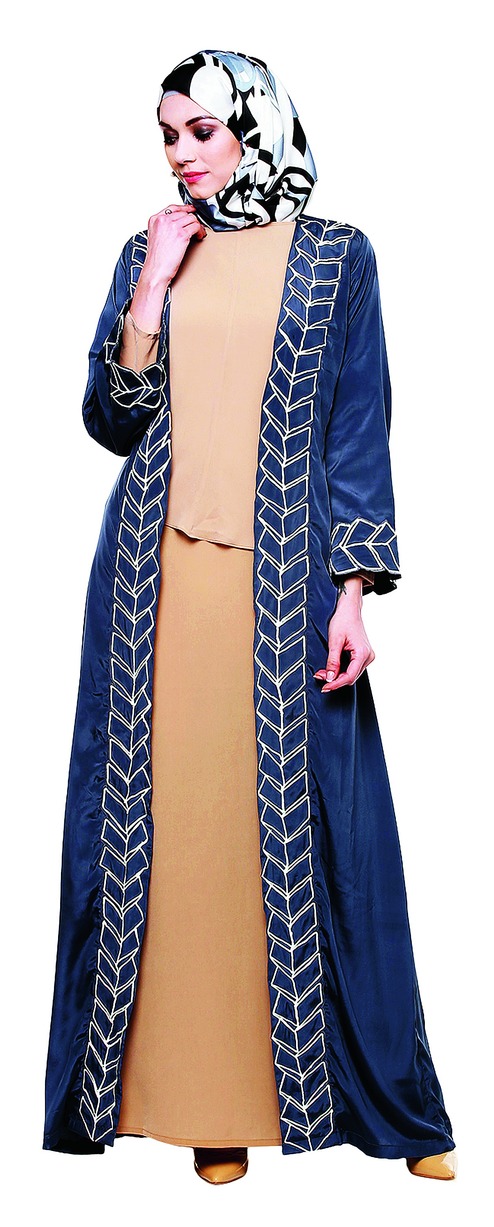 ---
---
Shazia Bargathullah's Instagram page, the_devil_wears_parda, has photographs of herself in trendy hijabs. The hashtags run thus - zipperhijab, indowesternfashion, hautehijab, hijabiandfab, modestfashion and so on. Turns out, the 21-year-old from Chennai designs these hijabs herself. She also designs long jackets, duster coats, maxi dresses and maxi shirts. "I do anything that can be teamed up with a hijab and looks modest," she says.
Mohamed Maaz is also from Chennai, a production engineer-turned-retailer. Two years ago he set up an online Islamic shopping store, islamicshop.in. It has a men's section too, but it is the women's section that is more elaborate. Here again, we find hijabs - jersey, dua prayer, daily wear. And next to it a section headed "Hijab Pins" - brooch, crystal, rose model... On Ramadan this year, the store launched a new collection of hijabs and abayas in bold, bright colours - instead of the traditional black - in a variety of styles.
A "hijab" in its very basic sense is a veil worn by Muslim women outside of the immediate family and covers the woman's head and neck. "Abaya" is a loose over-garment, somewhat like a robe.
It is ironic that at a time when Islamophobia is at its peak, Islamic fashion is also peaking, in India and also globally. Reina Lewis, author of the 2015 book Muslim Fashion: Contemporary Style Cultures, has a theory. "Globally, as more and more young Muslim women have access to education, to careers and to the power to control their own expenditure, they are likely to want clothing to take them through their lives and their different roles," she tells The Telegraph in an email from London.
It is, therefore, perhaps natural that most designers, retailers and promoters of this specialised line of clothing are Muslim women of a certain demographic.
UAE-based designer Rabia Z. tells you that her fashion epiphany happened soon after 9/11, when she saw a lot of her friends forced to take off their hijabs. "After 9/11 when hate crime was on the rise, it [her brand Rabia Z] started with a personal need for versatile modest clothing which extended to the clothing needs of family, friends and communities in need of modest style solutions," reads her mail.
Rabia might call it "style solution", but in a world in which the horrors of 9/11 were still fresh, the operative word was possibly "solution" - a life solution.
By the time Mumbai-based Farheen Naqi started writing her fashion blog "Filter fashion" in 2014, the scenario had changed. In her email to The Telegraph, she says how she would get queries from young Muslim girls asking her where they could get themselves fashionable hijabs. "It made me realise there was a big gap in the market," says Farheen, who started her label, Little Black Hijab, in 2016.
Farheen's hijabs - lacy, floral printed or otherwise embellished - come in fabrics such as crepe, viscose, jersey and chiffon. And the stress on "style" and "solution" is equitably distributed.
And it is not just the Rabias and Farheens. In the past three years, global brands such as Uniqlo, Dolce & Gabbana, DKNY, H&M and Mango have also got into the business of Islamic fashion. Various online stores such as Hijab Loft, Austere Attire and Hijab Junkie have also been launched in the West.
Reina Lewis, who also teaches Cultural Studies at the London College of Fashion, a constituent college of the University of the Arts, London, touches on the "why". She says, "This is a big shift. For decades, it was a well-known secret that super-rich Gulf clients were important to the viability of European couture houses, but there was little public acknowledgement of this. High street brands were often averse to being associated with Muslims. Now, being associated with Muslim consumers is being seen as an asset."
It would be too simplistic to look at this phenomenon of Islamic fashion in terms of demand and supply. Every other spin on every bit of traditional Muslim attire seems to say something about the different takes on Islam.
The colours, the prints, the fabrics, the cuts are all really different ways of communicating an alternative image of a faith and its followers - modern, integrative, flexible, and most importantly perhaps, less menacing. Stockholm-based fashion designer Iman Aldebe has actually named her turban line, launched in 2013, "Happy Turbans". Her creations reflect a mix of African and Middle Eastern influences.
"Islamic modest fashion movement does have at its core a need to respond to allegations that the Muslim dress - the hijab, in particular - is drab, oppressive, and a result of male coercion," reads Asma Uddin's email from the US. Asma is founder of "altMuslimah", described as "the only media platform that is wholly dedicated to stories and commentary on gender-in-Islam from the male and female, Muslim and non-Muslim perspectives".
Asma adds: "Women behind Muslim fashion lines, particularly the chic ones, are saying to the world - 'we wear these clothes of our own free will'. These clothes are empowering and fashionable."
Hear. Hear.
Big Buck Trend
In 2015, Muslims across the world spent USD 243 billion (Rs 24,300 crore) on apparel and footwear
By 2021, it is expected to reach $368 billion (Rs 36,800 crore)
A compound annual growth rate (CAGR) of 7.2 per cent is spurring this trend
Rafi-uddin Shikoh, CEO, Dinar Standard, attributes this to the wider appeal of 'modest fashion' among women worldwide
In 2015, India's 172 million Muslims spent an estimated $11 billion (Rs 1,100 crore) on clothing
By 2020, this is expected to become $20 billion (Rs 2,000 crore), piggybacking a CAGR of 13 per cent
Sources: State of the Global Islamic Economy
Report 2016-17 produced by Reuters; and
DinarStandard, a New York-based Growth Strategy Research & Advisory firm