I spy with my little eye...
A company was registered. A website was set up. A receptionist was hired to answer phone calls. Mathew Samuel, the man who claims to have recorded Trinamul leaders in a sting operation, tells V. Kumara Swamy that he made sure there were no loopholes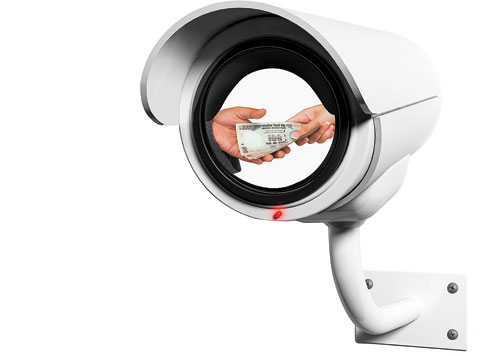 ---
Published 03.04.16, 12:00 AM
|
---
Mathew Samuel has an interesting proposition for the Calcutta Police, two of whose members were recently caught while allegedly trying to bribe the former Bengal unit president of the Bharatiya Janata Party. "I can train the Calcutta Police. I know how to do it without getting caught," he says with a straight face - and then breaks out into a hearty laugh.
Samuel - the chief executive officer and editor of a website called NaradaNews.Com - hit the news recently when he came up with recordings that purportedly showed leaders of the Trinamul Congress (TMC) taking money from a fictitious company. He called himself Santhosh Shankaran while on the sting, and told TMC leaders that foreign companies wanted to invest in Bengal.
It was quite an exercise, he says. He had to gain entry into offices and bedrooms of politicians, armed with a "sting" camera and offer "bribes", all the time fretting about the picture quality of videos shot in dimly lit rooms and wondering if the wads of money being shoved into somebody's hands would come into one frame.
The Telegraph has not been able to vouch for the authenticity of the videos. But Samuel, sitting in his Dwarka flat in Delhi - where books on the Israeli intelligence agency, Mossad, and by investigative reporters such as Bob Woodward adorn the shelves - says that he will hand over more than 50 hours of recordings to the high court of Calcutta. "I have nothing to hide," he says.
The idea of a sting came to him in March 2014. He had been thinking of launching a news website. A political expose would give it teeth, he thought.
Bengal was not on the radar to begin with. He first thought of Madhya Pradesh and then Himachal Pradesh. "I even spent a few days in Shimla but I wasn't that excited," he says.
He finally zeroed in on Bengal because of the Saradha scam. "I was amazed at its extent and also the fact that several TMC leaders were neck deep in it."
Inspired by Mike Harari - the famed Israeli sleuth called "the Zionist James Bond" who, as a Paris-based businessman, led a team of secret agents to avenge the death of 11 Israeli athletes during the 1972 Munich Olympics - he tasked a friend to create an extensive cover for him as a senior executive of a Chennai-based consultancy for multi-national companies.
An Aadhar card under the name Santhosh Shankaran was created. This was followed by the registration of the company, Impex Consultancy, with the Registrar of Companies with an office address in Chennai. A website and a LinkedIn profile of the company and Shankaran were created. A "receptionist" was hired to answer phone calls to a number on the website and printed on business cards. As Shankaran, he used a Chennai-registered mobile number.
He needed reliable spyware, too. At Nehru Place, the Delhi hub for repairing and modifying mobiles and computers, he spent Rs 50,000 and came away with an iPhone 4S with a camera at the top of it. He also had an app that could shoot videos stealthily.
"I wanted no loopholes," says the veteran of stings, including the 2001 Operation West End sting of Tehelka.com, in which several National Democratic Alliance (NDA) leaders and defence officials were shown accepting bribes.
He went to Calcutta in March 2014, and stayed at different hotels. "If you go through the CCTV recordings of these hotels during my stay there, you will see me standing in front of cameras and waving to them," he says with a laugh. "I wanted myself to be captured well in these cameras as I wanted to leave my trail wherever I went, for future record," he says.
After several failed attempts to get in touch with somebody in the TMC office in Calcutta, a taxi driver called Islam (he doesn't know his full name) introduced him to a few junior TMC leaders. "It was only after I met Iqbal Ahmed through a person called Tiger that I was able to meet other leaders," he says. Ahmed, who is the deputy mayor of the Calcutta corporation, did not respond to queries.
Once he returned to Delhi after collecting hours of footage, he sent his phone and sim card to Chennai and had them destroyed so that they were not tracked.
Samuel says the idea of NaradaNews.Com cropped up one evening in February 2014, when he and his friends were lounging by a swimming pool at the Bolgatty Palace hotel in Bolgatty island just off Kochi. That was when some friends from the Gulf urged him to start a news website and assured him that they would fund it.
"Some of us were so drunk that we were scooping water out of the pool and mixing it with our drinks. I thought it was one of those discussions that would be forgotten by the morning," he says. But a few days later, one of the friends got back saying that he had organised Rs 20 lakh for the website. "It was only after this that I went about planning," he says.
But it took him almost two years to release the videos on NaradaNews.Com, because a few months after his return from Calcutta, he joined the news organisation, Tehelka, as its managing editor. He had worked in Tehelka earlier when it was a website and then left it to join television.
His decision to go back to Tehelka troubled his friends who had funded the whole operation as part of the soon-to-be launched website. "I assured them that I would be back within two years and that whatever I had collected would be released only after I left Tehelka. They were convinced," he says.
Samuel left Tehelka in January 2016, and announced the website - with the expose - on March 14 this year. Among the TMC leaders who had been shown in the recordings were members of Parliament Mukul Roy, Saugata Roy, Kakoli Ghosh Dastidar, Prasun Bannerjee and Sultan Ahmad, state ministers Subrata Mukherjee and Firhad Hakim and MLA Iqbal Ahmad. TMC spokesperson Derek O'Brien did not respond to queries.
There has been some speculation related to the fact that Samuel worked for Tehelka, which had been bought over by TMC member of Parliament and businessman K.D. Singh from Tarun Tejpal. Mathew insists that Singh, who owns the chain Republic of Chicken, knew nothing about it.
Samuel was "the lone wolf" and nobody had a clue what he was doing. He collected and spent Rs 80 lakh or so on the sting, he says. He claims that he was not on the payrolls of any organisation when he shot the videos.
Now that his face is known, does it mean that there will be no more stings on Bengal's politicians? "If there is a story, I will shave off my goatee and put on a wig," he says. "You can never write me off."