How Hitler's Mein Kampf is India bestseller
Read more below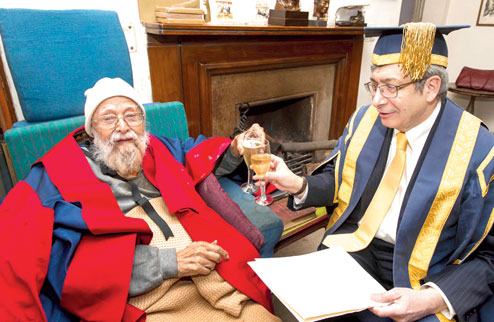 ---
Published 18.01.14, 06:30 PM
|
---
When an academic revealed recently that Adolf Hitler's Mein Kampf (My Struggle) was enjoying huge popularity in India, the BBC presenter conducting the interview appeared genuinely shocked.
'India!' exclaimed Mishal Husain, currently the BBC's pin-up girl, on Radio 4's flagship Today programme. 'Why India?'
Which takes me back to the beginning.
Daniel Pick, from Bikbeck, University of London, a Hitler expert, was explaining why digital versions of Mein Kampf were selling well.
Pick's new book is called The Pursuit of the Nazi Mind: Hitler, Hess, and the Analysts.
He explained that a downloaded digital version afforded anonymity to the reader who might otherwise feel uncomfortable being seen by others holding such a reviled book.
Pick had brought into the studio a cheap paperback copy of Mein Kampf which was first published in two parts in 1925 and 1926 and set out Hitler's political ideology on racial superiority and his future plans for Germany.
Pick's copy carried a health warning on the back: 'Mein Kampf is an evil book but it remains necessary reading for those who seek to understand the Holocaust, (for) the students of totalitarian psychology and for all who care to safeguard democracy.'
Pick agreed it was 'an important book because it influenced many people, in fact, millions of people. It became required reading in Nazi Germany and, of course, it has also had a following post-war on the Far Right... but one would not read it as reliable biography.'
The book had attracted 'a following in many different countries and it may be that people read it for different political motives in different parts of the world. It has always had a following in India, for example, but also in the Middle East as well as the US.'
India?
'Well, the idea of Aryan mythology has been appealing,' Pick suggested. 'It has also been used by Hindu nationalists.'
He warned: 'One certainly should not read it as a reliable document, even in charting the life of Hitler. It is obviously very self-serving and it is an extraordinary mish-mash of late 19th and early 20th century racist ideas — ideas about regeneration and rebirth, full of grievances. I think one needs to read it in context alongside other books.'
Mein Kampf will shortly be available in Gujarati — I'm not sure whether I made that up.
Peer pressure
Champagne toast: Khushwant Singh with Rick Trainor in DelhiLost love: Vince Cable with his Goan bride, Olympia Rebelo, in 1968rescue call: Conan Doyle's residencenSo how does Lord Swraj Paul react to the suggestion that back in 1984, the foreign office in London felt he put the Indian high commissioner in the shade?
The joke doing the rounds was: 'Dr Seyid Muhammad is the high commissioner, Swraj Paul is the higher commissioner.'
This was reflected in a note written by the foreign office for Prime Minister Margaret Thatcher: 'Dr Muhammad has been high commissioner since September 1980... Although Dr Muhammad's contribution to the development of India-British relations has been limited (and somewhat overshadowed by the private efforts of Mr Swraj Paul), relations with India during his time in London have been excellent.'
Swraj, then aged 52, was very much Indira Gandhi's man.
On Thursday last week, Swraj, now 82 and still active in the House of Lords where he was preparing to deliver a speech on manufacturing, told me: 'I feel very pleased and flattered that my efforts to bring India and Britain together were recognised by the foreign office.'
Champagne toast: Khushwant Singh with Rick Trainor in Delhi
Malt mystery
Admirers of Khushwant Singh will probably be able to spot something puzzling about the photograph of the author and journalist being awarded a fellowship of King's College London in recognition of 'his exceptional achievements in the fields of literature and journalism'.
The award was made recently at Khushwant's Delhi flat by Professor Sir Rick Trainor, principal and president of King's, who said: 'We are delighted to confer this award on Mr Singh in celebration of the substantial achievements of one of our most successful and best-known Indian alumni, as he enters his ninth decade of association with King's and his 100th birthday.'
I had always considered Khushwant to be a malt man, so what's he doing holding a glass of champagne which he probably disparages as a drink for cissies?
Lost love : Vince Cable with his Goan bride, Olympia Rebelo, in 1968
Absent note
Vince Cable, the Liberal Democrat who holds the crucial post of business secretary, was harangued in the Commons recently by two senior Labour MPs for failing to vote in support of the national wage legislation in 1998.
But the two MPs — Rachel Reeves and Chris Bryant — were left deeply embarrassed and offered their apologies when Cable revealed he was tending to his first wife, Olympia Rebelo, who was ill in hospital at the time and died shortly after the 2001 general election from breast cancer.
'Since I'm being asked personally to explain why I didn't vote, I didn't particularly want to raise this, but it has a lot to do with the fact my late wife was terminally ill at the time and I was in the Royal Marsden Hospital,' explained Cable. 'That's why my voting record at the time was poor, on that and other issues.'
Cable was a treasury finance officer to the Kenyan government in 1968 when he met and married Olympia, a Goan girl.
After his wife died, 'I took my younger son on a pilgrimage (to India). It was an extraordinary visit — it rekindled my will to live.'
Rescue call : Conan Doyle's residence
Doyle dilemma
The success of the recent Sherlock series on television has revived hopes that the house where Sir Conan Doyle lived from 1897 to 1907 with his wife Louise and their children, Mary and Kingsley, can be rescued from developers.
The 11-bedroom house, called Undershaw, in the village of Hindhead in Surrey, was where Doyle wrote The Hound of the Baskervilles as well as The Return of Sherlock Holmes in which the author had to bring Holmes back from the dead.
Had this been India, the property would have been knocked down by now and 'malled' into a kind of Shoppers Stop. But the developers, Fossway Limited, who want to convert the now dilapidated house into modern flats, have been stopped temporarily by the local authority, while the Undershaw Preservation Trust tries to buy the property and turn it into a Sherlock Holmes centre at a total cost of 3-4m.
So, if there is a wealthy Sherlock Holmes fan in India, now is the time to act.
Undershaw has an Indian connection — it was from here that Doyle successfully championed the cause of George Edalji, a Parsi-origin solicitor and son of a vicar who was the victim of a racist campaign and falsely imprisoned for maiming ponies.
Tittle tattle
Margaret Thatcher might have refused to send a telegram congratulating Indira Gandhi when Kapil Dev lifted the World Cup in 1983. However, six months later, she was more than willing to send a message expressing good wishes when a request came through from Calcutta.
It was from the Asiatic Society (formerly the Royal Asiatic Society of Bengal), whose bicentenary celebrations were to be inaugurated by Mrs Gandhi on January 11, 1984.
It had been 'No' before. Now, on the foreign office letter, requesting the go ahead, she put 'Yes' and signed her initials, 'MT'.