'He was horrified by the idea of marriage'
Read more below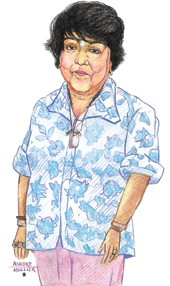 ---
Published 27.11.11, 12:00 AM
|
---
There is a chill in the Guwahati air — as if underlining the climate of bereavement and sorrow. At almost every crossing, huge hoardings pour out condolence messages. We feel your absence, says one. We pay homage to you, says another.
Three weeks after the death of Bhupen Hazarika, the city is still in mourning. As the driver of my car puts it, "Every leaf of every tree here has been grieving his loss."
But as I enter a three-storey house — called Nirjarapar, or stream on its side — in east Guwahati's Chandmari, the mood is different. There is a sense of calm and peace in the house. Filmmaker Kalpana Lajmi — Hazarika's partner for 39 years — is not red eyed any more. But then, as she says, the fact that he is no more is still to sink in. "I have been attending to streams of people since his cremation. I haven't got the time to mourn," says Lajmi, 57.
However, a month before the death of the Dadasaheb Phalke award and Padma Bhushan winner, she realised he was slipping away. "I used to cry inconsolably then. Perhaps, I was preparing myself for this day."
Singer and composer Hazarika died in a Mumbai hospital after respiratory and kidney failure. His body was cremated in Guwahati. There was a public outpouring of grief as hundreds of thousands of people turned up to pay their last respects to Assam's best known cultural icon.
For Lajmi, however, the grief was intensely private. "It was terrible to see him turn into ashes. But I had promised to be with him till the end," says Lajmi.
She had pledged to be with him way back in 1971. She was 17 and studying psychology at Mumbai's St Xavier's College, and he was 45 and already an established singer and composer. They first met when he was scoring the music for Aarop, a film directed by Lajmi's uncle, Atma Ram. "I was awed by his charisma," she recalls.
She was introduced to his music with the song He Dola, which portrayed the life of palanquin bearers. "Being a teenager with an artistic bent of mind, I was bowled over by his creative genius. He was a rebel, a maverick, a humanist — and also an indisciplined and disorganised person," says Lajmi with a smile.
Five years into the relationship, she decided to move in with him to his Golf Club Road flat in Calcutta. "My father thought that the attraction would not last for long. My mother is still not able to accept the relationship," she says.
But she went ahead — to become not just his companion but also his manager. "He was an alcoholic then and spent all his money unwisely. So I had to convince him to put things in order."
But Lajmi, then in her early 20s, soon realised it was going to be an "uphill" task. "The initial days were tumultuous. Though he was much ahead of his time when it came to work, he also had a conservative mindset. It was difficult for him to accept a woman managing his work." Lajmi points out that she — the daughter of artist Lalita Lajmi and niece of filmmaker Guru Dutt — came from a "progressive-minded" family. "Such prejudices did not exist in my family," she says.
"Earlier, in most social gatherings, he introduced me as his manager," she remembers. "From the mid-1980s, he started calling me his partner," says Lajmi, who directed her first Hindi feature film Ek Pal in 1986. Hazarika composed and sang for the film.
But why did they not get married? He had, after all, separated from his wife Priyamvada Patel almost 20 years before Hazarika met Lajmi. Patel lives in Canada, while their son Tej, who was present at his funeral, is in the US.
"He was horrified by the idea of marriage. I also gradually realised that he would never have made a good husband for anyone," she says.
Two years ago, though, he did propose marriage, but Lajmi turned him down. "Perhaps he was insecure that I would leave him because he was ailing. For me, marriage made no sense then. But you know it is impossible to understand the mind of a man," says Lajmi, and then advises me — perhaps only half in jest — to remain single.
The two didn't consider having children either. "I love children but bringing up children outside marriage is difficult in India."
But right now, Lajmi is fighting a battle with Hazarika's son over the Bhupen Hazarika Cultural Trust, set up by Hazarika in 2000. "The trustees are more interested in holding on to his estates rather than preserving his legacy," Tej said at a press conference — angering Lajmi, who called his comments "wild, blasphemous and irresponsible".
Tej, she counters, did not keep in touch with his father when he was alive. "Why didn't he try to know about Bhupenda's work and the trust all these years," asks Lajmi, who is now the chairperson and secretary of the trust after Hazarika.
"This is an insult to each and every eminent member of the trust. But I also feel that it is a label against me personally because Tej presumes his father has bequeathed everything to me, even before the will has been read," she says.
The will's not out, but what she has certainly inherited from him is the will to carry on. "He was very proud of me and my work. He always encouraged me," she says, running her fingers through her short hair. The sparkle of her gold and diamond rings catches my attention. I ask her if any of these were gifts from Hazarika. "He paid for a couple of them but never chose them for me," she laughs.
Hazarika's career started when he was barely 10. Legend has it that he was spotted by Assam's leading cultural lights — Jyotiprasad Agarwala and Bishnuprasad Rabha — when he was singing a devotional song. As a 12-year-old, he sang two songs in Agarwala's film Indramalati. He wrote his first song Agnijugor firingoti moi at 13. Later, he produced, directed, composed and sang for several Assamese language films, including Era Bator Sur, Shakuntala and Pratidhwani.
A leading member of the Indian People's Theatre Association (IPTA), a Left cultural group that was a part of the freedom movement, Hazarika was known for his rich baritone voice as well his lyrics, which touched on themes ranging from romance to social and political issues.
Though a child of Assam, Hazarika was in many ways a national and global citizen. Bengal — where his Ganga tumi is an anthem — saw him as its own. He also composed for many Bengali films, including Jibon Trishna and Jonakir Aalo. Across the border in Bangladesh, he was equally feted for his Joy joy nobojato Bangladesh (triumphal salutations to newly born Bangladesh) — a song that celebrated the country's liberation.
"Bengal and Calcutta made him a world citizen," says Lajmi. He loved the "artistic fervour" of Bengal, she adds, as much as he loved its other flavours.
A gourmet, he was particularly fond of begun bhaja and kasha mangsho, she says as we sit down to lunch — over dal, crispy eggplant fritters and mustard fish. "He also loved cooking Bengali dishes, especially shorshe chingri bhape (steamed prawns in mustard)," she says, licking the spicy mustard paste off her fingers. "He was a Bengali — both artistically and intrinsically. In fact, he was hyperactive like most Bengalis," she laughs.
He was a passionate lover too, says Lajmi, who fondly called him Bhupso — a name she coined to rhyme with their pet dog Lapso in their Calcutta home. Reading, watching television and creating songs — this is how the two spent their evenings together.
Hazarika, she adds, loved wine and women. "I knew he had his flings. But those women were romancing a celebrity. I knew he was committed to me," she says.
And she was so committed to him that his career came well before hers. "I made only six feature films in these many years because for me his work was the priority," says the director whose acclaimed women-centric films include Rudaali, Daman and Darmiyaan.
In 1996, they moved to Lajmi's apartment in Lokhandwala in Mumbai. Mumbai was as much a home for Hazarika as the other cities. He composed several songs for Bollywood — including Dil hum hum kare for Rudaali. Recently, Hazarika sang M.K. Gandhi's favourite bhajan Vaishnava jana to in the film Gandhi To Hitler.
"After 2006, I found no time for my own work because of his prolonged illness," she says.
But despite being his committed companion, Lajmi has often been under attack. Two years ago, she was mired in a controversy after images of the ailing singer being carried in a chair to the banks of the river Brahmaputra for a commercial shoot were splashed by the media. She was accused of pushing him to work despite his frail health. "Strangely, these are the same people who are now coming to express their condolences. I suppose this is an act of penance for them," she says.
Lajmi was also accused of pushing him towards the Bharatiya Janata Party when Hazarika fought and lost an election as a BJP candidate in the 2004 Lok Sabha election from Guwahati. "Actually, I tried to dissuade him — but he was determined as he wanted to do something fruitful in politics," she now replies. "But the people of Assam did not like it and they thought he betrayed the Left since he had long been associated with the IPTA," she says.
Hazarika, who had been an independent legislator in Assam from 1967 to 1972, felt he had been rejected by the people when he lost heavily in 2004. At the same time, she says, some family members sued him, accusing him of usurping family property. "He suffered his first heart attack in 2006. Three years later, he underwent a bypass surgery. Slowly, he went into depression," she says as her voice trails off.
The fear of death started to stalk him. "He often asked me if he would be remembered after his death. Ay bedona loye Bhupen da ghusi gol (Bhupen da left with a lot of pain)," she says in her accented Assamese.
But Lajmi stresses that his music and memories will be with her forever — even though he has moved on. "He was not someone who could be held back at one place, she says, recalling his song Moi eti jajabor (I am a nomad). He is still here, there and everywhere.