Gay men, unhappy women
Many gay men are married. Avijit Chatterjee looks at the plight of their wives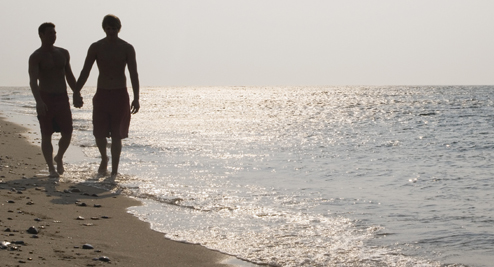 ---
Published 26.04.15, 12:00 AM
|
---
Vanisha fell in love with her weight trainer. Within two months, they were married. But on their first night together, her husband told Vanisha, a resident of Bandra in Mumbai, to sleep in another room for he was not interested in having sex with her. She discovered with a shock that he was gay.
"During our courtship he appeared to be so caring and loving that I never thought he was marrying me only to keep his family happy and was not interested in me as a person," she says. "When I asked him why he hadn't disclosed his sexual orientation to me, he said I could fulfil my sexual desires by entering into a relationship with his brothers."
With shattered dreams and a broken heart, Vanisha returned to her parents' house two days after her marriage.
But Priya Vedi couldn't - or didn't want to - do that. She took her life because her husband of five years was gay.
For the last few days, Vedi's story has been hitting the headlines. A doctor, she "outed" her doctor husband on her Facebook page before taking her life in a hotel in New Delhi. The police said she had found her husband using an email account to communicate with other gay men.
Before she slit her wrists, Vedi posted a fervent plea on her Facebook page to gay men, urging them "not to play with a girl's emotion" by hiding their sexuality and entering into wedlock.
Vedi's story is not unique. According to gay activist Ashok Row Kavi, 75 per cent of the estimated population of 25 lakh gay men in India are married. And more than the effect on men caught in such marriages is the impact on their wives, points out Hemangi Mhaprolkar, a Mumbai-based clinical psychologist who during her 14-year practice has counselled several such women.
"That is because in India a wife is held responsible for the failure of her marriage. So when a marriage does not work, the blame falls on the wife. This has a crippling effect on her morale and self-worth," she says.
Of course, gay men are often pushed into such situations because of societal and family pressures. The fact that most people still do not accept homosexuality forces them to keep their sexual orientation a secret. But while some men do find support outside their marriage from gay friends, the woman seldom has anyone to turn to.
"Homosexuality is such a hush-hush thing in India that a woman thinks if she tells anyone about her husband's sexual orientation, she will become an object of ridicule," rues Anjali Gopalan of Naz Foundation, a non-government organisation (NGO) that works on sexual health. "There is hardly any social support for women married to gay men in India."
Rashmi, a social worker based in Pune, felt this lack of support soon after her marriage. After her honeymoon in Kerala last November, she approached a few NGOs working on gay rights. "But they refused to help and even suggested that I go for a mutual divorce as my husband was already facing too many problems and I would only increase his problems," she says.
She walked out of her husband's home after 46 days of marriage. Rashmi also scoured the Internet to find out how to deal with such situations - and came across the Straight Spouse Network started by an American, Bonnie Kaye. Kaye had launched the network after her marriage to a gay man collapsed in 1982. She in turn connected Rashmi to a few other women married to gay husbands.
"I tell women who seek my help to find an escape route, which isn't always easy in India. The cultural differences are very defeating for a woman who finds herself in this position," Kaye says. She, however, tries to put women in touch with other women facing similar problems. There are about a dozen women from India in her "support system", she says.
Rashmi has now started a similar network in India called the Indian Straight Spouses, along with a London-based friend called Nimcy, who also found herself in a similar situation. "We have a Facebook page through which we reach out to straight spouses of gay partners. We connect them with local NGOs who offer counselling and legal advice to straight spouses," Rashmi says.
Some believe that gay men need to be counselled too - and before they get married to straight women. "But they [gay men] want to please their parents and take the easy way out [by marrying straight women]," says Kavi, who is founder of Humsafar Trust, an NGO which promotes gay rights. "They think they can have the best of both worlds - by hiding behind a heterosexual marriage and continuing with their secret gay lives," Kavi adds.
Deepak Kashyap, a Mumbai-based psychologist, stresses that such men are playing with fire. "You not only endanger your life by participating in irresponsible sex with men but also destroy the life of an unsuspecting woman. Also, there is the added danger of deadly infection," he says.
Kashyap believes that the "re-criminalisation" of homosexuality by the Supreme Court in 2013 has only made matters worse as those who would have come out of the closet now have to hide their sexuality.
Counsellors warn that some gay men married to straight women can also turn abusive. Trapped in a bad marriage themselves, they can develop a resentful attitude towards their wives, points out Audrey D'Mello, programme director, Majlis, a forum for women's rights discourse and legal initiatives.
But Mumbai-based family court lawyer Nilofer Saeed Akhtar, who has come across several such cases during her 30 years of practice, says women nowadays have become more aware and know what they want. "They tell me straightaway that they want an annulment of their marriage," she says.
If only Vedi, like them, had thought that being married to a gay man was not the end of her life. For her, sadly, it was the end of her life.
How to find out if your husband is gay
You find pop-ups of gay pornography on the computer
He claims that he feels 'trapped' in the marriage and won't explain why
You can't track his activities
He tells you about sexual abuse in his childhood/adolescence
He admits to having a homosexual encounter in the past
He uses the word 'bisexual'
He visits gay bars claiming he's there only to hang out with his gay friend
He watches porn movies with gay male scenes
He makes too many gay comments in conversations
Courtesy: Straight Spouse Network