Chaos on campus
Read more below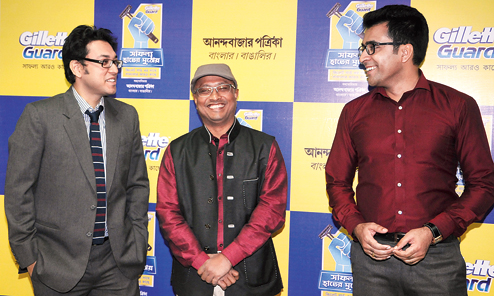 ---
Published 12.05.13, 12:00 AM
|
---
A war is waging in one of the most prestigious universities in the country. The voices of dissent have spilled on to the streets and have now reached Parliament. Leaders of political parties have urged the Prime Minister to intervene. Academics hold that the university is on the brink of collapse. And other universities are watching with trepidation.
The point of contention is a move by the Delhi University (DU) to introduce a four-year undergraduate programme (FYUP) instead of the existing three-year format. From this academic year, which starts in July, students will not just study for an extra year, but will face a brand new curriculum and courses.
It is reforms, says DU. "This is the worst phase in the history of Delhi University," counters Nandita Narain, head of mathematics, St Stephen's College.
The move took shape late last year. A 61-member task force, comprising principals, deans, heads of departments and some teachers, was formed by vice-chancellor (VC) Dinesh Singh in September 2012, to look into reforms. On December 24, DU's academic council (AC) convened a meeting and passed the four-year format — without consulting faculties or department heads, say the agitators.
Though Dinesh Singh has the support of a large number of DU teachers, several noted academics — and some well-known writers — have publicly voiced their concern. Among them are Amitav Ghosh, Ramachandra Guha, Pratap Bhanu Mehta, Andre Beteille, Krishna Kumar, Jayati Ghosh and Nayanjot Lahiri.
The changes being proposed are colossal. Students will have to clear 50 papers from various subjects (including maths, even if they have opted for humanities) over four years. The FYUP comes with three exit points. At the end of the second year, students can exit with a diploma (and later complete the education if they wish so) and after three years with a bachelors degree with a major subject. On completion of the fourth year, a student gets a bachelors (honours) degree or BTech degree with a major subject.
Lecturer Justine Mathew, who takes two extra lectures besides his regular classes every day, is outraged. "At a time when I am running around looking for an empty classroom for extra classes and struggling with the semester system, DU proposes an additional year," Mathew says. "But where is the infrastructure," asks the history head at Hansraj College, DU. "Where are the classrooms or teachers?" At present, the university has 4,000 vacant posts managed by ad hoc teachers.
This is not the first time that changes in the university have attracted widespread criticism. A group of teachers filed a case in the Delhi High Court in 2010 against the semester system, which DU implemented in 2011. "The final verdict by HC is still awaited. "And here comes another 'so-called reform' which hasn't been debated upon and is being implemented hastily just like the semester system. Everyday there is something new to fight about," Narain says.
The repercussions are being felt across cities. Sanjib Ghosh, former principal of Presidency College, believes changes in DU may lead to similar moves in other universities. "But it will be a big blunder. It will dilute the course content both at the undergraduate and the postgraduate levels," he warns.
Winds of change are also blowing across other universities. Last month, Jadavpur University decided to introduce five-year integrated courses — with an option for students to exit at the end of the third year with a graduation degree — from 2014. At Presidency University, talks have been on for an integrated degree programme. "At present we are not looking at changing the structure of study," says Malabika Sarkar, VC, Presidency University.
But in DU, which caters to around 1.5 lakh undergraduate students, change seems imminent. Though Union human resource minister M.M. Pallam Raju said on Thursday that the concerns expressed by the critics would be considered, the ball has been set into motion. The final call rests with the university, and the academic council has already approved 54 courses under the four-year undergraduate programme. Earlier this week, the executive council approved the courses and the amendments to university ordinances required for the new structure.
Under the new system, all students will have to study six types of courses that include 11 compulsory foundation courses, 20 courses in the major discipline, six courses in the minor discipline and five courses in what is being called application. Then there are non-credit courses such as two on "integrating mind, body and heart" and six devoted to "cultural activities". DU will have to introduce at least 20 new courses for this.
Critics fear the changes will "erode" the quality of education. "In principle, I support four years of education for an undergraduate. But just adding an additional year isn't the solution," says K.N. Panikkar, vice-chairman of the Kerala State Higher Education Council, which was formed in 2007 to look into academic reforms in the state. "Has the debate looked at the different teaching methods and evaluation to be adopted," Panikkar asks.
That's not all. An additional year will also escalate costs both for a college and its students. Already, colleges are floundering under new rules. The implementation of 27 per cent reservations for Other Backward Classes in 2009 meant a rise in enrolment. Student intake in colleges such as Hansraj went up by 5,000. "There is already tremendous pressure on the quality of teaching," says Vijender Sharma, associate professor of physics, ARSD College, and former president of Delhi University Teachers' Association. "Now with an additional year, how are we going to accommodate the extra numbers," Sharma asks.
Not surprisingly, worries over the system are mounting. A few teachers have started a "Save DU campaign" and sent a petition signed by over 4,000 people to the Prime Minister and the President. Street plays, school visits, protest marches and group demonstrations are being undertaken almost every day.
A public interest litigation has been filed by a non-government organisation in the Delhi High Court demanding a stay on FYUP citing that the foundation courses on science and mathematics will be a hurdle for visually-challenged students. Though the court has not granted a stay, it has asked DU to respond. A UGC intervention led to a change in the nomenclature of the degree which was initially proposed as Baccalaureate. A Right to Information application has questioned the status of regional languages which may fade out under the new system.
The university is unperturbed by the uproar. It argues that these reforms will allow for a more inter-disciplinary approach to undergraduate education and will allow students to explore more streams of study. According to VC Dinesh Singh, the exit options will control the dropout rate which stands at 30 per cent.
"The changes are also being made to increase employability," says S.K. Garg, principal, Deen Dayal Upadhyaya College, and one of those involved in streamlining the new process. VC Singh did not comment.
In a television interview, the VC had said that out of 1,100 students that were interviewed by a major corporate house in a campus recruitment drive last year, only three were offered jobs. The new structure sought to increase student employability, entrepreneurial skills and research, he said.
But not everyone is convinced that it will work. "We are not yet ready for such a change," stresses Arun Nigavekar, former chairman, UGC, and former VC, Pune University. "We could start with a dual learning process in the present manner but without expanding the degree lengths," Nigavekar adds.
Critics argue that DU is trying to ape the American system of majors and minors, without preparing the climate for it. "In the US, two-year courses are offered by community colleges while undergraduate colleges with four-year programmes are separate. This move is aimed at fulfilling some vested interests such as pushing the Foreign Educational Institutions (Regulation of Entry and Operations) Bill, which is pending before Parliament," Narain holds.
The proposed bill is on the entry and operation of foreign institutions imparting higher education. At present, foreign universities have to collaborate with Indian partners to set up shop in India. If the bill is passed, it won't need an Indian partner. DU's reforms, its critics hold, are meant to acquaint students with the systems that the Americans will follow if they set up universities in Delhi.
If it's DU today, tomorrow it will be universities across the country, lecturers warn. "The VCs of several central universities are looking closely at our model and accordingly they will restructure their courses," Garg agrees. There are reports that Haryana government will soon adopt a four-year structure for its universities.
Other universities are unsure how the move may impact their students. "There will be a problem of equivalence if a four-year undergraduate structure is implemented in DU. Seventy per cent of students in my university come from rural areas and would find it difficult if their course is increased by a year," Calcutta University VC Suranjan Das points out.
The corporate sector, at present, is maintaining a wait and watch policy. "A four-year degree with multiple exit points will provide more options for students," says Himanshu Aggarwal, CEO, Aspiring Minds, a Gurgaon-based employability solutions company, rather cautiously. According to Rituparna Chakraborty, senior vice-president and co-founder of TeamLease Services, a Bangalore-based staffing company, entry-level requirements in sales, customer service and retail operations will be met with a two-year programme.
Meanwhile, as DU authorities dig in their heels, and detractors up the ante, the real victim is the student. "How can they talk of implementing such far-fetched changes right before the beginning of a new academic session," asks Tarini Sharma, an 18-year-old student who was hoping to pursue psychology at DU. "I am applying to other universities in Delhi because I am not ready to be a guinea pig for DU," she says.