Capital cinema
Read more below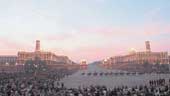 ---
---
Aamir Khan serenades Kajol around the Qutub Minar and Delhi's Old Fort. Anupam Kher's nerve-grating laughter echoes in a local laughter club in a Delhi park. Soha Ali Khan bounds down the steps of the India Habitat Centre.
No, these are not celebrity sightings. These are scenes from recent films which have been shot in the capital city. Historically, Delhi has hardly been the object of affection for film-makers. But the situation might just be changing. Films such as Fanaa, Rang de Basanti (RDB), Khosla ka ghosla, Ahista-ahista and Delhi Heights have not only been filmed in Delhi, they have flirted with the city, wrangled with it and finally made the audience see Delhi as more than just a political hub.
Delhi has earlier been the background for Hindi cinema — old-timers would recall that Sangam of 1964 had a Delhi background, as did Tere Ghar ke Samney in 1963. But for every film shot in Delhi, there were scores and scores shot in Mumbai or the south. Delhi was always the poor cousin when it came to shooting locales.
Films such as (from top) Delhi Heights, Rang De Basanti and Khosla ka Ghosla have all used Delhi as a backdrop
But 2007 has a different story to tell. In fact, if you are not a fan of Delhi, you might have to give many of this year's releases a miss. Films such as Delhi 6, Sunday, Cheeni Kum and Dus Kahaniyaan were all shot in Delhi. Fanaa director Kunal Kohli's next film will also be shot in the city. "Right now, every day there are at least two auditions going on in Delhi," says Delhi-based theatre activist N.K. Sharma.
So what if the India Habitat Centre masquerades as Delhi University and the Modern School at Barakhamba Road as All India Radio in RDB? Rakeysh Omprakash Mehra's award-winning film not only launched India Gate as the hip place to hold candlelight protest vigils in the city, it could also have passed off as an advertisement for Delhi tourism.
And Delhi's tourism department is pretty kicked about it. "If it helps the tourism department to be promoted as a brand, there is no reason why we will not encourage films to be shot in Delhi," says Suman Sharma, chief manager, Delhi Tourism Department. "We do help in shootings at Delhi Haat and the Garden of Five Senses (both owned and managed by the department), but when it comes to shooting at India Gate, god help you, because we can't," says Sharma, hinting at bureaucratic tangles.
Clearly, shooting in Delhi is not an easy task. Unlike Mumbai, the city does not have the infrastructure for filming. Dibakar Banerjee, the director of Khosla ka Ghosla, had to cart his crew and equipment from Mumbai, which hiked up the cost. "Actually, the cost of shooting in Malaysia or Singapore is less than that in Delhi. These countries support shooting in a big way, give 50 per cent flight and hotel discounts and even knock off excess baggage charge. But in India there is no such thing," says director Kunal Kohli.
Delhi, certainly, has no grand schemes for Indian filmmakers, for its focus is on the global director. "Foreign films do get incentives such as airfare and hospitality from the central ministry. The policy is to promote India, outside India," says Sharma." But Sharma, who agrees that not extending incentives to the domestic film industry is a blinkered approach, is optimistic. "Anyone with proposals should approach us and we are optimistic about such efforts," he says.
BUT DESPITE THE PROBLEMS THAT BABUDOM poses, Delhi is fast turning into a popular locale. Dibakar Banerjee says, "This is just a matter of evolution. Indian filmmaking style is changing. Now, stories are replete with character detailing and layering. And for that, filmmakers are looking at Delhi as a backdrop."
Kunal Kohli believes that more films should be shot in Delhi not because it is a trend but because Delhi's environs demand and deserve it. "Delhi is amazingly scenic. On our recce, I realised that Lodhi Gardens is as picturesque as the Central Park (in New York). Delhi has more romance than any other metro," exults Kohli. His third film, Fanaa, which featured Aamir Khan as a terrorist who does overtime as a Delhi tourist guide, was the perfect recipe to showcase Delhi's gardens, monuments and, of course, the tree-lined avenues. "After watching how Fanaa and RDB were filmed in Delhi, we should not even think of shooting abroad," says Kohli.
There are other reasons too. "Cinema is changing colour in every way. Technically, we have come a long way. Studio shooting doesn't matter any more as shootings can be held everywhere," says N.K. Sharma. He adds that Delhi theatre has been bustling with talented actors from the 1980s. However, since opportunities are limited in the city, talent comes cheaply.
Talent might come cheaply, but the familiarity and local guide's knowledge of a city or town do not. Banerjee's formative years were spent in Delhi and that too in the west Delhi residential colony of Karol Bagh. "The Khosla house in the film was actually situated five minutes from where I grew up," explains Banerjee. "Visualisation is definitely easier when you a know a city so well."
Pradip Sarkar, director of Parineeta, confirms that a comfort level with a city is critical. "If the place is unfamiliar, then I have to spend at least a few months in the city. Parineeta was very comfortable because I was used to Calcutta, having started my filmmaking career there," adds Sarkar.
FILMMAKERS AGREE THAT CINEMATIC STORY- telling is also about the script, which is about the dialect of the place. But that is not necessarily always abided by in commercial cinema. "The Bhopali dialect is used anywhere and so is Punjabi-accented Hindi. Unfortunately, commercial cinema is not always rigorous enough to authentically portray a city linguistically," says Sharma.
Here is where Delhi might step in. Kohli opines that the Mumbai lingo is peculiar to the region, but Delhi's language, on the other hand, is understood everywhere. "In Fanaa, Aamir was addicted to shayari. Now, where else would that exist? Definitely not in Mumbai," says Kohli.
The backdrop is here and so is the talent. But, unfortunately, Delhi still doesn't have the hardware to support the burgeoning film industry. "We need at least seven permits and permissions for each location — the police, the municipal corporation, everyone," says Kohli, who faced his share of the bureaucracy while shooting for Fanaa in Delhi. "According to the Archaeological Survey of India, we could not shoot under any ceiling in a monument. That is absurd. While our films, which would promote Delhi and what it has, are not allowed, the same monuments are used as public toilets," complains Kohli.
The filmmakers point out that Delhi can make the most of the current trend, for cinema is always a revenue earner. "Tourism in Malaysia and Singapore went up after Don and Krrish released. After Fanaa, even Poland's tourism went up even though there aren't any direct flights to Poland," says Kohli. "Imagine what it can do for Indian cities."
Banerjee adds that if Delhi gets more infrastructure — such as studios or adequate equipment — in place, there is no reason why it cannot displace Mumbai.
That may sound like a pipe-dream, but the city has started to make its presence felt, be it through filmmakers or actors. Banerjee, Mehra and Sarkar, for instance, all hail from Delhi. Sarkar says, "At a particular time, many of us shifted to Mumbai, in search of a wider horizon." Maybe, now is the time they give it back.