'I am Shabana. You were good'
Smita Patil was Indian cinema's Everywoman, writes Maithili Rao in a book that marks the late actor's 60th birth anniversary, on October 17. An extract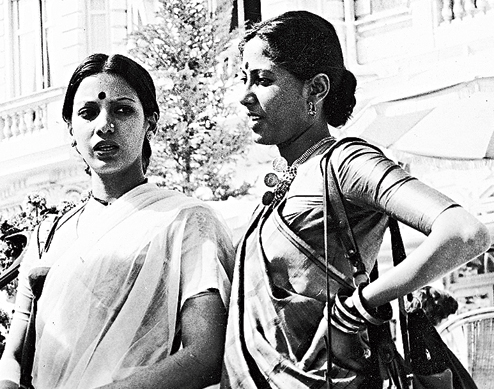 ---
Published 18.10.15, 12:00 AM
|
---
Excitement of another sort came unbidden to Smita [Patil]. Her entry into Doordarshan (DD) is dramatic, as if scripted by an unseen hand. A riotously famous story, it must be recorded here once more. Let [Smita's sister] Anita, who played the stellar role, tell the tale that happened by pure chance.
"My classmate Tipdya [Tikekar] came from Pune. The newsreader for Marathi news at DD was Jyotsna Kirpekar [she had a big fan following for her fair, pretty looks and chirpy demeanour] and her husband Deepak Kirpekar [now a renowned neurosurgeon in Pune] were part of our gang of four. Deepak was fond of photography. He used to take a lot of pictures of Smi... chalo apni ghar ka model hai na, let's shoot, he'd boast... A couple of weeks earlier, he had taken a lot of pictures of Smi in different outfits. He wanted to show them to Jo. So, after classes, at five, we went to Worli [the Mumbai DD location]. There was some construction going on there, a lot of rubble was lying around. He found a flat surface and spread out the photos. We were just hanging around when the DD director [the redoubtable P.V. Krishnamurthy] passed by. He knew us, of course, because we used to go over often to meet Jo.
'"What are you guys doing here?' he asked. Then he looked at Smi's pictures and said, 'Who's she?' He wanted to meet her! The question was: who was going to tell her? Jo and I finally coaxed her. She was not interested at all. I put her on my scooter behind me and went for an audition. Smi sang the Bangladesh national anthem Amaar Sonar Bangla. She was versatile in that way and picked up languages easily. Smi was selected and started reading the news."
***
Befittingly, Smita Patil's first role was in Teevra Madhyam, the prize-winning diploma film that discovered her capacity for emoting through stillness, to stand the unsparing scrutiny of the close-up.
The story of how Smita came to act in this film is serendipity in action. Arun Khopkar and Hitendra Ghosh were part of the four-man group that was to make a 20-minute film. Khopkar did not want an actress. Shabana was a batchmate who ended up being senior because hers was a two-year course and she was a lecturer by then. "I suppose she could have played the role, but the acting course was a bit problematic at the institute," he clarifies... He showed the script to Mani Kaul. Mani remembered the face of a young newsreader but did not know her name.
In there lies an even more interesting tale. One evening, Ghosh and Khopkar were walking from the FTII campus to Pune's happening Deccan area, a distance of some two kilometres. On the way, they passed an electronics store with many television sets and most of them had a close-up of this young woman with her defined cheekbones and striking eyes. Ghosh was struck and drew Khopkar's attention. With Mani Kaul's suggestion to reinforce the choice, all they had to do was find the girl...
Ghosh made the first contact. He called Smita from the public phone by the gate of the institute and arranged to meet her. She showed up and the first thing she said was: "You too are thin and dark like me!" That was the beginning of a friendship which soon made Ghosh a part of the Patil family when he moved to Bombay to work with Shyam Benegal...
Smita instantly agreed to do it. It was a fun thing for her - ironic, considering how she had to stay still for the camera...
That was also the year when the arch rivals first met. Shabana saw Teevra Madhyam at Bombay's celebrated Akashwani Auditorium, for a brief time the little Mecca for art films. Onlookers like Mohan Agashe gleefully recreate the first meeting between the gifted actors destined to be rivals. "Shabana walked up to Smita and proclaimed, I am Shabana. You were good." Were warning signals alerting the antenna of an actor who had tasted stardom with her first film, Ankur? This was one unacknowledged battle that lasted as long as Smita lived. Incidentally, Shabana admitted: "Even before I met Smita, the first impression I have is of being struck by her in Teevra Madhyam by Arun Khopkar. There was a long shot of her on the tanpura and I was struck by her face."
***
So widely known, and thereby almost a cliché, is the tale of Shyam Benegal and his discovery. The legendary director with an exceptionally perceptive casting eye, credited with giving the largest number of actors that all-important break, recognised Smita's potential with the unerring expertise of a jeweller chancing upon a rare gem. Without any claims to false modesty, Benegal says: "I have a way, I don't know what it is... of being able to tell how people will photograph. With Smita, no one would think that she'd make a film star. A, because in India you have this bias against darker skin. It is ridiculous but that's the way it is. We are one of the most colour-conscious people in the world. B, how does having an attractive personality translate in physical terms? That's very difficult to understand, but sometimes you know that this person has it. I felt that from the beginning, from what I saw on TV and Khopkar's film. I could tell that this girl would photograph brilliantly..."
The birth of such a bright star comes late in the narrative of Charandas Chor (1975). The film recasts a Chhattisgarhi folk play, made famous on the stage by that doyen of folk theatre, Habib Tanvir, into cinematic form that uses early silent comedy, slapstick, with title cards that describe action that is to ensue...
In a memorable cast of known and new names, the credits of Benegal's truly epic film read, "Introducing Smita". What an unforgettable introduction it proved to be!
Excerpted with permission from HarperCollins Publishers India from Smita Patil: A Brief Incandescence by Maithili Rao; Price Rs 450; Pages 368