When hearing aid goes high tech
Best Sound Centre opens in Salt Lake's BC Block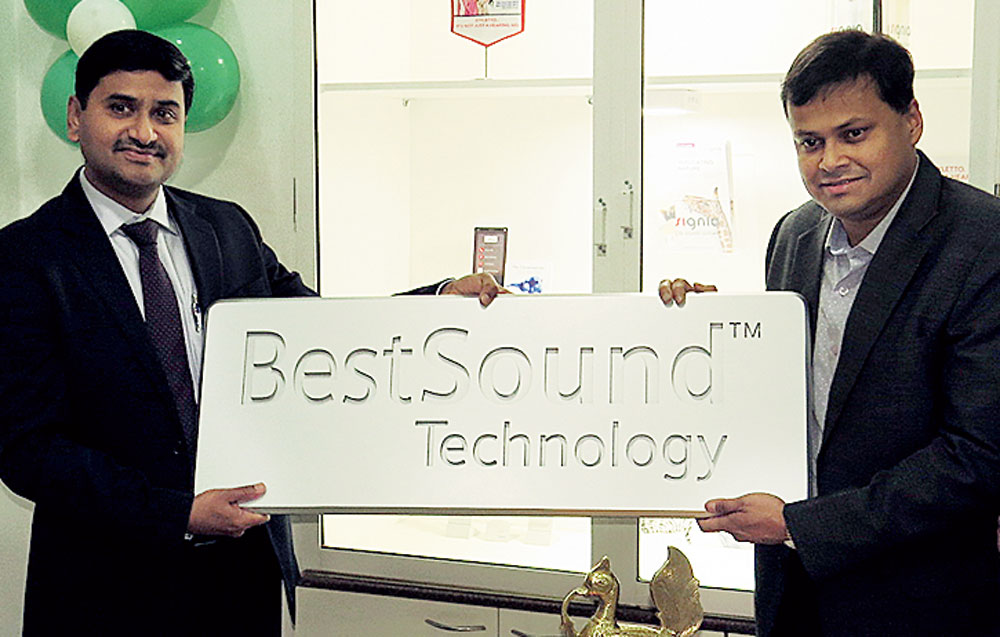 ---
Calcutta
|
Published 18.01.19, 02:03 PM
|
---
Decades ago, a hearing aid was largely an amplifier. But the matchbox-sized pocket models had one problem. While they amplified speech, adjacent surrounding sound, like the sound of the ceiling fan, also got amplified. So one did not get speech clarity.
Now technology has progressed by leaps and bounds. Today's digital hearing aids are nano chip-based that can perform millions of operations in a second. "These are programmable as per the requirement and lifestyle of the patient," explained Avinash Pawar, CEO of Sivantos India. Known earlier as Siemens Hearing Instruments, Sivantos is a Germany-based company, founded in 1863, that is one of the largest manufacturers of hearing aids worldwide.
Pawar was present at the inauguration of a Best Sound Centre in BC Block. This is Sivantos's second Best Sound Centre to come up in Calcutta in partnership with CC Saha Ltd, the oldest hearing solutions company in eastern India.
"Salt Lake has a big residential community with a high geriatric profile that would allow us to reach a wider audience," said Vikram Saha, director of CC Saha.
A Best Sound Centre is a partnership between the manufacturing company and a local partner, and offers world-class diagnostic equipment and services of qualified audiologists. The Salt Lake centre will offer comprehensive audio-vestibular services like pure tone audiometry, tympanometry, otoacoustic emissions hearing screening, brainstem evoked response audiometry test, electronystagmography, Electrocochleography, and vestibular evoked myogenic potential assessment in addition to hearing aid trial and fitting, hearing aid programming, servicing, spares and accessories, speech therapy etc.
No music to the ears
Ten per cent of the population needs hearing aid today. But Pawar sounds an alarm about the habit of youngsters listening to music with headphones plugged to their ears. "Of late, we have noticed a rise in the younger population suffering significant hearing loss. Though lifestyle and diseases like diabetes also have a bearing, this is primarily due to sound pollution. As it is, in India, during festivals the sound limit crosses 110-120 decibels. Those who are constantly on earphones, over a period of time hearing loss increases in them."
The 10-to-24-year age group, he says, is found to be particularly at risk. "One should not use earphones so frequently at such loud volumes," he warns. But using bluetooth headsets, he adds, is not a concern. Bluetooth is a wireless technology standard for exchanging data over short distances from fixed and mobile devices and is popularly used to keep one's hands free while talking on a phone.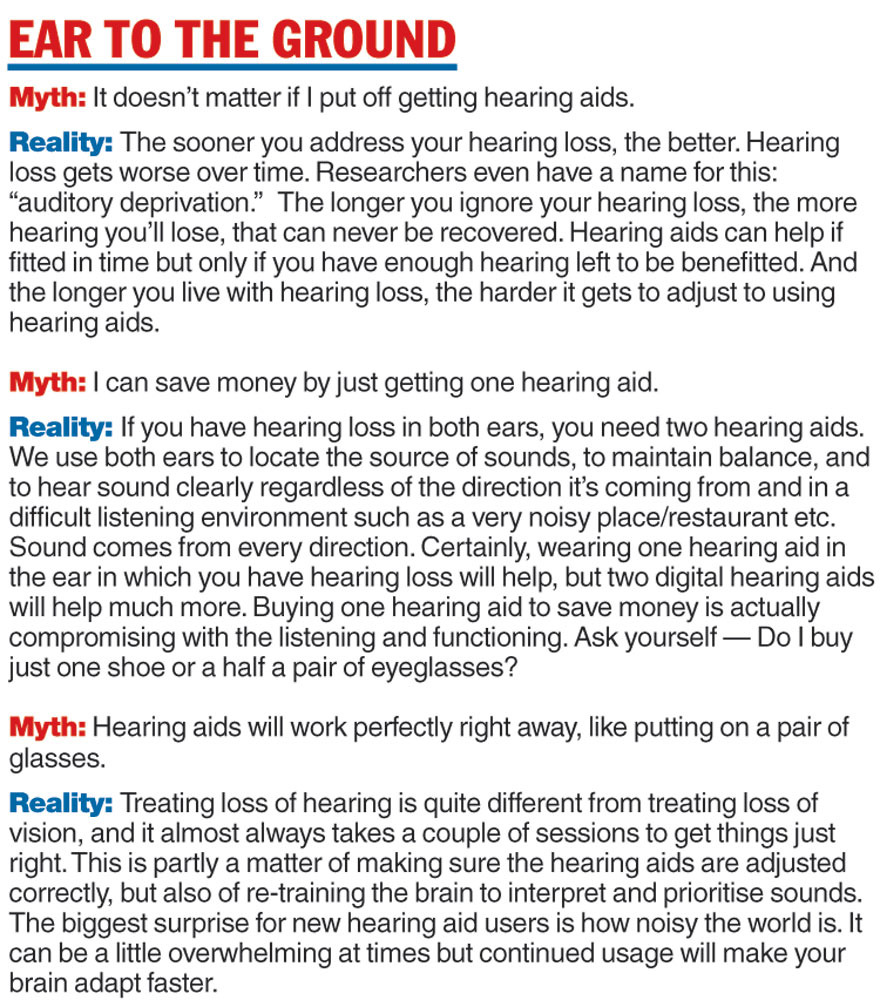 Wireless and rechargeable
The latest hearing aids have bluetooth connectivity. They can get connected to smartphones. "One can speak on the phone and listen to music directly from the phone using one's hearing aids. Customers are also looking for remote fine tuning and servicing of devices. So we have launched a product for which one need not visit the service centre. A patient sitting in Calcutta can get his hearing aid fine-tuned by a technician sitting in Mumbai," Pawar says.
Another area of concern to address at the research and development laboratory was the look of the device. "We did a survey and found that the younger generation fears social stigma in using hearing aids. They want a stylish look. So we have come up with hearing aids that look more like bluetooth devices," Pawar says.
Sivantos's new model is also rechargeable. "Earlier you had to change batteries every four-five days. But this model comes with a charging kit. One can carry the kit and the hearing aid would get automatically charged in it. The kit acts as a power bank. Thus the hearing aid can stay charged up to four days even if one uses it for 16-17 hours a day." With the new invention a year ago, the European market has shifted to rechargeable models.
In India, the cost might still be a deterrent. Styletto, on sale at the outlet, costs Rs 3 lakh. But there is good news around the corner for those who cannot afford it. "In March-April, we will be launching a scaled down model for the lower priced market. That will cost around Rs 50,000," says Pawar.
And when that happens, it would be available at the Salt Lake centre, assures Saha.