Get ready to 'unfold' with Samsung
The South Korean company on August 11 will be launching Galaxy Z Fold 3 and Galaxy Z Flip 3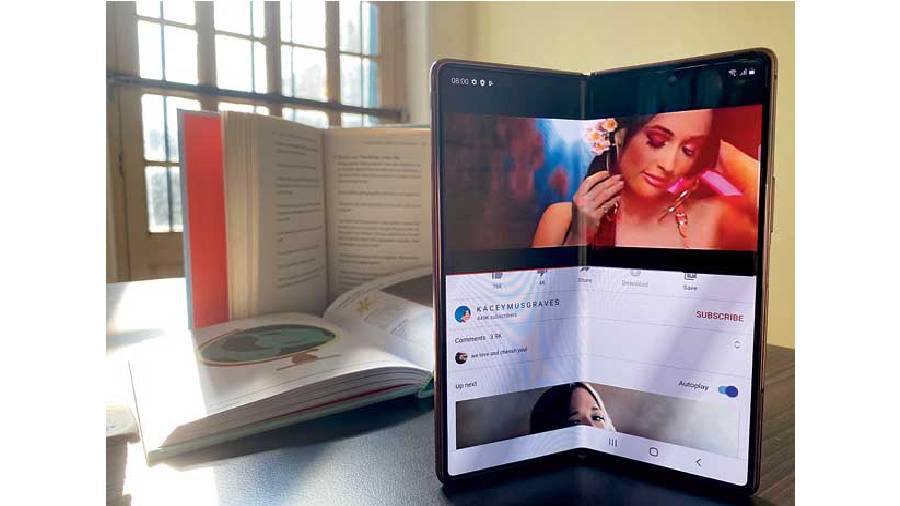 The successor of Samsung Galaxy Z Fold 2 (in picture) will arrive on August 11.
Picture: The Telegraph
---
Published 03.08.21, 01:15 AM
|
---
Tech enthusiasts have marked August 11 on the calendar, the day when Samsung launches the next versions of the Galaxy Z Fold 3 and Galaxy Z Flip 3. Third generation technology is usually the point when a product becomes refined enough for long-term everyday usage.
The South Korean company raced to the finish line to present the industry's first mainstream foldable device nearly two years ago but even though demand has been fairly good for the high-price phones, the new foldable devices should help drive its mobile sales during the second half of the year. Ever since Apple presented the modern smartphone era, phones have largely been a single screen slab and even with an ever-improving app ecosystem, there hasn't been a major change in the way we use phones. A change in form factor can help deal with that.
The S Pen and Galaxy Z Fold 3 will make good friends and expect better battery life, Wi-Fi 6E support and, who knows, perhaps even 5G. Each generation of the company's folding phones has made big strides in way of screen durability. The question is after 'Ultra Thin Glass', what kind of improvements can the company make.
Look, it's going to be a big upgrade, especially because this year we are not going to get a new Galaxy Note device. "Instead of unveiling a new Galaxy Note this time around, we will further broaden beloved Note features to more Samsung Galaxy devices," TM Roh, president and head of mobile communications business, Samsung Electronics, has written in a blog.
What many are interested in is the changes Google will make to apps to support folding phones. There have been updates in the past but a lot of apps don't always work the way we want it to on the Fold. Roh has said: "We are also working with Google to enrich our foldable ecosystems with popular apps and services. For our third generation of Galaxy Z phones, we have lined up even more partner apps that make the most of the versatile fold-out format. From hands-free optimised video calling with Google Duo and watching videos in Flex mode on YouTube to multitasking in Microsoft Teams, our foldable ecosystem will offer a wealth of seamless and optimized experiences."
We also hope to catch a glimpse of the latest Galaxy Watch, which too will be an important launch as it will be the first look at the new Wear operating system (Samsung, previously, had been using its own Tizen-based OS on smartwatches).
So, get ready to 'unfold' on August 11 with Samsung.