Chitrangada Satarupa reunited with her ukulele during the pandemic last year and the coming together has resulted in Not A Dream, her debut single in English. Playful and happy, Not A Dream is like a reverie. There is beauty in its simplicity and the lilting tune, warm and gentle, feels like a caress. Chitrangada has written and composed it and the song blends beautifully with the ethos of her brand Candy'd Closet that champions upcycling saris. For the new campaign of the brand, Chitrangada's Not A Dream forms the backdrop for a "sisterhood" video that releases today. In this chat with The Telegraph, the pretty lady shares the making of her debut single and more.  
Not A Dream looks fantastic. How was it conceived?
Sisterhood is my biggest inspiration behind this brand. When I thought of starting this (Candy'd Closet), I got a huge support from my friends. They came in and worked on projects like it's their own project. My friend Arijita Das is a creative director in an advertising agency, but she takes out time to write my campaigns like she would for a proper brand.
The idea behind the video was we are adults, we have grown up and are going through a weird time. And within that we are looking for a breather to feel good and find joy. This is revisiting some days and moments... a series of deja vu. People have lived certain moments with someone or the other. The whole feeling is childlike, but I am looking back at it like an adult, but with a childlike spirit, not judging it as lame. I am going for tomorrow and I am already on the journey. Life is such. It's a one-way journey... all I can do is be happy that when I wake up, I have got another day to begin, carrying the memories and deja vu with me.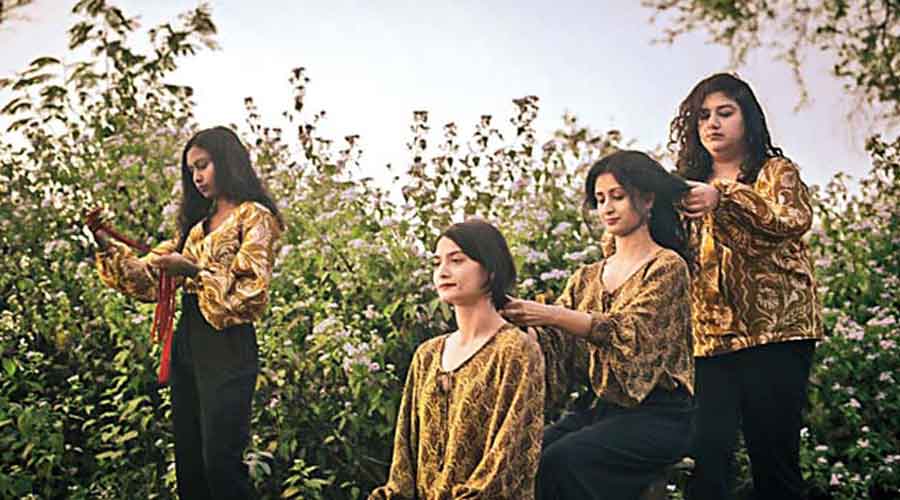 The Telegraph
When did you write it?
This was written and composed in the lockdown.
Who heard the song first?
Sambit (musician SambitC) heard the song first and he is usually very critical about things he is good at. He spares no one, which is also good because I feel honest opinion will help me grow. He was the one who had told me to start making my own songs and that I should know my sound. When he heard the song, he said it's a complete song and that I should record it at some point. I had thought I'd shoot with a DSLR camera in a park, playing the ukulele. (Laughs) Then I thought why not use it with my label as a music video for it and also as my first single. I didn't want it to be strictly a fashion film.
Sambit has produced the song and puro pechhoner arrangement gulo korechhe. I am very happy with the sound he has given to the song. I composed it on ukulele. So, there was an acoustic sound to my ears. That's where a music producer plays such a big role. The song also has an eerie sound, like an ambient music. That this song could go with such a vibe, that was also Sambit's idea. He also told me how I should I sing it. We took two days to record it. Sambit was happy with the first recording itself, but I felt I could do better. We were done within 45 minutes.
Jazz singer Isheeta Chakrvarty has done the vocal arrangement and also pitched in with harmonies at some points. She is my singing teacher and I have been taking lessons from her since last year. And, she also gave me the confidence that I could do this.
This is also Candy'd Box Films' first production work. Sambit, Rusha (Bose), and I are taking it seriously. There's more to come with different people directing and varied projects.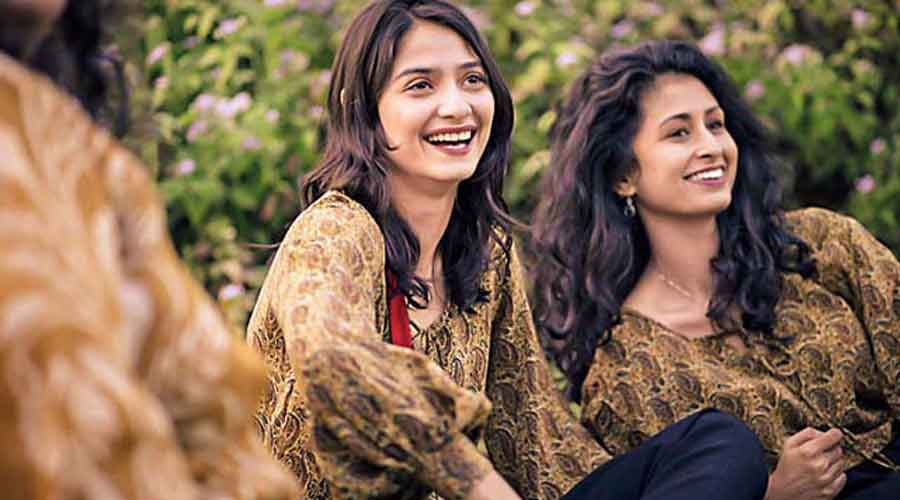 The Telegraph
The song is a seamless match with your brand...
I am most comfortable collaborating with Rusha, my DoP, and she co-directed this one too. At first this was a little too ambitious for us. Our crew members consisted of Rusha, Sambit, our cast member Sreemoyee's (Kasturi Banerjee) cousin and me. And I too was acting. We shot it in Santiniketan. We packed ourselves into an Ertiga.... At the photo shoot, I was the photographer and then I was ironing the clothes and overseeing make-up! Rusha and I were like, we have to be very sure of what we want. We had three days of shoot.... Having studied mass communication at St. Xavier's College and worked on several projects, we know when you have a storyboard in mind, it always helps.
Tell us about the cast members...
Jenny (Chowdhury) is a dancer and she dances with Mekhola (Bose). Sreemoyee (Kasturi Banerjee) is a communications professional. This is not for the sake of being just inclusive, but even for my inaugural campaign, I had cast her and a CA friend. They are both flamboyant and confident in front of the camera. My whole idea is people should be able to resonate with them.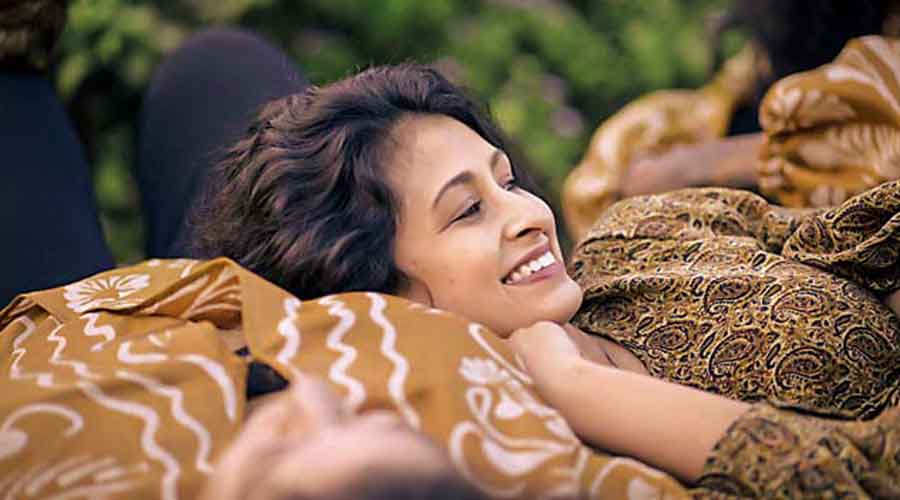 The Telegraph
The sunset shot merged with the message in a bottle looks amazing!
That sunset shot was....! (Laughs) How we shot it! We found this distant village in Santiniketan. There was a family of Bengali tourists and aamra jekhane jachhilam oder okhanei shoot korte hobe! But we managed!
Are you writing more songs?
Apart from this, there are two more songs I have composed. I have written some more, but I don't want to push myself. I have been writing poetry for quite sometime, but I never really put it out, barring a few Insta stories. Words flow with extreme feelings. A lot of people have got back saying it's so good. Then I started writing a bit more and it increased during the pandemic. I have written lengthy poems, which I want to turn into visual montages. These are absolutely from a space of passion and I have nothing to prove to anybody.
And, it's mostly in English?
It's a little strange that I write mostly in English now. I have written in Bengali, especially as a kid. The neighbourhood I grew up in would come out with its own patrika called Khola Mela. I have contributed heavily there. Now, however, English seems more colloquial, more because of social media and meeting people from other states.
Picking your favourite musicians and authors must be difficult...
Ei re! May be I'll sound biased, but I love my mother's (film-maker Satarupa Sanyal) writings. She writes such intense stuff with so much spontaneity. I love Fossils' lyrics and what Gulzarsaab has written. I love what Manav Kaul (theatre director, playwright, author, actor and film-maker) writes. He is a brilliant writer. We loved dialogues written by him in plays. Toni Morrison is also lovely. I stumbled upon Tishani Doshi's poems on Instagram. I was moved by her Girls Are Coming Out of the Woods. Again I might seem biased, but Kalki (Koechlin) is a wonderful writer. In Colour Blind (play), the English parts were written by her. It just how it flows. That's the beauty of good writing.
Not a dream
No, it's not a dream
pinch yourself hard or scream
No it's not a dream
You felt a splash of new sunbeam
And you walked a long walk
of tears and raindrops
You've smelled the days of love
to feel tomorrow's dewdrops

No it's not a dream
pinch yourself hard or scream.
No it's not a dream
It's the mystery of life it seems
We look back to hold on.
Recreate, revisit, reminiscence goes on
Let's walk in to tomorrow
Yesterday follows us like a shadow
Count your blessings
when a new day begins
Feel the magic of being
alive, breathing
You know it within
No it's not a dream
pinch yourself hard or scream
No it's not a dream
We got one more day to begin
Written and composed by: Chitrangada Satarupa
Arranged and produced by: Musician SambitC
Harmonies by: Isheeta Chakrvarty
Shot and co-directed by: Rusha Bose along with Chitrangada
Creative director of the campaign: Arijita Das
The video features: Dancer Mekhola Bose and Jenny Chowdhury, communications professional Sreemoyee Kasturi Banerjee and Chitrangada Satarupa herself