The system that unleashed torrential rain on Kolkata on Monday moved away from the city after bringing another sharp spell late on Monday. 
Between 8.30pm on Monday and 8.30am on Tuesday, the Met office recorded around 60mm of rain in Alipore. 
The civic body recorded around 50mm of rain in Belgachhia, Dhapa, Topsia, Mominpore, Ballygunge and several other places in the city between 10pm on Monday and 6am on Tuesday.
What the late-night spell means is that the city received well over 200mm of rain in 36 hours, starting Sunday night.
To put things in perspective, the 200mm of rain that fell on the Maidan would be more than enough to submerge Shahid Minar.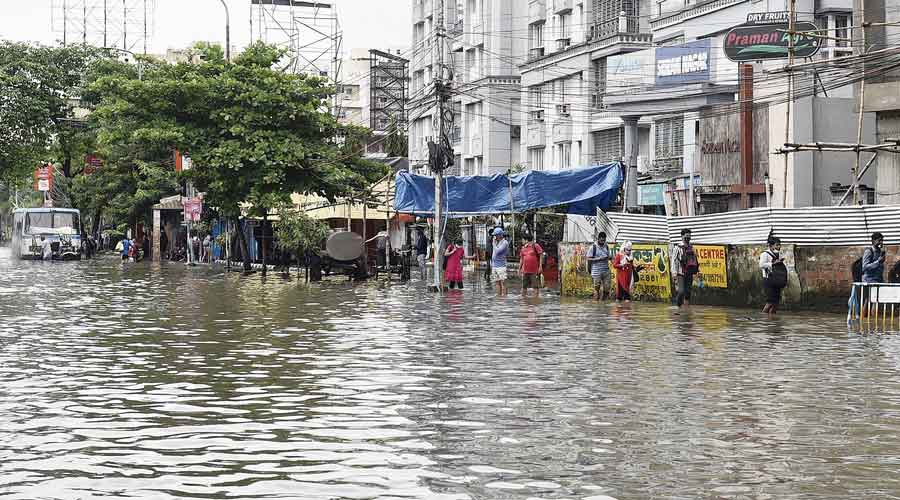 Pedestrians wade through a flooded road in Chinar Park around noon on Tuesday.
Bishwarup Dutta
The Shahid Minar is around 157ft high. Considering it rained close to eight inches (over 200mm) in Kolkata, the rain that fell over the Maidan — which spans roughly 5.2sqkm — would be more than enough to fill a 160ft cube, submerging the monument, a teacher at Indian Statistical Institute (ISI) Kolkata said.
The volume of rain Kolkata received on Monday was slightly less than what New York got on September 2.
On that day, the remains of Hurricane Ida had unleashed around 175mm of rain over New York. At least 13 people lost their lives in the flash floods that swept away cars and submerged subway lines.
The system behind the downpour here turned into a low-pressure late on Monday. It was positioned over parts of Gangetic Bengal and adjoining parts of Odisha on Tuesday afternoon, said a Met official.
The monsoon trough passes right through the system towards the Bay of Bengal.
On Monday, the system was directly over Kolkata and the trough, too, passed right over the city.
Purba and Paschim Medinipur, Bankura and Jhargram received heavy rain on Tuesday because of the system.
The weather in Kolkata improved on Tuesday. The sky was cloudy in the morning but as the day progressed, the sun came out. The sky will be brighter on Wednesday, the Met office has said.
But another system is brewing over the Bay of Bengal, the Met office warned.
"Another cyclonic circulation is likely to take shape over the east-central Bay of Bengal, off the Myanmar coast, by September 25 (Saturday)," said G.K. Das, director, IMD, Kolkata.
"If it moves towards the northwest Bay, the main impact will be on Odisha and Purba and Paschim Medinipur. But if the system heads towards the north Bay and comes near the Bangladesh coast, Kolkata will bear its brunt," said Das.
The fag end of the monsoon is seeing successive systems over the Bay of Bengal.
August had ended with a more than 30 per cent rain deficit in Kolkata. But mul-tiple systems in September have ensured that the monsoon reached a surplus in the city.