Maoists own up to 'revenge' killing
Read more below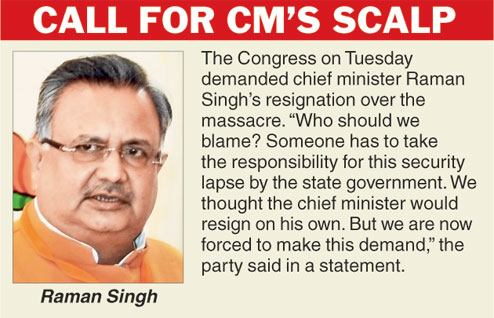 ---
---
Bastar (Chhattisgarh), May 28: The Maoists today owned up to the May 25 ambush and defended the killing of senior Congress leaders as "just and necessary", spelling out their charges against each.
But state Congress sources picked holes in the Maoists' "hypocritical" media statement, which apologised for the death of "innocent lower-rung party workers" and offered sympathies to their families.
The four-page statement from the Dandakaranya special zonal committee of the CPI (Maoist), signed by its spokesperson Gudsa Usendi, was issued in Hindi to the BBC Hindi Service in the early hours today.
"We have taken our revenge on behalf of the more than 1,000 innocent tribals who were killed during the (anti-Maoist militia) Salwa Judum's campaign and thousands of others who lost their homes," the statement reads.
It says the attack's objective was to eliminate Congress leaders such as former state leader of the Opposition Mahendra Karma, state unit chief Nand Kumar Patel and former Union minister Vidya Charan Shukla.
Karma was killed "like a dog" for "spearheading the Salwa Judum" and exploiting Bastar's tribals through the vigilantes, the statement says.
Patel was a target because central paramilitary forces were first deployed in the region during his tenure as state home minister in the former Ajit Jogi government.
Shukla too participated in formulating anti-people policies when he held positions of power, Usendi said.
"The statement is silent on many questions," a senior Congress leader in Jagdalpur said and cited examples:
Why did the rebels kill Patel's son Dinesh if they were ready to let off local Congress MLA Kawasi Lakhma and his police guard?
If Shukla was a target, why did the guerrillas leave him injured but alive?
If Karma was a target because of his Salwa Judum links, why did the Maoists not kill his three aides and former Judum leaders Ajay Singh, Viram Mandavi and Syyed Sattar Ali, who were in the same vehicle? (Singh had said yesterday that the attackers were non-locals who didn't know him by face and that he had posed as a driver to escape death.)
If only the leaders were targets, why did the rebels kill so many? (Altogether 27 people including eight police security officers died.)
Usendi's statement cites several reasons for the Maoists' hatred of the 62-year-old Karma apart from his association with the Judum.
One, his alleged opposition to Sixth Schedule status relating to tribal autonomy for Bastar, a demand made by the CPI in the 1990s and supported by local Naxalite splinter groups.
Two, his alleged help to Congress leaders in grabbing tribals' land and selling the standing teak and other trees to contractors.
Three, Karma's association in the late '90s with Jan Jagran Abhiyan rallies that targeted the then People's War Group, now a constituent of the CPI (Maoist).
The state government suspended Jagdalpur police chief Mayank Shrivastav and transferred Bastar inspector-general Himanshu Gupta late this evening. A National Investigation Agency team had reached Jagdalpur early this morning to begin a probe into possible security lapses behind the massacre.
Threat to son
The Maoists sent a threat letter to Karma's son Sabindra, asking him to leave his native village of Faraspal in Dantewada, as he was performing his father's last rites yesterday.
"Unless you give up your properties and home, you will meet the same fate as your father," said the letter, delivered through a tribal resident of the village who is being questioned. The Karma family has been accorded Z-category security.