How can Indian students fly high with MBA applications?
Here's a list of small things can make you stand out during interviews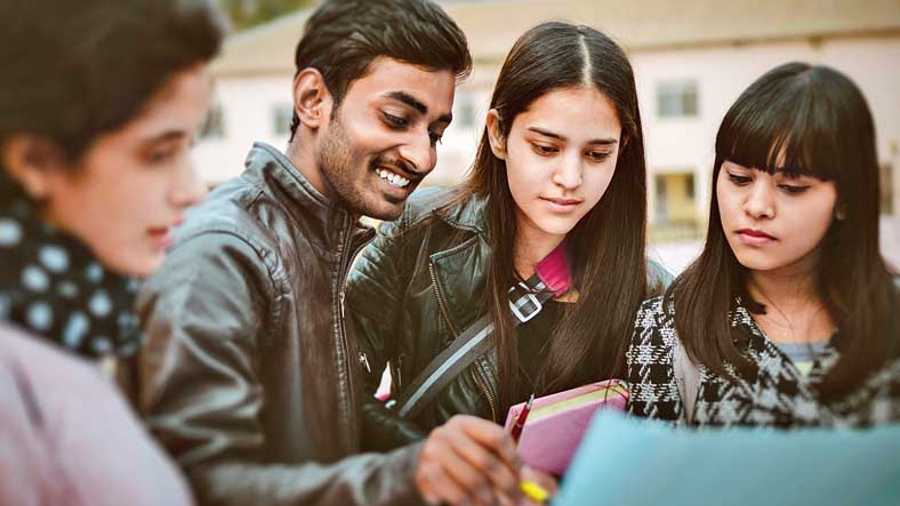 ---
Published 06.01.22, 06:47 AM
|
---
Stanford, Harvard… big names but small classes, lending huge competition among potential students. The top business schools of the world have low acceptance rates, making them extremely difficult to get into. The Telegraph talked to David Buisson, emeritus professor, University of Otago and a senior consultant at Crimson Education, on global business school admissions, especially focusing on Indian students, and how they can prepare better for applications. David Buisson, a global business strategist and coach, is reputed within business circles for his work with entrepreneurs and businesses. We also gathered that David's expertise and experience across the disciplines of science, business, design, manufacturing and marketing has led him to advising many students, graduates and companies of potential opportunities for development.
Starting off by reminiscing about his visits to India, Buisson referred to the large population of India saying that while Indians do very well at getting in, in terms of percentage, there are still seemingly a smaller number of them getting admitted. He mentioned that increasingly, business school classes are beginning to look at non-academic parameters.
"Whereas they would normally do (the admission) very much on academic grounds and that sort of thing, now, they want a much more diverse population which has meant that those who would have normally gone (from India), have gone down in percentage terms. One of the things that I find interesting when I'm working with Indians is that you meet Indians and they are magnificent at quantitative, you know, you give them a GMAT and they will ace… with high scores, they're very good at that. But business schools are looking for more. One of the things I find in Indian students is that they don't end up reading. I think maybe partially because the education system emphasizes on rote learning and that sort of thing," he said and that is why he thinks he must be careful in saying why Indians might fail. "Many do very well and you only look at the success. I think Indians do very well. Your applications are second only to that of the Chinese and they will complain that more of them failed!"
'The school itself has changed'
A scholarship is pertinent for most Indian students to achieve their dream of studying abroad, especially in the US. The tuition fees are high and living costs, higher. Moreover, scholarships are more often than not, difficult to get, even more than a seat in the prestigious institutions. We asked him what is it that the top b-schools are looking for when they offer scholarships. "I suppose today, they're looking far more than just a normal… run-of-the-mill application. I suppose Stanford is a perfect example of that. The Knight-Hennessy scholarships exemplify what the top schools are looking for now and it is pretty prestigious. They're looking for people that are visionary thinkers, those who have curious and open minds. They want you at the intersection of disciplines, so that you know, rather than one plus one equal two, one plus one comes out as four, where two people come together, and people of different disciplines reinforce each other. So, they're looking for people today that have gotten more than just a straight, disciplinary approach.
"For example, if an engineer is applying, they want them to be much more of a design and a creative engineer, or that sort of thing. Universities, like MIT and Stanford, in the past were very quantitatively orientated. Now, to have the example of MBA in Stanford, it's a mix of the D school, the design school and the business school. So, the school itself has changed."
Given that these schools have such low acceptance rates, it is evident that you have to stand out in order to get in. David mentioned as much: "I always say to students, put yourself in the situation. There are 20 of you standing and you're all friends. You're looking at the other 19, saying what makes me different from those other 19? What makes me stand out? Why should they choose me? And that's why anything you do; you think will it assist me in being among those in the programme? I had a girl who had gotten in recently, and she did origami, of multi-story buildings. That's different, but it's very creative as well. And it's very engineer to do something like that. It's often the very small things that make you stand out rather than something big."
In doing extra-curricular, consistency is also key: "You can do great internships, community service but just doing many one offs is not going to work. They want to see continuity. Too often people will try and get a whole pile of little things. So, it looks like a great stringer and that's not what we're looking for. We're looking for someone that's stuck with it, you know, and done and continued over a period of time. So, you're much better off doing a few things in depth."
'What is your vision for yourself?'
While Indians are better at cracking GMAT, the professor feels they cannot communicate as well through their writing. He went on to mention how important it is to make sure that emotions are present in the application essays, that they are creative and can portray what framed the applicant to what they are now, the "ups and downs" of their lives. It is crucial to have a unique and strong vision, as well as know how to put that forward.
"What are your short and long-term goals? I ask them questions to get them into the right frame of mind, I say you're 80 years old, with grandkids running around your feet, and you're telling them what you've achieved in life, in the market made of the world. I keep saying, you are like a corporation you know, what is your vision for yourself? Corporations have visions, and you have to have ambition to get to that vision. Somebody said to me, when I asked him, 'I'm going to tell them, I will be a Nobel Prize winner.' Another one tells me 'I'm going to be the Prime Minister of Japan.' So, that's the most difficult part, getting people to actually think short-term, medium-term, long-term. 'I'm going to be living in a nice home. Often the kids will visit; we're going to be comfortable.' That's going to get you absolutely nowhere, won't get you even off the table, let alone anywhere else. I want to see a purpose, your life's purpose, what that purpose is and how to get there."
As the video call winded down, we gathered further insight on what the best business schools in the world are looking for in their student applications: "They want people that have gone out and actually been involved in the community. Recently, these two wonderful young Indians, during Covid, started working with nonprofits to assist them in getting online facilities for people who could not afford them. When Covid had struck and they had to do everything online, they didn't have the systems in place. So, these two young Indian students grouped together. This thing has actually grown as a movement around the world. And that's the sort of thing that's going to get you started."