On a drama-filled Tuesday, some of India's best wrestlers accompanied by hundreds of supporters gathered here on the banks of the Ganga, threatening to immerse their World and Olympic medals in the holy river but refrained after being convinced by Khap and farmer leaders who sought five days to address their grievances.
Olympic medallists Sakshi Malik, Bajrang Punia and Asian Games gold medallist Vinesh Phogat arrived at Har ki Pauri to protest the inaction against outgoing Wrestling Federation of India (WFI) chief Brij Bhushan Sharan Singh, who has allegedly sexually harassed several women grapplers.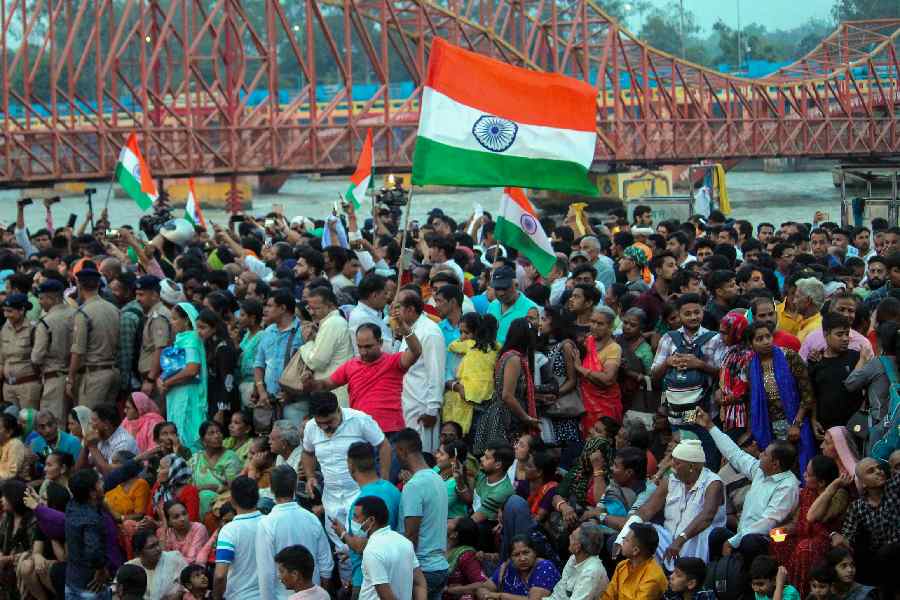 Supporters gather at Har Ki Pauri ghat where protesting wrestlers arrived to immerse their medals in the Ganga river as a mark of protest against WFI chief Brij Bhushan Singh over sexual harassment allegations, in Haridwar. PTI picture
Sakshi, Vinesh and her cousin Sangeeta were seen sobbing as their husbands tried to console them, even as scores of their supporters formed a cordon around them.
The wrestlers stood for about 20 minutes in silence after reaching Har ki Pauri. They then sat on the banks of the river holding their medals and looking distressed.
Bajrang joined them after 40 minutes. Sombir Rathi, husband of Vinesh, was holding the Asian Games medals won by her wife. Sakshi was holding tightly the framed Olympic bronze medal she had won in 2016 in Rio.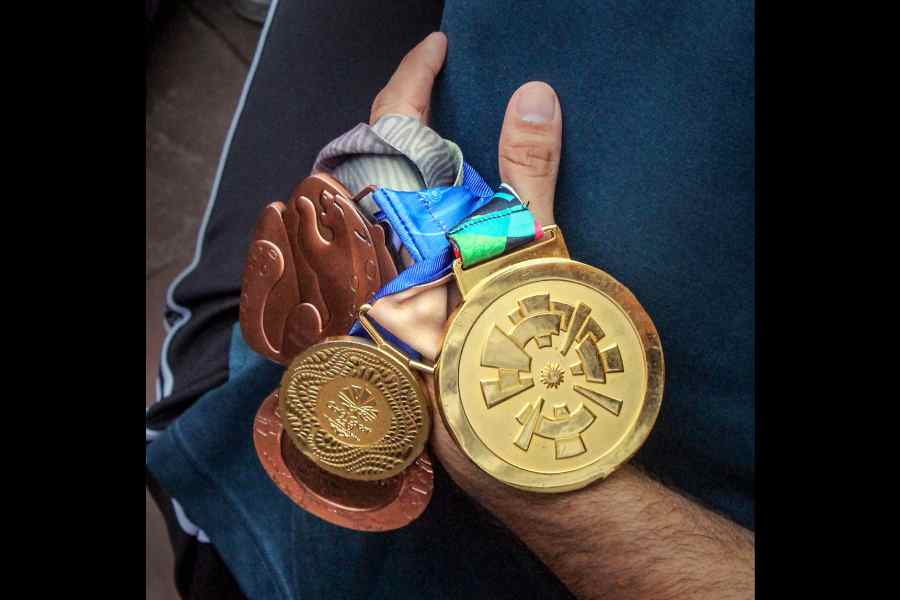 Protesting wrestlers carry their medals as they arrive at Har Ki Pauri ghat to immerse their medals in Ganga river as a mark of protest against outgoing Wrestling Federation of India chief Brij Bhushan Sharan Singh over allegations of sexual harassment, in Haridwar. PTI picture
The whole episode was reminiscent of the 1960 incident when the legendary Muhammad Ali, then Cassius Clay, threw his Olympic gold medal into the Ohio river to protest racial segregation in the US.
However, after spending an hour and 45 minutes, they returned after several khap and political leaders urged them not to take such an extreme step.
As the deadline for the immersion of the medals drew closer, senior farmer leaders Sham Singh Malik and Naresh Tikait sought five days' time from the grapplers to resolve the issue.
"The khap leaders put their turbans before us and said 'do not lose hope'. Keep the dignity of the turban and return. So we decided to wait," said wrestler Jitender Kinha, who has been a part of the protesting group.
There were chaotic scenes at the Har ki Pauri as khap and farmer leaders broke the human chain of supporters to reach out to the grapplers, even as thousands of devotees, who had gathered on the occasion of Ganga Dussehra, looked baffled as commotion reigned supreme.
The wrestlers left without speaking with the media.
Several other khap leaders and Punjab Chief Minister Bhagwant Mann also came out in support of the wrestlers but urged them to show restrain.
"The wrestlers have said they will immerse their medals in Ganga river. We request them that these medals are the result of their hardwork, sacrifices of their families and support from society... they should not take this step.
"It is unfortunate that those who represented the nation in top international tournaments that they are forced to take such decisions. The government should have some shame and give justice to them," Khap leader Balwant Nambardar said.
In his tweet, the Punjab CM said, "After being fed up with the Central government, the international medal winning wrestlers going to Haridwar to immerse their medals in Ganga is very shameful for the country." Close on the heels of the wrestlers announcing they would immerse their medals, sports ministry sources said the trophies and medals also belonged to the country.
"The medal that the wrestlers have won do not belong to them alone, but to the country, because they played under the Indian flag and their medals have been won with the efforts of not just the wrestlers' hard work but also the hard work of multiple people like their coaches, support staff," a ministry source told PTI.
He added that crores of taxpayers' money had gone into their training.
"More than 150 crores have been spent in the last 5 years in wrestling just so that the wrestlers can get the best training, coaching and infrastructure facilities. They have been sent for foreign training, trained at national camps and competed internationally to hone their skills and win medals in Olympic, Asian Games and Commonwealth Games. This money belongs to taxpayers."
Cannot protest at India Gate
The wrestlers, after being evicted from Jantar Mantar on May 28 have said they will continue their protest and go on a hunger strike "until death" at the India Gate.
However, the Delhi Police said on Tuesday that they will not be allowed to protest at India Gate as it is a "national monument and not a site for demonstrations".
Sakshi had said, "India Gate is the place of those martyrs who sacrificed themselves for the country. We are not as holy as them but our emotions while playing at the international level are similar to those soldiers." She wished president Draupadi Murmu and Prime Minister Narendra Modi had addressed the issue.
"We don't want these medals now because by making us wear them this shiny system is using it as a mask for its own publicity while exploiting us. If we speak against this exploitation, it prepares to send us to jail." On May 28, the Delhi Police detained Malik along with world championships bronze winner Vinesh and Olympic medallist Bajrang, and later filed FIRs against the wrestlers for violation of law and order.
Bengal Chief Minister Mamata Banerjee said on Tuesday the treatment meted out to the wrestlers by the Delhi Police had "tarnished" the image of the country.
"They were badly beaten, and this has tarnished the image of the country globally. I have spoken to them this afternoon (Tuesday) and assured them that we are with them and we will fully support them. I have told them that the medals they won have made the country proud. You carry on with your movement.
"My solidarity is with them. I have asked my sports minister Arup Biswas to hold a rally to show solidarity with the wrestlers tomorrow from Hazra More to Rabindra Sarovar (in Kolkata).
"I cannot speak much about their decision to throw their medals into the Ganga. It's their decision. Women wrestlers were assaulted physically. Nobody has been arrested. They have not followed the Supreme Court's direction to lodge an FIR." Meanwhile, in Haridwar, a stampede-like situation developed when the wrestlers left along with the hundreds of their supporters, worsening the situation further.
The roadside shops, selling water bottles and souvenirs suffered damage as their items were trampled.
Except for the headline, this story has not been edited by The Telegraph Online staff and has been published from a syndicated feed.