Poetry
National Poetry Month 2023: Aspiring Poets across Kolkata Schools
Posted on 17 Apr 2023
14:04 PM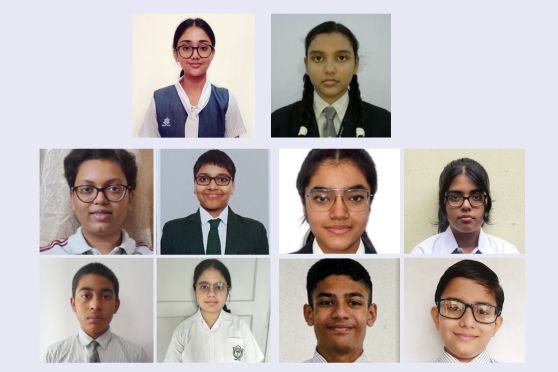 Edugraph
Summary
The Academy of American Poets established April as National Poetry Month in the year 1996
For National Poetry Month 2023, Edugraph brings you some aspiring poets from schools across the city
"Poetry lifts the veil from the hidden beauty of the world, and makes familiar objects be as if they were not familiar," said the famous English poet Percy Bysshe Shelley in A Defence of Poetry and Other Essays.
In other words, poetry opens our eyes to all that is unfamiliar among the familiar - it has the extraordinary ability to inspire, expose and uplift. And to celebrate the beauty and power of this medium, the Academy of American Poets established April as National Poetry Month in the year 1996. Over the years, it has grown to become the largest literary celebration in the world with tens of millions of readers, students, teachers, librarians, booksellers, literary event coordinators, poets, publishers, and families celebrating poetry's significant role in the way we live.
For National Poetry Month 2023, Edugraph brings you some aspiring poets from schools across the city.
Moving On by Niilesh Ghosh, Birla High School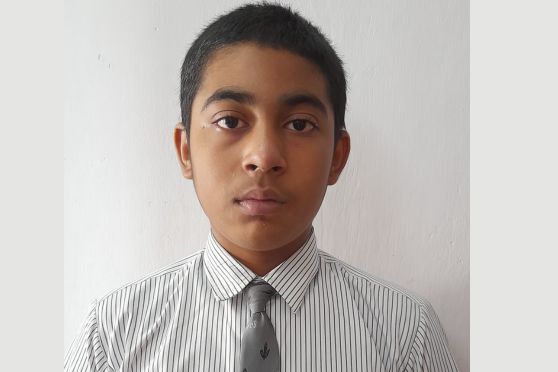 Niilesh Ghosh, Birla High School Edugraph
As the school year comes to a close, here's taking a look at the pangs of one school year ending as you stand on the brink of a new beginning.
The school bell rings,
With all its authoritative finality
And from their classes, emerging students,
In a tumult of friendly camaraderie.
Some are cheerful, and yet others pensive
Each with its own thoughts - academic, colourful, and creative.
And yet, concealed in the hearts of all,
Is a feeling, of hope, of uncertainty withal.
A new session arrives,
With old friendships and mistakes left behind.
A new year lies before them,
With new beginnings, and new wisdom.
A year is passed, in a whirl
Of experiences, good and bad,
But something is learnt, something retained,
For the future to be had.
Moving on is difficult,
For all the things left behind,
But the lessons we derive from our faults,
Makes us better people, considerate, dignified, and kind.
Scrumptious Food by Akshath Gupta, Birla High School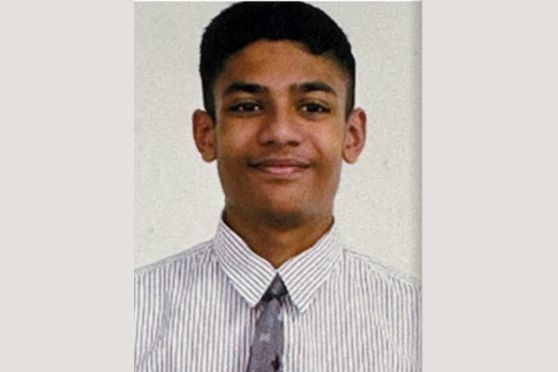 Akshath Gupta, Birla High School Edugraph
Oh, food, you are the sustenance of life,
Nourishing us through joy and strife,
From savoury to sweet, you come in all forms,
Satisfying our cravings, and warming our souls.
The aroma of spices, the sizzle of the pan,
The crunch of the bread, the smoothness of the flan,
Each bite, a sensory delight,
A feast for the senses, a moment so right.
You bring people together, to share and feast,
To celebrate, to love, and to cherish at least,
From family dinners to grand banquets,
You are the centrepiece, the heart that enacts.
You remind us of our heritage, our roots, our home,
A taste of our past, a flavor that we've known,
From street food to haute cuisine,
You are the flavour that makes us beam.
Oh, food, you are the source of our delight,
A nourishing force that makes life so bright,
With every bite, we are grateful and blessed,
For the gift of food, that brings us happiness.
Lofty Hopes by Rutajit Ghosh, Birla High School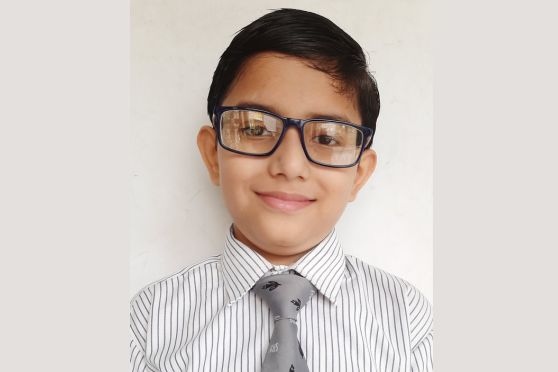 Rutajit Ghosh, Birla High School Edugraph
I close my eyes from the squalor of daily life,
It seemed to me the golden hues of an eagle
Flying high above and scorning the ground ;
And all its petty creatures
Further, and still further lies -----
A tiny cricket secluded in this world of darkness,
Pitied and scorned by time.
The twittering of the swallows from the distant sky,
and the howling of the dog
Warning mankind of its perpetual destiny.
Like a fated child, I can see, see it all -----
Moments suspended by eternal glory and utter despair.
We are like a bat swinging between the extremes ;
Oh! Alas! Can ever dreams come true?
Call of Duty by Aarav Sureka, DPS Megacity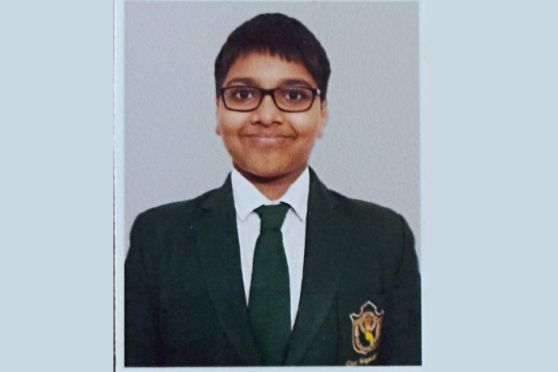 Aarav Sureka, DPS Megacity Edugraph
As he stood adoring nature's love,
The Phoenix soared right from above,
The peaks around, all clad in white :
And Apollo shone behind, dazzlingly bright.
And carving the hill, into the plains,
The serene streams crossed mountain chains :
And there he stood, on his trek,
In front of him, an unfinished climb to check -
Down stood the valley among the spurs,
Which had witnessed death across those years -
The call of the clarion pierced the air :
Soldiers had known no rest, no care -
In front of the immortal job at hand,
No Sword will bow to sea and land,
'tis the heart that throbs for the motherland;
'tis the heart that leads them thro' the sand;
'tis the heart that makes them take a stand.
His feet had spent hours to bring him here,
But his heart would take him straight down there:
The guns thundered and he rushed down,
Away from the summit -
Swift as a stream the man gushed down,
Into the valley among the spurs,
Which would witness death over more years.
As he reached the valley, he witnessed blood :
The stream was determined to cause a flood,
And drown those men who had spilt red,
Which seeped into the river to destroy the bed.
His trek to the peak throbbed for his return,
He fired at the enemy, which was set to burn.
He was a warrior, a soldier true,
The Sun went down, the tawny sky turned eerie Persian blue.
The night was silent and dark,
But who can forget that shot and spark?
It took his life and he lay dead,
The stream flowed into its mouth, the blood was shed :
He shone as a star in the starless night -
For he answered Duty's Call to fight.
Two Soldiers by Ayushi Singh, Lakshmipat Singhania Academy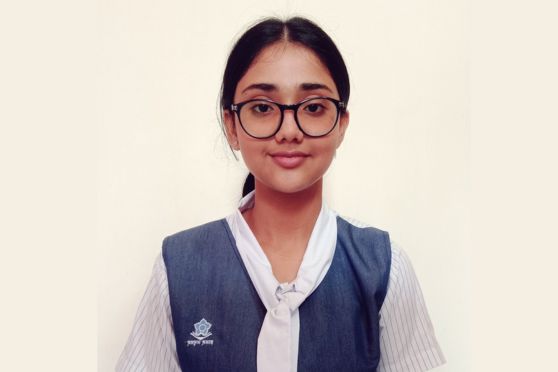 Ayushi Singh, Lakshmipat Singhania Academy Edugraph
A tale of two soldiers
In the combat of prestige
A veteran of creed
And an artist dishonoured
Battling the field of worldly misery
On the twisted ground,
In a tower of deceit.
One says carved is the road we must take.
To honour, to glory and traditions we've made.
The path undisclosed should remain the path untold
For hidden are the sins and the unholy behold.
Well known is the account of naive Pandora,
That tells the unknown a box full of evils.
The other says, the box held hope in its womb
For if not opened, an essential flower wouldn't bloom.
The path undisclosed is the path untaken
Of liberal and humane morals unawakened.
Afraid are ones who refrain from the creation
Wars are won by valour and valour cannot be forsaken.
A war is wherein the misfortune lies amused and unshaken.
If war is the answer to questions so cryptic
There must be a dysfunction in the minds of warriors so sadistic
Distress happens when the discussions mislead
It's not a chess of glory or rules to conquer as many
It isn't a black-and-white win, it's a grey harmony.
Here is My Heart by Pritha Mukherjee, DPS Ruby Park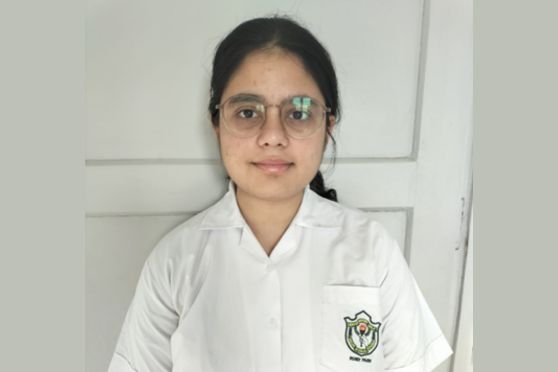 Pritha Mukherjee, DPS Ruby Park Edugraph
Here is my heart, peaking out of my chest:
Like a child that should've long been asleep in her bed.
Should I wish her well, kiss her goodnight?
Maybe tell her to leave the windows open—
Sometimes it's good to have more natural light.
Here is my heart, wanting out of my chest:
Like a sparrow, a small-beaked body flying straight into a glass.
Should I keep it in a box, maybe bury it under the grass?
Hold it in death, rotting body held together by my art—
Sometimes the love you need pulls your soul apart.
Here is my heart, yelling out of my chest:
Like a fish with sand in its lungs, gasping for breath.
Should I sit here for a while, watching the sea swallow the sun?
Maybe walk until my feet can't feel the burn—
Sometimes the story is over before you get your turn.
Here is my heart, waiting for you outside my chest:
Like a childhood swing, never quite stopping for rest.
Should I look for you between the leaves, hands gentle and kind?
Maybe leave the yearning to wait for a more appropriate time—
Sometimes the love you spit out ages ago finds you in a rhyme.
The Scent of Yesterday by Rajnandini Sen, DPS Ruby Park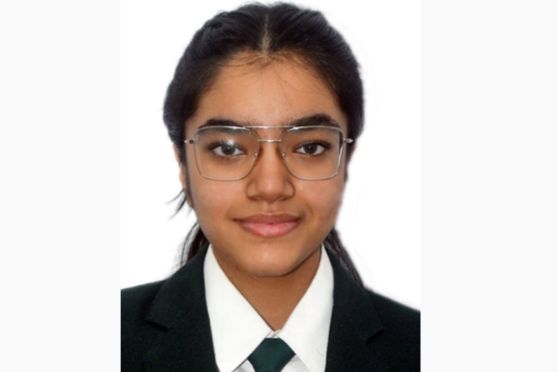 Rajnandini Sen, DPS Ruby Park Edugraph
Through weariness and toil, I journeyed home
Until at last, I crossed my threshold's bound
And with a grateful sigh, my burdens unburdened
In sweet relief, my tired frame lay down.
I carried my fatigued vessel to the bathroom sink
And cleansed my hands of worldly grime,
I inhaled deeply, the scent of the soap
And was ferried to another moment in time.
I was seven, unrestrained by cares or woes
Frolicking in the park with both friends and foes.
As I stumbled and fell, my knee met the ground,
A painful scrape that made my head spin 'round,
But with soap's gentle balm to ease the pain,
The throbbing chill was soon washed down the drain.
In games and laughter, friendships newly made,
The bonds of youth were formed and never fade,
With every cheer and joyful shout, we shared,
A lifetime's worth of memories was bared.
As these suds of soap melt away
I recall these memories of yesterday,
Reminiscing on the days of yore,
Memories flood my mind once more,
Like golden threads that weave a tale,
Of cherished moments that will never pale.
With a hopeful heart and steadfast gaze,
I dream of brighter, sunlit days,
When all the world will find its way,
And all my troubles will forever stray.
Spotlight by Ishani Manna, DPS Ruby Park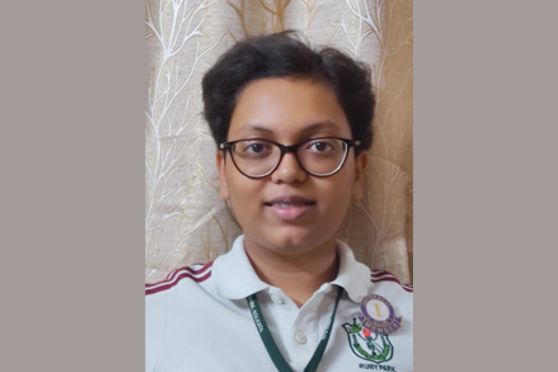 Ishani Manna, DPS Ruby Park Edugraph
The glittering lights of the stage
with a charm, stronger than that of a mage
called the singer, in glimmering gold
for her voice, she had already sold
to all who waited for her in their seats
with impatient fans and stomping feet.
And as she stepped up to the light
the spots danced about in her eyes.
the sudden applause was one,
she tried to escape, but couldn't flee
for once fame gets a hold of you
there is nothing you can possibly do.
The velvet voice that she once had
was replaced with one so sad and forlorn,
like the winter breeze
the joy and happiness, it shall seize.
The icy eyes trained on her with spite
combined with the red spotlights,
terrified the young girl, but she,
would sing her song to the hanging tree.
She sang till the weather got warm
without colour, shape or form.
She sang of sorrow, and of lack of shade,
from bright mornings spent in the glory glade.
Yet her glittering audience had no care
they came to bathe in the spotlight's glare
in the call of fame and the call of pride
from the call, they couldn't hide.
For once fame gets a hold of you
is there anything you can do?
Comfort by Anusha Kumar, DPS New Town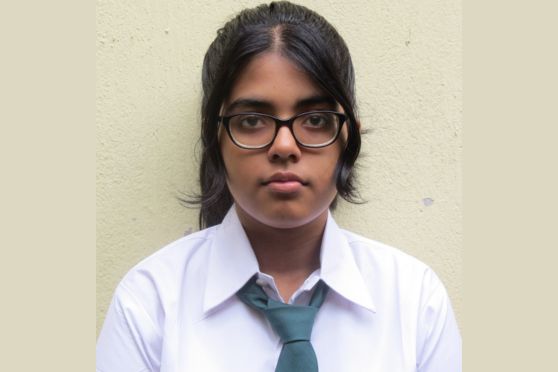 Anusha Kumar, DPS New Town Edugraph
I find comfort in knowing that
The world will always turn as it has turned
I find comfort in knowing that
Birds will always fly and plants will always grow
I find comfort in knowing that
Winter is always cold and spring always comes to melt the snow
I find comfort in the relentlessness of life
Beginning and bygone
In every smile,
In every child,
In every animal's call
I find comfort in people and their stubbornness,
In their heartache and their victories,
In knowing that the friendships of years gone by
Share the same spirit as my friends and I
Machines - A Change in the World by Bijetri Sengupta, St. Judes High School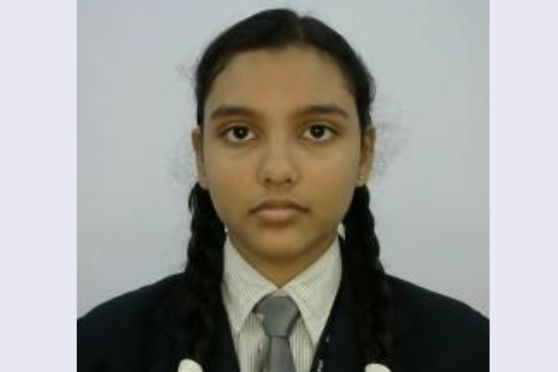 Bijetri Sengupta, St. Judes High School
It was green and green all around
with cattle grazing in the midst of meadows,
Birds chirped Sweet tunes all day long
And with sparkling streams, love used to flow.
Every sunrise made the dust alive
Every street thronged with glee,
Kids played and laughed their hearts out
As if nature itself was in bliss
But now when the green is all rubbed off
and factories have replaced all the trees
Every man is busy with personal work
All the land seems dead and still
The children busy with Studies and work
With no time left to play or laugh
Birds have stopped singing songs
As their homes are all being cut off.
Cattle are rarely seen in the fields
Machines have replaced the strength of men
Steel and Iron have destroyed cooperation.
Happiness is not witnessed in the lanes
A change that has made life easy
But change that none wanted to undergo
A change that replaced compassion
They are the 'Machines' as we all know
They shattered the green
They killed many souls
Of birds and animals which are being sold
which are being captured for making pets
And it killed the lives of all the rest,
who lives their lives without them.
Last updated on 17 Apr 2023
16:45 PM