Marketing
Top 5 career options after pursuing an MBA in Marketing
Posted on 26 Oct 2022
15:15 PM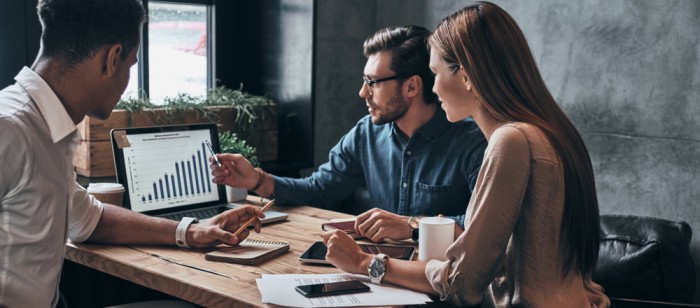 Shutterstock
Summary
What you will gain from this degree is a thorough understanding of marketing management, consumer behaviour, marketing strategy, finance, and the other aspects that will prepare you to be a master marketer
Students can look forward to placements with CTC as high as INR 27 LPA if they graduate from a top MBA marketing college such as IIM, ISB Hyderabad, XLRI Jamshedpur
Thinking of launching a career in Marketing?
You could go the long way by starting at the bottom, or you could fast-track your progress with an MBA in Marketing with a specialisation of your choice! While marketing is already considered to be one of the core subjects of the MBA degree, the demand for an MBA which focuses on marketing has seen a sharp rise in the recent past. What you will gain from this degree is a thorough understanding of marketing management, consumer behaviour, marketing strategy, finance, and the other aspects that will prepare you to be a master marketer.
An MBA, as you would know, is a very intensive course, which requires you to put in hours and hours of hard work, and learn more from hands on work and practical experience than from textbooks. However, the hard work you put into your MBA in Marketing all starts to pay off when you look at the average salary packages that are offered to graduates who have the right skills. The figures range from 7 LPA to 15 LPA for job roles like Marketing Manager, Logistics Manager, Marketing Analyst, among others. Students can also look forward to placements with CTC as high as INR 27 LPA if they graduate from a top MBA marketing college such as IIM, ISB Hyderabad, XLRI Jamshedpur
But once you have passed the course, the next order of work is to figure out the top 5 in-demand career options after pursuing MBA in Marketing. Read on…
1. Business Development Manager (BDM)
Interested in building a strong business-client relationship for your organisation? Then this can be your go-to option for building a career in marketing.
Business Development Managers are responsible for the growth of an organisation. They evaluate sales and marketing operations and assess the company's performance and where it is lacking. Also, they are responsible for bringing in prospective clients who would be valuable to the company. BDMs can be employed in multiple sectors like healthcare, cybersecurity, financial services, construction, etc.
To name a few responsibilities of a typical BDM:
Researching, strategising and planning to bring in new target-specific initiatives
Analysing and setting goals for the company's revenue growth
Attending conferences and expanding the business network
Continuously analysing the competition in the industry and new client prospects
The salary for BDMs in India ranges from 3 LPA to 15 LPA depending on your job experience and skill proficiency.
2. Marketing Analyst
If you have an analytical mindset and think you will enjoy handling data, and analysing growing trends, competitor or company performance, then Marketing Analyst is just the job for you. They help companies to best position themselves in the market. Marketing Analysts these days have grown immensely important due to big data.
A marketing analyst effectively analyses data to assess the customer's wants and needs to plan out the business strategies to drive sales. Top companies recruiting for this position are - JP Morgan & Chase, Bank of America, Goldman Sachs, Bloomberg L.P, Google, IBM, Deloitte, Siemens, among others.
Following are the responsibilities of a marketing analyst:
Analyse data through statistical charts and also data mining
Strategise marketing plans for existing and upcoming products in the market
Converting complex big data into easy graphs, reports, stats etc.
The salary range for this position starts from 2.5 LPA to 15 LPA. The average salary is around 7 LPA, which increases with skills, expertise, domain and experience of course. For example, a Digital Marketing Analyst earns around 8 LPA.
3. Logistics Manager
Professionals responsible for efficiency in supply chain management like distribution of goods, resources, and goods storage are called Logistics Managers. A Logistics Manager often needs to handle multiple projects and keep track of goods being moved and delivered. They are very well paid with an average salary of 6-6.5 LPA, though salaries can go as high as 2 LPA, depending on your experience and the company recruiting.
Responsibilities of a Logistics Manager:
Planning and managing logistics, warehousing and transportation
Negotiating with suppliers, retailers, customers and manufacturers as well
Keeping track of catalogue goods, planning routes, processing shipments, etc.
Curating data from logistics software and making report on it
The top recruiting companies for this position are: Amazon, ITC, Decathlon, Tata Motors, XPO Logistics, Genpact, Siemens, Accenture, Volkswagen, etc.
4. Marketing Manager
Marketing managers are responsible for planning, developing and overseeing marketing strategies as well as designing marketing campaigns for brand visibility and promotion. Since creativity and innovative ideas are key here, marketing managers who can think out of the box and creatively are readily recruited. Sectors like media & entertainment, retailers, charities, and law firms recruit for this position.
Some common job responsibilities for this job position are:
Keeping an account of the ongoing market trends and accordingly planning the campaign
Generating reports related to the key performance indicators (KRIs) of any live marketing campaigns
Improving marketing strategies
Preparing advertising contracts
The salary package for this position ranges from around 3 LPA to 10 LPA. With an experience of 2+ years, salaries can go up to 20-23 LPA, depending on the company recruiting. Top company recruiters for this position are: Accenture, Google, Microsoft, Dell Technologies, Oracle, Meta, Intel Corporation, L'Oréal, Apple, etc.
5. Product Manager (PM)
A product is the main factor contributing to the success of a company. Physical or digital, it is the product that makes or breaks a company. The main role of a product manager is outlining and designing the product and properly placing the product in the market. This is quite an intensive and demanding role. The demand for product managers is increasing, with 43% of companies hiring more PMs due to product-led growth.
Some of the common responsibilities of a PM can be:
Designing a vision for the product as well as outlining a launch statement for the product in the market
Convincing stakeholders about the vision of the product and explaining the benefits of it
Monitoring the market and developing a competitive analysis
Product Manager salaries in India are in the range of 6 LPA to 35 LPA, with an average of 16.3 LPA. With proper experience in this field, one can also climb up the ladder to a leadership position.
Some of the top companies recruiting for this position are: Amazon, TCS, Oracle, Accenture, Google, Deloitte, Microsoft, IBM, etc
While the list is not exhaustive, these are the trending jobs that are in demand in the job market. While you need to decide which you want to go into right at the start of the MBA – keep these avenues in mind as you progress, so that you emerge job-ready and ready to take on the marketing world!
Last updated on 27 Oct 2022
11:55 AM