Edtech
How Edtech-based Education Can Influence Careers and Personal Development
Posted on 28 Sep 2022
16:14 PM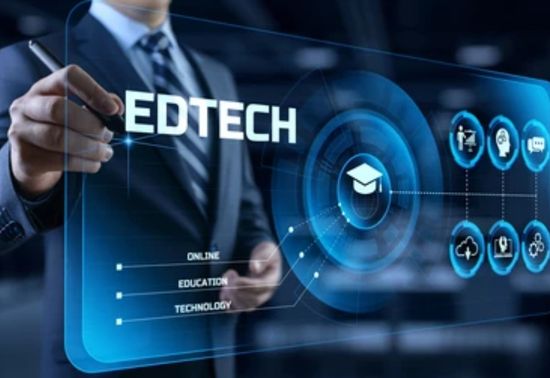 Shutterstock
Summary
The ed-tech industry produced 65% of all global revenue in 2021 as a result of the explosive expansion
EdTech systems, which must be promptly adopted nationally, can bridge the skill gap across available and existing workers
Indian education is undergoing a change thanks in large part to edtech start-ups. In the last two years, more than 900 EdTech start-ups have emerged with the aim of influencing the country's $100 billion education sector. The development of EdTech over the past years has undoubtedly aided students in learning about a variety of courses, interacting with tutors, and receiving guidance on subjects for free or at a reasonable fee. The ed-tech industry produced 65% of all global revenue in 2021 as a result of the explosive expansion.
Read: Entrepreneurship: Empowering The Youth of Today
The EdTech industry not only offers engaging, adaptable learning and training materials from premier course providers but also aids students in finding better employment possibilities. They are assisting students in four ways: career counseling, professional growth, skill enhancement, and job placements.
Check Out: 4 Reasons Students Must Explore LinkedIn
Voicing his thoughts, Mr. Ritesh Kumar, Country Lead, Wiley India said, "According to Wiley's recent annual Voice of the Online Learner report issued by Wiley's University Services division, a global provider of technology-enabled education solutions to meet the evolving needs of universities, corporations and learners, online learners are largely motivated by career outcomes. The top-mentioned factors that influenced learners' decision to pursue a degree are improving their job prospects (40%), advancing their careers (38%), and starting their careers (35%). This demonstrates how online education is becoming a favorable choice of learning, especially amongst those who are seeking growth and development, both personally as well as professionally.
The increasing war for talent, particularly in the IT and technology sector, has drawn attention to the widening skills gaps that exist in the workforce today. Edtech service providers are helping learners access educational programmes, upskill themselves and enhance their career prospects in alignment with their aspirations, irrespective of the boundaries of geography, time, and space. There is also a focus on offering a combination of soft and hard skills so that well-rounded individuals are prepared to take on the challenges of the future. Thus, edtech or online education service providers are playing an integral role in bridging skills gaps and shaping the workforce of the future. As a global leader in research and education, Wiley is attuned to market demands and we will continue to support learners with our unique and innovative online products and services, both globally and locally in India."
Read: The Most Important Skill Sets Needed For Future Jobs
To satisfy the changing demands of the students, education trends are continually changing. The employment of a multitude of approaches and strategies by teachers thanks to technology, allows students to quickly advance in their careers. This is a game-changer for the educational industry.
Know More: Becoming Teacher: Types, Courses & Entrance Exams
Stating the same Dr. Harpal Thethi, Professor & Senior Director - Corporate Relations & Career Planning, Lovely Professional University said, "Ed-tech platforms have significantly contributed to the creation of several professional prospects. Due to the industry's focus on technological advancement and the continual ideation and development that goes along with it, a career in tech demands young talent with leadership skills.
The Indian ed-tech industry has created thousands of jobs, but it has also made it possible for our current workforce to be retrained and upskilled. One edtech company's customer may very well be another's employee. The idea that people can change occupations or advance in their existing career pathways merely with a smartphone and an internet connection has completely changed the game. The EdTech industry is opening doors for better employment and educational prospects. Due to the proliferation of EdTech platforms, a lot of new start-ups are emerging, creating more prospects for the employment market as a whole. But it has been observed in the recent past that mass lay-offs have started in the Edtech industry, creating doubt in the minds of end users and employees. In order for EdTech to survive, they would have to chalk out a different strategy and bring constant innovation."
Also, read: MA or B.Ed: What's the best option after BA?
Adding to the same Mr. John Kallelil, Founder & CEO, XED said, "While there are great benefits to edtech-based education, one of the biggest advantages is the flexibility to learn on your own terms. This has opened up a world of opportunities for senior leaders who can now learn from anywhere, take up weekend-only programmes, and access world-class education right where they are. From open programmes to microlearning, blended learning, and customized corporate programmes, ed-tech has opened up a world of opportunities for career development. You are no longer tied to classroom schedules, office promotions, or hiring boards to advance your career. Learners can build a competitive edge by enrolling in programmes of international repute, delivered 100% LIVE by renowned faculty from top global universities. The other big advantage is the superior quality of these programmes owing to the fact they are not deterred by time or geography. You can access the best in world education right where you are."
Read: The Story Your CV Must Tell
EdTech systems, which must be promptly adopted nationally, can bridge the skill gap across available and existing workers. This industry has the potential to play a key role in catalyzing the ecosystem's efficiency, the young generation's development, and the achievement of the goals.
Check Out: How To Write A Scientific Paper: A Step-by-step guide by IIT Professor
Commenting on the same Mr. Maninder Singh Bajwa, CEO and Founder, iScuela adds, "Edtech-based education offers students a plethora of opportunities to grow both professionally and personally. The potential is limitless as are the advantages. One can choose a course and subject for advancing a career in a stream of choice from any part of the country and the world as a whole, without the limitation of the physical infrastructure. Students are able to enrich their knowledge from the beginning with a variety of technical skills that are very important for their career development. While skilling is important, equally important is to keep enhancing one's footing in a specific field through up-skilling. The up-skilling options offered by these platforms enable students and professionals to have a better chance of obtaining a suitable position in their career graph."
Read: Career in Translation & Interpretation
Lastly, Mr. Kounal Gupta, Founder & CEO of Henry Harvin Education comments, "Edtech in the upskilling reskilling space can make a tremendous impact if delivered rightly. This sector offers a variety of certification programmes and courses that assist people in expanding their knowledge and skill sets. These abilities and expertise are very beneficial and give people job prospects. In FY 21-22 Henry Harvin's Job Support team reported 87% career growth amongst alumni through a survey conducted with a sample size of 1103 learners who completed the course. This is evident in the claim that Ed-Tech has definitely emerged as a rescuer in the face of increasing competitiveness in the job market because it aids people in polishing their skills and knowledge. It also gives people the chance to continue learning throughout their working careers in a more convenient, affordable, and accessible manner."
Check Out: Top 10 Job Portals To Look For Full-Time & Freelance Opportunities
In order to close skills gaps and create the workforce of the future, ed-tech or online education service providers are essential. The emergence of numerous professional opportunities has been considerably aided by ed-tech platforms. The educational technology sector is presenting opportunities for greater employment and academic outcomes. Many new start-ups are sprouting as a result of the growth of ed-tech platforms, increasing the opportunities for the employment market overall.
If used properly, ed-tech in the upskilling and reskilling arena can have a significant impact. This industry provides a range of certification courses and programmes to help people develop their knowledge and skill sets. With a variety of technical skills that are crucial for their job development, students can start off by enhancing their knowledge.
Last updated on 28 Sep 2022
16:14 PM