Inclusive education
Making Education More Inclusive and Equitable for All
Posted on 04 Mar 2023
11:28 AM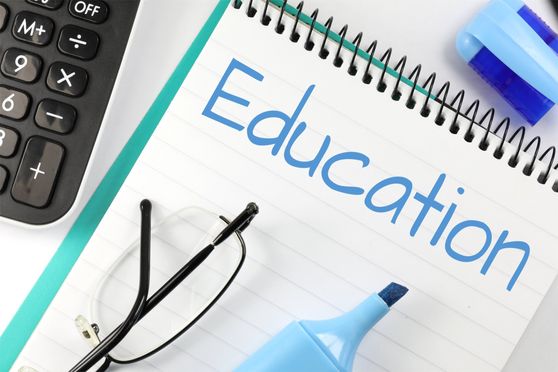 File image
Summary
For a very long time, there has been a sense that India's educational system needs to change
India's National Education Policy, 2020, which aims to make India a global knowledge superpower while ensuring equity and inclusion, has communicated a structural change in the educational system
"Education is not the filling of a pail, but the lighting of a fire." These wise words by W.B. Yeats perfectly encapsulate the importance of education in shaping individuals and society as a whole.
While the right kind of programmes are important to help the new generation grow holistically and be successful in the globalised world; it is also necessary for the right policies to be put in place for education to thrive and society to develop.
For a very long time, there has been a sense that India's educational system needs to change. This sentiment, however, intensified after the pandemic when we observed how students from underprivileged groups suffered as a result of our switch to an online model of instruction. So, we need to talk about what comes next.
India's National Education Policy, 2020, which aims to make India a global knowledge superpower while ensuring equity and inclusion, has communicated a structural change in the educational system. This historic initiative developed by the Modi administration, was the first comprehensive policy that aimed to light a fire in the country. It focuses on fostering citizens who are productive in all spheres of life and who will contribute to the creation of a just, inclusive, and plural society.
Its emphasis on "Equitable and Inclusive Education", aims to ensure that no child is denied educational opportunities based on their background or socio-cultural identities.
This idea of inclusion, and its newer approach to educating children with disabilities and learning difficulties alongside their peers under the same roof aims to make India a global knowledge superpower.
Inclusive education is a newer approach to educating children with disabilities and learning difficulties alongside their peers under the same roof. The goal of equity and inclusion is now central to NEP 2020.
It implies that all learners, with or without disabilities, can learn together through access to common school provisions and community educational settings, as well as an appropriate network of support services. An attempt has been made to develop conscious awareness of roles and responsibilities, and to include community participation, in order to reduce student exclusion based on language and disability.
This will encourage students to learn more about India's diverse culture, knowledge system, and traditions, as well as to become more aware of human values such as empathy, tolerance, human rights, gender equality, inclusion, and equity, all of which will foster respect for diversity. Beyond that, the main focus of NEP 2020 has been equal respect for all religions with the goal of developing or reintroducing creative human endeavour, which is required for the 21st-century education system.
With inclusivity comes diversity. It is critical to teach diversity in order to develop well-rounded individuals and a society that values the contributions of all people. Therefore, it becomes imperative for schools to accommodate students from various backgrounds and cater to their needs in order to ensure equitable and holistic learning.
Educational institutions and schools are the first place for knowledge and personality development. As a result, it is also the most important location for inclusivity and diversity. The key is educating students about various ideologies and practices and making sure that they accept each other with equal love, care, and respect.
Various initiatives taken by the government and schools are helping students achieve their educational dreams, and to make the education system more accessible, practical and advanced. Scholarships are one of the many ways schools can help students in their academic lives. There are several notable scholarships that help students navigate the Indian education system and explore educational support, namely, the Global Citizen Scholarship, which aims at helping Grade 10 students realise their dream of higher education abroad; the Pre-Matric Scholarship, which encourages parents from minority communities to send their children to school, lightens their financial burden on school education, and sustains their efforts to support their children to complete school education. There is also the CBSE Single Girl Child Scholarship, which aims to empower women of the nation and has been supporting girl children to pursue their school education for decades now, and the Central Sector National Means-cum-Merit Scholarship (NMMSS), which was launched in 2008 with the objective of awarding scholarships to meritorious students from economically weaker sections to reduce their dropout rate at grade 8 and encourage them to continue their education at the secondary stage.
The provisions and latest developments such as the Unified Credit System for students would be helpful for students to continue their education even if they had to drop in between for various reasons. SWAYAM – an e-learning portal run by the Indian Government is another example of an initiative that is helping students learn irrespective of their geographical locations or financial condition. Simultaneously, capacity building and improvement in teaching practices are also a focus area for the government, as is evident from the National Initiative for School Heads' and Teachers' Holistic Advancement (NISHTHA), an initiative to build the capacities of teachers and school principals at the elementary stage. While the government aims to achieve a 100% literacy rate, such initiatives will help equip students to meet 21st-century challenges and make India a global hub of trained human resources.
The National Education Policy 2020, which talks about sustainable human development and universal education with equity and learning outcomes with a research-oriented mindset, has provided a ray of hope as the cornerstone of all educational decisions. India has always placed education at the centre of its development agenda, and bridging gender, social, and regional gaps through community participation will raise the spirits of all, while ensuring equity in this policy. It will be a beautiful blend of both ancient and modern knowledge systems that will not only instil knowledge but also aid in the integration of Indian culture and ethos.
About the author: Rajiv Bansal is a Business Leader with over 25 years of experience in the Education industry in India, APAC, Africa and Latin America & the Caribbean, across the continuum of Skill Development, Employability and K-12 segments. In his current role as Director-Operations at GIIS, Rajiv is responsible for business development, overseeing all operational matters related to infrastructure, academics, affiliation, compliances, recruitment & training, finances and driving the profitability & growth agenda of GIIS's School business in India. Rajiv holds a B.E. degree and Exec-PGDM as his qualifications.
Last updated on 04 Mar 2023
11:28 AM